K.ITCHEN S.INK N.EWS
ALL THE NEWS THAT'S IN THE NEWS
This will be a compilation of head-lines with links, pics, memes, and videos that cover the gamut of Biblical-Christian and Constitutional-Conservative news…. Let's ROLL!
"The Big Lie": How Trump Uses Classic Authoritarian Propaganda Techniques
Saturday, September 03, 2016By Douglas Kellner, Truthout | Op-Ed
*SOURCE*
======
The racist, discredited argument Trump's DOJ just made in a federal court
Who knew something like this could happen with Jeff Sessions in charge?
*SOURCE*
=====
Time to get caught up: the comprehensive Palmer Report on Trump-Russia version 2.0
FROM A FELLOW PATRIOT ON TWITTER:
Holy cow: Trump team copied documents and removed them from SCIF
https://apnews.com/b109774705594ae887a86b337c444e6b/Trump-transition-raised-flags-about-Flynn-Russia-contacts
Trump transition raised flags about Flynn Russia contacts
[EXCERPT.]
WASHINGTON (AP) — In late November, a member of Donald Trump's transition team approached national security officials in the Obama White House with a curious request: Could the incoming team get a copy of the classified CIA profile on Sergey Kislyak, Russia's ambassador to the United States?
Marshall Billingslea, a former Pentagon and NATO official, wanted the information for his boss, Michael Flynn, who had been tapped by Trump to serve as White House national security adviser. Billingslea knew Flynn would be speaking to Kislyak, according to two former Obama administration officials, and seemed concerned Flynn did not fully understand he was dealing with a man rumored to have ties to Russian intelligence agencies.
To the Obama White House, Billingslea's concerns were startling: a member of Trump's own team suggesting the incoming Trump administration might be in over its head in dealing with an adversary.
=====
GAO prospectus for the building used by Trump transition included SCIF
http://www.congress.gov/crec/2015/07/29/CREC-2015-07-29-pt1-PgH5664-2.pdf
This may be the most eye-opening first sentence in Russian-Trump stories I've read yet.
FLYNN REQUESTED THE CLASSIFIED DOSSIER ON RUSSIAN AMBASSADOR SERGEY KISLYAK! WHY NOT GIVE PUTIN A PASSWORD TO CIA'S SERVER?
Okayyyy? Not to mention placing Sessions in as AG, Kushner as advisor, Ross, aw come on Trump is a traitor! Arrest all of 'em!!
=====
All of Trump's Russia Ties, in 7 Charts
FROM ANOTHER PATRIOT AND INVESTIGATIVE REPORTER ON TWITTER:
How Trump gets fired–you can't govern with a 41% approval rating–most people yet to grasp extent of his corruption
Public complaints to the OGE have increased by ~5,000% compared to the same period at the start of the Obama Admin.
*SOURCE*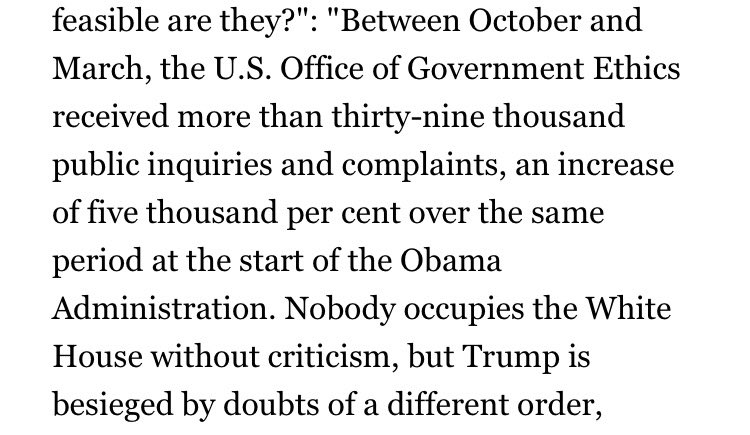 There's a constitutional amendment which allows replacement of a President who is judged mentally unfit. Will sane Republicans invoke it?
Trump has dragged Republicans down with him–GOP at 40% approval–*7 pt drop since January*–GOP vouched for Trump…he made them look like fools
McConnell–who blocked Dems' deficit neutral infrastructure funding plan–and wife eager to skim off shady Trump plan
Watch Elaine Chao–@SenateMajLdr's wife in plum Cabinet role–catch herself saying foreign money for infrastructure
Hey @GOP: After Comey's firing, Trump's approval rating sinks to a new low, as odds of impeachment rise
*SOURCE*
=====
AND, LASTLY,
-Rev. Larry Wallenmeyer.