Having the GOP all that's standing between you and Marxism, is like calling Barney Fife to save you during a violent home invasion — and he removed his one bullet before even showing up. Hard pass. Better off on my own
A lot of loose ends and loose cannons in the White House…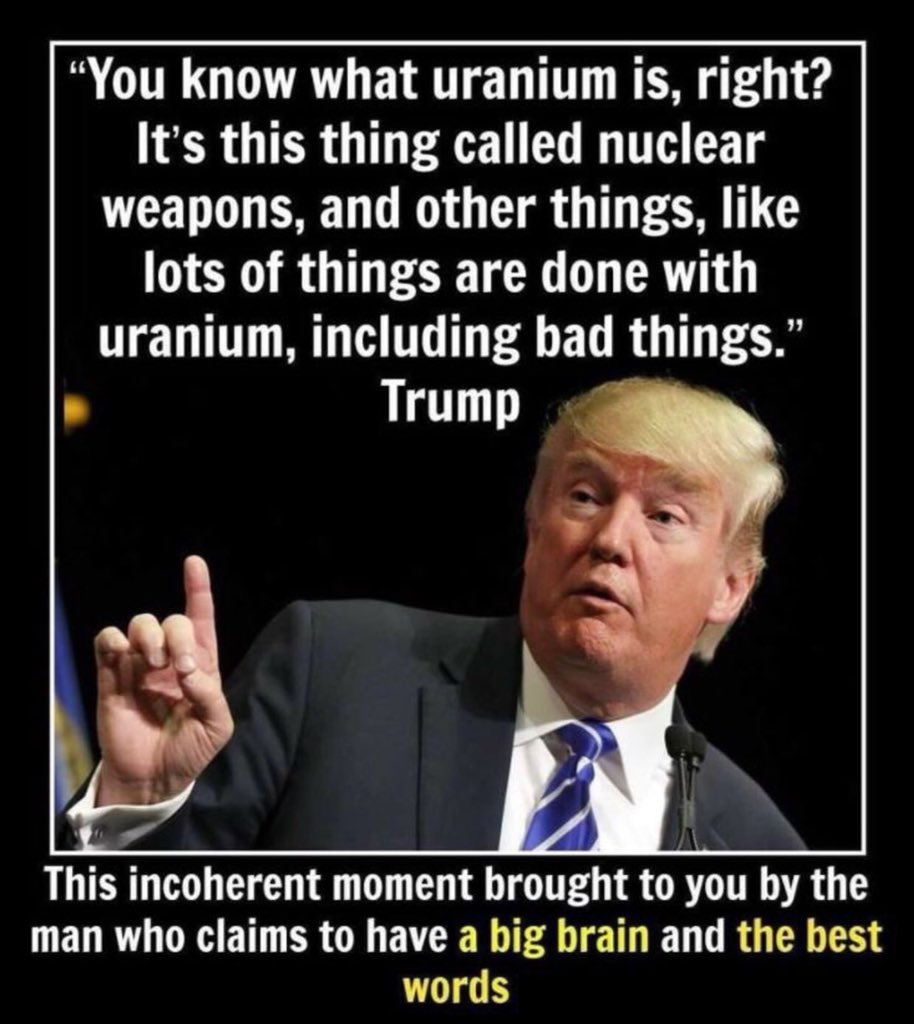 In this write-up we will look at such "fun" topics as:
DT v Kim Jung Un: When The World Goes "BOOM!"
DT and His Ruskie Mob Ties, AND
How It's ALL Falling Apart For DT (YAY!).
===
Kim Jong-un issues new nuclear threat to Donald Trump before his tour of Asia
North Korea ruled out talks and threatened to increase its nuclear arsenal in a fresh warning to Donald Trump's administration as the US President set off on a tour of Asia.
Trump departed for his first presidential trip to Asia Friday, with tensions over North Korea's nuclear and missile threats looming large. He is due to arrive in South Korea Tuesday, after first visiting Japan.
The North's state-run KCNA news agency said in a commentary that the US should be disabused of the "absurd idea" that Pyongyang would succumb to international sanctions and give up its nuclear weapons, adding that it is in "the final stage for completing nuclear deterrence".
"It had better stop daydreaming of denuclearisation talks with us", said the commentary titled "Stop dreaming a daydream".
===
NEXT, let's recap who said they didn't, but actually DID:
A CLOSER LOOK:
Jared Kushner agrees to Cooperate with Mueller on obstruction of justice against Trump
This news is a real game-changer! Earlier this week, news broke about Donald Trump throwing his son-in-law Jared Kushner under the bus, and now, it appears the shoe is on the other foot. Trump reportedly blamed Kushner for the firings of disgraced National Security Adviser Michael Flynn and former FBI Director James Comey.
Several other comments calling Kushner the worst presidential adviser in U.S. history also arose…
A new report by CNN says Kushner just handed over documents to Mueller, and he is reportedly cooperating with Mueller in his Russia probe that involves an obstruction of justice charge against the president.
Additionally, White House insiders said Kushner is not part of Mueller's investigation, which comes as a big surprise since he attended the controversial meeting Don Jr. had with a Russian lawyer during his father's campaign.
The documents Kushner sent to Mueller are from during the campaign and the transition. Mueller's investigators also want to know who formulated Don Jr.'s response to the exposure of his Russian lawyer meeting. Rumors suggest the president examined the statement before its release.
===
BREAKING: Congress Just Accused Trump's Attorney General Of Perjury (VIDEO)
…there's evidence of Attorney General Jeff Sessions committing perjury and says that he should resign, effective immediately:
"He lied under oath at least twice and most recently, both Carter Page and George Papadopoulos, based on their testimony and their statements, they show that Jeff Sessions contradicted himself when he said he was not aware of any campaign official talking to the Russians."

"The top law enforcement official in the United States cannot have committed a crime and still be there….He committed perjury. He should not be in that position," said Lieu.
===
Cyprus gave Manafort bank records to Mueller: report
Authorities in Cyprus reportedly gave documents about former Trump campaign chairman Paul Manafort's financial activities to special counsel Robert Mueller.
Citing people familiar with Mueller's investigation, Bloomberg reports that Cyprus gave Mueller's team documents relating to Manafort and his associate Richard Gates just dates before they were indicted Monday.
The 12-count indictment, stemming from Mueller's probe of Russian interference in the presidential election, charges Manafort and Gates with money laundering and conspiracy against the United States, among other things. The charges are related to work Manafort and Gates did for a pro-Russia political party in Ukraine.
The documents were shared in response to a June request for information about Manafort's financial activities, according to Bloomberg, but probes into Manafort-linked bank accounts in Cyprus began as early as March.
===
Rick Gates Failed to Disclose Second Passport, U.S. Tells Judge
By
and
Mueller says Gates claimed one passport when he surrendered

Prosecutors oppose Gates's bid to relax his bail conditions
Rick Gates failed to disclose he had a second passport until three days after he surrendered to face charges with Donald Trump's former campaign chairman that they hid their work as agents of Ukraine and laundered millions of dollars, prosecutors said.
Prosecutors for Special Counsel Robert Mueller cited that omission as one of several reasons they oppose Gates's request to ease his bail terms, which confine him to his home in Richmond, Virginia, with electronic monitoring. Gates asked the judge to end the monitoring and allow him to travel around the U.S. and internationally.
 ===
A MOLDIE-OLDIE:
MAY 15, 2017 / 4:35 PM / 6 MONTHS AGO
Trump revealed intelligence secrets to Russians in Oval Office: officials
WASHINGTON (Reuters) – President Donald Trump disclosed highly classified information to Russia's foreign minister about a planned Islamic State operation, two U.S. officials said on Monday, plunging the White House into another controversy just months into Trump's short tenure in office.
The intelligence, shared at a meeting last week with Russian Foreign Minister Sergei Lavrov and Russian Ambassador Sergei Kislyak, was supplied by a U.S. ally in the fight against the militant group, both officials with knowledge of the situation said…
===
Trump's push for inquiries challenges Justice Dept. independence
By going after political opponents for prosecution, the president risks a major breach of protocol.
President Donald Trump is putting his Justice Department in an impossible spot by demanding that it investigate his political opponents.
With his forceful pleas via Twitter and recent media interviews to launch inquiries into everything from Hillary Clinton's e-mails to an Obama-era uranium deal, the president is essentially setting the department up for a major breach of protocol if it actually follows through on his requests, according to former government attorneys and prosecutors.
"There is a reason why we have a norm against presidential interference in criminal investigations," said Paul Rosenzweig, a former George W. Bush-era Homeland Security official and senior counsel from the Kenneth Starr investigation into President Bill Clinton. "President Trump is the living, breathing proof-case for that norm."
Trump's calls for both the Justice Department and the FBI to dig into a series of purported Democratic scandals have been widely dismissed as a way to deflect attention from special counsel Robert Mueller and the criminal charges he filed earlier this week against three of the president's former campaign aides.
But Trump is still the president of the United States, and his public statements encouraging investigations into his current and former opponents have drawn widespread criticism across the ranks of current and former law enforcement officials. Trump's statements also leave his political appointees at the Justice Department in a bind: Do they follow the orders of the president who put them in their jobs, or do they follow the historical norms and rules of their department that mandate they stay clear of politics when they open, investigate and close any criminal cases?…
===
Trump Campaign Adviser Changes Story About Russia Trip
Carter Page now says he met 'senior person' in Russian government
(NEWSER) – It seems a former Trump campaign adviser lied numerous times to the media regarding a trip he took to Russia in July 2016. Carter Page has in the past denied meeting with Russian government officials during the trip, instead saying he saw "mostly scholars." As late as Friday afternoon, he said he only met with business people and academics he had "known for a decade." But a source tells the New York Times that wasn't the story Page gave during testimony Thursday in front of the House Intelligence Committee, when he admitted to meeting Russian officials during the trip. An email Page sent to at least one Trump campaign aide contained his thoughts on his interactions with Russian officials and was read aloud during his testimony, a source says.
On Friday night, Page changed his story to the Times, saying he "had a very brief hello to a couple of people," one of whom was a "senior person" in the Russian government. He later told CNN that senior person was Russian Deputy Prime Minister Arkady Dvorkovich, again characterizing it as a "hello." Page also tells CNN he told Jeff Sessions and "a few people" in the Trump campaign about his plans to travel to Moscow ahead of the trip. He says the identities of those others will "come out." In the meantime, he's now cast suspicion on Sessions' earlier testimony to Congress regarding ties between the Trump campaign and Russian government. Page says his trip to Russia was not related to the campaign. During the trip, he gave a speech critical of America's Russia policy at a university in Moscow…
===
AND, LASTLY, SORT OF…
10 legal experts on why Trump can't pardon his way out of the Russia investigation
"It may prove to be one of the stupidest things he has yet done."
[Author's note: These responses were given on August 27, just two days after President Trump pardoned Sheriff Joe Arpaio. I'm posting again after the news on Monday that Trump's former campaign manager Paul Manafort turned himself in to face charges as part ofspecial counsel Robert Mueller's investigation into the Trump campaign's ties to Russia. The question in August was the same as it is today: If Trump attempts to use his pardon power to undercut Mueller's investigation, does he have the authority to do it? I reached out to each of these experts to ensure that their assessments still hold, and they do.]
…To some, Trump's decision is a sign that he's preparing — or at least willing — to pardon people associated with the growing investigation into his campaign's possible collusion with Russia. Robert Bauer, a law professor at New York University and former White House counsel to President Obama, argued in the Washington Post that the pardon may be a "test run for shutting down the Russia investigation."
I reached out to 10 legal experts and asked them if the Arpaio decision is a signal of how Trump might seek to undercut the Russia investigation. I also asked what it would mean for the investigation if Trump pardoned key players in the scandal like Paul Manafort, Michael Flynn, or Jared Kushner before any of them could be convicted.
While it's impossible to predict what Trump will do, nearly all the experts I spoke to agree on one thing: If Trump does use his pardoning powers to thwart the Russia investigation, it's very likely to backfire.
If someone like Flynn or Kushner were preemptively pardoned, he wouldn't be able to plead the Fifth Amendment if he were called to testify against Trump. The Fifth Amendment protects citizens against self-incrimination. But if someone has been pardoned, they no longer face the threat of prosecution, and so they can't use a desire to avoid incriminating themselves as an excuse not to answer a question…
===
There.
There ya have it!
In all his raving (lunatic) "glory" DT is pretty much taking on the whole world and, well, LOSING BIGLY…
 -Rev. Larry Wallenmeyer.