PROLOGUE.
The Truth matters.
Jesus said THAT ye shall KNOW THE TRUTH, and THE TRUTH shall make you FREE, (John 8:31, 32) Jesus also said that The Bible IS TRUTH (John 17:17), and HE IS TRUTH (John 14:6).
Jesus did NOT say this about:
love, mercy, grace, or compassion.
CHRIST SAID THIS ABOUT TRUTH.
We are told to speak THE TRUTH in love,
but nonetheless to speak THE TRUTH.
The Truth is NOT always pleasant-
What is pleasant is NOT always Truth.
The Truth is NOT always popular-
What is popular is NOT always Truth.
You want be free?
Learn
Love
Embrace
Speak
And LIVE THE TRUTH.
UNDENIABLE FACTS ABOUT TRUTH:
TRUTH IS ALWAYS TRUTH– EVEN IF NO ONE BELIEVES IT. ONE'S LACK OF BELIEF THAT FIRE IS HOT, WATER IS WET, AND THAT GRAVITY WORKS ON EVERYONE THE SAME EVERYWHERE DOES NOT CHANGE THE TRUTH.
TRUTH IS ALWAYS TRUTH FOR ALL PEOPLE, OF ALL ERAS, EVERYWHERE AT ALL TIMES. TRUTH IS BOTH ABSOLUTE AND UNIVERSAL. 
RIGHT IS ALWAYS RIGHT.
WRONG IS ALWAYS WRONG.
IT'S NEVER RIGHT TO BE, SAY, AND DO WRONG.
IT'S NEVER WRONG TO BE, SAY, AND DO RIGHT.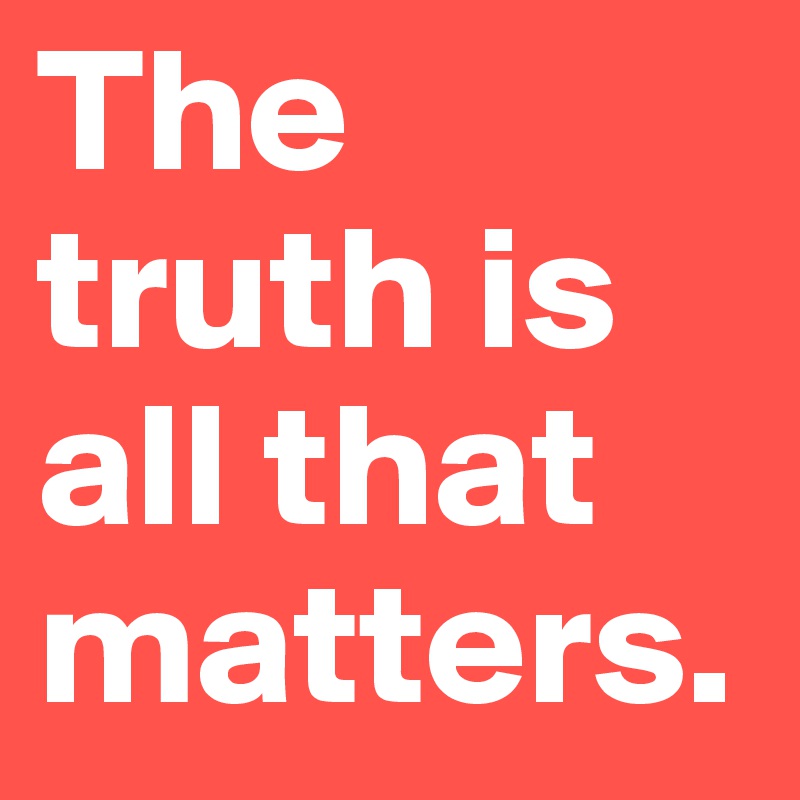 I write this article because there are many otherwise good, faithful Christians who have an unBiblical, hence, and unhealthy view of love.
They emphasise "We're known as Christ's disciples by our love…this is a church of love…we're a loving church…"
BUT how is anyone to KNOW if love is TRUE apart from a solid grounding IN The Truth of God's Word. NOT all feigning the "love of God", even know the love of God, (Matthew 7:6, 13-21). Oftentimes those speaking the most and the loudest about love do so to avoid, and to discourage any Biblical scrutiny. Churches, entire denominations, are rife with sin inside and and out, eaten up with wickedness to the very core using the guise of "the Love of God" as a cloak for their sin, (II Peter 2:1-3; Jude 1:4)
Though most deemphasise Truth, and overly/wrongly emphasise love do so as a cloak for their, and other's sins, some do so because they sincerely want and expect the best in and for everybody, OR because they do not like confrontation of any kind. BUT the result IS THE SAME: rampant sin and immorality…which IS the death of any family, church, community, and nation.
Recently I had well meaning CHRISTIAN LEADERS tell me that there is NO place for politics in Christianity, and NO place for Christians in politics.
Look around and tell me how that's working for you.
They, as we all do, want TRUTH, HONESTY, AND INTEGRITY to be vital in:
Our marriage
Our family
Our church
Our pulpit and classrooms
Our business dealings
Our job
Our friendships…
BUT NOT AMONG THE POLITICIANS THAT PASS LAWS WE ALL HAVE TO LIVE BY??!!!
Let me posit this Maxim, this TRUTH:
"What we settle for rules us."
If we settle for nothing less than The Truth of God and His Word, THEN The Lord Jesus Christ rules us.
Anything and anybody short of the FULL surrender to, embracing of, and living out of The Truth, is settling for slavery. The less truth- the more slavery. The more truth- the more Liberty.
And THIS includes those who rule over us.
IF NOT then we'd need to cut out of our Bibles and get rid of :
JOB
ABRAHAM
ISAAC
JACOB
ESTHER
JOSEPH
MOSES
JOSHUA
ALL THE JUDGES
KING DAVID
KING SOLOMON
NATHAN THE PROPHET
ELIJAH
ELISHA
NEHEMIAH
EZRA
ISAIAH
JOHN THE BAPTIST
AND JESUS
So, with that as the Prologue, let me now posit TRUTH on the state of government and politics as it is currently:
FROM 2 TWITTER PATRIOTS:
If true; this is Fantastic…please read, you won't be disappointed.
Unless you are MAGA, which don't bother;
Just keep eating your own boogers.
Settle in, politikids. You're going to enjoy this… I've read the full letter Trump transition team attorneys sent to legislators re: Mueller obtaining their emails. It has a delicious reveal. 1/
As we now know: 1) Mueller obtained ALL of the emails sent to/from Trump transition team accounts 2) The Trump gang only realized this after Mueller's team seemed to know all about their emails 3) This made them quite… upset.  2/
4) Their lawyers then wrote the letter in the link to congressmen complaining about just how upsetting all of this is. Here's the classically amusing reveal in the letter… 3/
Earlier this year, Trump appointed the top attorney at the office responsible for providing all the electronics and email accounts the Trump transition team used. That attorney's name was Richard Beckler. 4/
Now, as background, Beckler was a white collar criminal defense attorney before his appointment. He helped rich criminals beat government convictions for a firm with a name you'll find familiar. Bracewell & Giuliani. 5/
So, Trump appointed Beckler, and then Backler went and ensured Trump transition team attorneys that he would not allow his org (the GSA) to provide any of their emails to investigators. One problem: Beckler fell ill and ultimately passed away. 6/
So, until Mueller's crew started asking Trump aides about those emails, they had absolutely no idea Mueller had them because they thought Trump's guy on the inside was running interference for them. Let that one sink in. 7/
Trump and his flunkies thought their friend at the GSA had locked their emails away *literally* in a vault no one could get to… They thought their bodies were all buried. 8/
As a result, Trump's people walked into their interviews with Mueller and team with a completely false sense of confidence that he didn't know what he already knew in spades. They thought he was fishing. He was just reeling fish in. 9/
Can you imagine the freakout that must have occurred in Trumpland when they realized their cleanup guy hadn't actually done the cleanup after all? Alllllllll of the things they thought they had buried were not only not buried; Mueller had them in writing! 10/
While this is just conjecture, I suspect the entire Trump orbit just realized that Mueller has a trove that entirely hangs them out to dry AND brings them down for obstruction and lying to Mueller to boot. 11/
Trump appointed a Giuliani guy to protect him from Mueller… …and then the guy went and died just as Mueller was coming a'calling. Trump must be losing his freaking mind… …even more panicked: Jared Kushner. Mueller is gonna roast them all. <end>
Note: Trump team knew Beckler had died. They didn't know he had failed to lock down their electronics and emails – and didn't know GSA staff had produced them all without telling anyone.
One more note: as the letter in the link lays out, Beckler was incapacitated by August. He was hospitalized when Mueller's crew came a'knockin'.
=======
LET ME CLOSE WITH THE OBSERVATIONS FROM ONE MORE TWITTER PATRIOT:
Verified account @RadioFreeTom
Let's play Alternate Universe.
It's 2017, and President Hillary Clinton is facing charges that Chelsea met with Russians who offered oppo on Trump. Chelsea didn't call the FBI; and Clinton nat sec adviser Jake Sullivan lied to the FBI about talking to the Russians. /1
Sullivan is perp-walked into Federal court and pleads to a felony. Chelsea spends hours with congressional investigators and then mugs for the cameras with a cake that looks like Trump. /2
Meanwhile, Hillary, who has shady ties through various organizations to tons of Russian money and mobsters, refuses to release her tax records and refers to "existential" threats to her presidency from the crooked FBI. /3
,In fact, in her first year in office Hillary asks the FBI director to "let it go" on Jake Sullivan, and when he doesn't, she fires him. Deputy AG Sally Yates appoints an SC, a lifelong Dem. Hillary mulls firing him. /4
Then, at least three other Clinton campaign officials end up indicted. All of them are tied in some way to a hostile foreign power. Robby Mook is confined to his home with an ankle monitor. /5
As the 2018 midterms approach, Hillary publicly mentions how the FCC should crack down on broadcasters who lie, and maybe yank FOX's license. She also notes her warm relations with Nicholas Maduro and calls him to say hi. /6
I'm sure… totally sure… that stalwarts of the GOP would say: Look, this is a nothingburger, you can't define "collusion," it's just "the coffee boy," and on and on. /7
Let's cut the nonsense.

The GOP would be in

full

impeachment mode, even without the completion of the special counsel investigation. This is

not

a partisan point;

it's a common-sense point.

I don't mind having arguments, but I'd prefer to keep them here on Planet Earth. /8x
I've been challenging conservative friends to this thought experiment for months and months. "Yeah, but Hillary is different" is always the backstop, as though whatever HRC did makes all accusations about DJT false.
We ARE where we are because way too many have sacrificed TRUTH, HONOR, HONESTY, AND INTEGRITY on an altar to the FALSE gods of:
"love"
convenience
popularity
pleasantries
no confrontation(s)
power
position
they're cowards
they're stupid
or they're just plain evil…
which ever one, or combination it may be, the result is the same:
THE DEATH OF CIVILIZATION.
 -Rev. Larry Wallenmeyer.