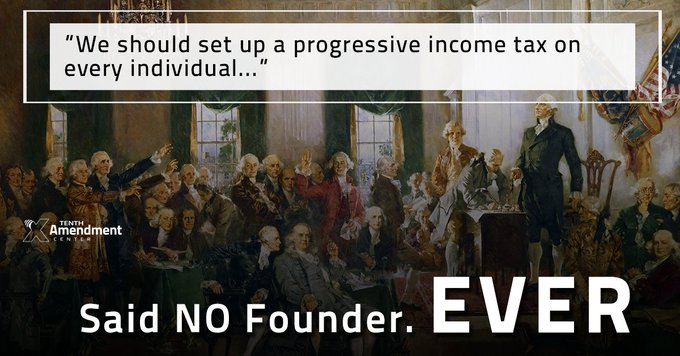 I know some are reading this and thinking…
"Sheesh! saying that America's Founding Fathers would think Liberalism=Treason is a stretch don't you think?"
No.
Not really.
Not a "stretch" at all.
Consider but merely two points of Liberalism: taxation and government regulation, are what America's Founders would call tyranny and meddling.
When we do a (very) quick study of WHY people came TO America in the first place we find these reasons, listed in order of importance:
CHRISTIAN FREEDOM/LIBERTY,
MORAL, ETHICAL, CULTURAL FREEDOM/LIBERTY,
FREEDOM/LIBERTY FROM OPPRESSIVE GOVERNMENT AND TAXATION.
The unifying thread was, and IS, Freedom and Liberty.
The Pilgrims are an example of all three, as were the Puritans.
The Pilgrims objected to England trying to FORCE them into The State Church, Reasons #1 & #3. So The Pilgrims fled Britain to The Netherlands where there was more Christian Liberty. But the the language and culture were far different, and they began to see how it was affecting, even changing their children, Reason #2.
So, The Pilgrims left The Netherlands for America and arrived at Plymouth, Massachusetts November 11, 1620 after a voyage of 66 days.
Many would follow. Many for one, two, or, as The Pilgrims, all three above mentioned reasons. But all for Freedom and Liberty.
BUT as time went on the relatively free colonies began to see Britain raise taxes on them:
Great Britain found itself deep in debt following its victory over France in the French and Indian War. As a result, it enacted the Sugar Act of 1764, the Stamp Act of 1765, the Townshend Acts of 1767 and other measures aimed at raising funds from its 13 American colonies. Taxes remained orders of magnitude higher in Great Britain than across the pond. But the colonists fiercely resisted them anyway, protesting against "taxation without representation" and eventually taking up arms.
In the 1765 Stamp Act there were as many as 72 taxes levied in and on the Colonists.
Though some argue that taxation in the colonies was LOWER than in Britain it was to ESCAPE the oppression of taxation and government regulation that brought them to America in the first place.
So King George's III taxes, and subsequent government regulation, including quartering HIS soldiers in Colonists homes, whether they wanted them or not, was the "spark to the powder keg" that led directly TO The American Revolutionary War. 
America's Founders opposed "taxation without representation", "the tyranny of taxation", and the "deaf ears of those in government" to the extent they fought an 8 year war against THE MIGHTIEST POWER ON EARTH over taxes that cost over 25,000 American lives…oh, and won.
When one reads and studies the words and lives of America's Founders they soon will find that they would have revolted AGAINST Washington D.C. in 1913 with the tyrannical, Marxist inspired, Progressive Income Tax. America's Founders were dead set AGAINST any and ALL DIRECT taxes and taxation, including an Income Tax, especially a Progressive one, the more you earn the more you're taxed.
The early colonists did not flee Europe to pay high taxes in the New World.
Reflecting the values of the day, a prominent nineteenth-century historian, Richard T. Ely, wrote that "one of the things against which our forefathers in England and in the American colonies contended was not against oppressive taxation, but against the payment of any taxes at all" (emphasis added).Those who braved the hardship of travel across the Atlantic and who tamed a wilderness on their own did not relish paying taxes to any government.
What we TODAY call an "annoyance" (some a minor annoyance) America's Founders understood was the "foot in the door" to tyranny. 
They saw, experienced, and KNEW all to well that any government that TAKE BY FORCE OF LAW, AND BY POLICE OR MILITARY IF NEEDED, what anyone earns and turn around and "give" it away to any one else in the form of welfare, entitlements, housing, food, and, yes, HEALTH-CARE and Education was FIRST an act of TYRANNY in the taking, and an act of Bribery and Corruption in the giving. Witness these quotes from America's Founding Fathers:
Thomas Jefferson:
The democracy will cease to exist when you take away from those who are willing to work and give to those who would not.
To compel a man to furnish funds for the propagation of ideas he disbelieves and abhors is sinful and tyrannical.
Alexander Hamilton:
If Congress can employ money indefinitely to the general welfare… The powers of Congress would subvert the very foundation, the very nature of the limited government established by the people of America.
John Adams:
The moment the idea is admitted into society that property is not as sacred as the laws of God, and that there is not a force of law and public justice to protect it, anarchy and tyranny commence.
James Madison:
As a man is said to have a right to his property, he may be equally said to have a property in his rights. Where an excess of power prevails, property of no sort is duly respected. No man is safe in his opinions, his person, his faculties, or his possessions.
If Congress can do whatever in their discretion can be done by money, and will promote the General Welfare, the Government is no longer a limited one, possessing enumerated powers, but an indefinite one, subject to particular exceptions.
It is sufficiently obvious, that persons and property are the two great subjects on which Governments are to act; and that the rights of persons, and the rights of property, are the objects, for the protection of which Government was instituted. These rights cannot well be separated.
There are more instances of the abridgment of the freedom of the people by gradual and silent encroachments of those in power than by violent and sudden usurpations.
George Washington:
No taxes can be devised which are not more or less inconvenient and unpleasant.
The basis of our political systems is the right of the people to make and to alter their Constitutions of Government. But the Constitution which at any time exists, 'till changed by an explicit and authentic act of the whole People is sacredly obligatory upon all.
[W]e ought to deprecate the hazard attending ardent and susceptible minds, from being too strongly, and too early prepossessed in favor of other political systems, before they are capable of appreciating their own.
Benjamin Franklin:
I am for doing good to the poor, but I differ in opinion of the means. I think the best way of doing good to the poor, is not making them easy in poverty, but leading or driving them out of it. In my youth I traveled much, and I observed in different countries, that the more public provisions were made for the poor, the less they provided for themselves, and of course became poorer. And, on the contrary, the less was done for them, the more they did for themselves, and became richer.
No nation was ever ruined by trade, even seemingly the most disadvantageous.
[NOTE: Trump and ALL "fair trade"/Pro-Tariff" Liberals would do well to heed Franklin's admonition in that final line:
No nation was ever ruined by trade, even seemingly the most disadvantageous.
HOW Did America CHANGE so drastically, and for the worse, choosing what America's Founders KNEW was tyranny and led to slavery and poverty?
The answer is found in their wise observations and words, read this again:
"There are more instances of the abridgment of the freedom of the people by gradual and silent encroachments of those in power than by violent and sudden usurpations."

-James Madison, author of many of The Federalist Papers, helped write the Constitution and Bill of Rights, and 4th President of the United States of America.
THERE IT IS.
Let's look at just some of those "gradual and silent encroachments of those in power":
1913-1916, WOODROW WILSON LED THE U.S. INTO THE FEDERAL RESERVE BANK, UNCONSTITUTIONALLY TAKING FROM CONGRESS ONE OF THEIR ENUMERATED, CONSTITUTIONAL DUTIES*; THEN INSTITUTED THE PROGRESSIVE INCOME TAX (WHICH IS MARXIST), AND THE INTERNAL REVENUE SERVICE TO ENFORCE AND COLLECT IT,
WITH THE NEW INFLUX OF REVENUE INTO THE FEDERAL COFFERS IT WASN'T LONG UNTIL LIBERALS TOOK ADVANTAGE OF IT; HOOVER, WHO WAS A FORE-RUNNER OF TODAY'S R.I.N.O./LIBERAL, AND, OF COURSE, FDR, A DEMOCRAT/SOCIALIST/GLOBALIST, KEPT RAISING THE RATES AND CREATING GOVERNMENT AGENCIES AND BUREAUCRACIES TO REDISTRIBUTE THE WEALTH, THEREBY BUYING VOTES, FAVORS, AND POWER,
THIS PATTERN HAS CONTINUED SINCE 1913. WITH EVERY CRISIS (WAR, FLOODS, FIRES, NATURAL DISASTERS,DEPRESSION, RECESSION, INFLATION, DEFLATION, "JUST BECAUSE"…) TAXES "NEEDED" TO GO UP, AND GOVERNMENT "MUST SWIFTLY INTERVENE"…NEVER MIND THAT BETWEEN THE FREE MARKET/PRIVATE SECTOR AND GOVERNMENT THAT GOVERNMENT ALWAYS DOES IT WORST, SLOWEST, AND MOST COSTLY, 
OTHER SIGNIFICANT INSTANCES OF LIBERAL POWER GRABS, OPPRESSION, AND TYRANNY WERE: A] THE MINIMUM WAGE, WAGE AND PRICE FREEZES UNDER NIXON, B] THE DEPARTMENT OF EDUCATION UNDER CARTER, C] WARS AS COVER FOR SCANDALS UNDER CLINTON, D] OBAMA-CARE AND THE SPYING AND AUDITING OF CONSERVATIVES AND CHRISTIANS UNDER OBAMA, D] THE TARIFFS, AND DAILY CHAOS TO COVER FOR SCANDALS OF TRUMP,
AND QUITE LIKELY THE MOST EGREGIOUS AND SERIOUS LIBERAL TYRANNICAL ACT IS WHEN A COURT OF A MERE 9 PEOPLE LISTENED TO ONLY ONE PERSON AND TOLD AN ENTIRE NATION THAT GOD, THE BIBLE, PRAYER, JESUS, THE TEN COMMANDMENTS, THE 23RD PSALM, THE LORD'S PRAYER, THE PLEDGE OF ALLEGIANCE, ET AL WAS "OFFENSIVE" AND, HENCE BANNED AND PROHIBITED FROM PUBLIC SCHOOLS, LANDS, BUILDINGS AND CEREMONIES.
THAT IS IT.
Right there in a nut-shell is why America's Founding Fathers would have back in 1913:
EITHER NULLIFIED OR ABOLISHED THE FEDERAL RESERVE, IRS, AND INCOME TAX, AND ALL SUBSEQUENT UNCONSTITUTIONAL LAWS AND COURT RULINGS, OR
SECEDED FROM SUCH A CORRUPT, TYRANNICAL, BASTARDISED UNION, OR
FOUGHT A 2ND REVOLUTION.
There is NO way they would have put up with 1913-1916, let alone all the long train of abuses and corruptions that have since followed!!
We've grown accustomed to this. Why? How? Because we grew up in this and until we search, study and research OUR OWN HISTORY AND HERITAGE we assume that THIS oppression and tyranny is "normal".
Matter of fact, I know of millions who read this article and say "This is not tyranny nor oppression."
They say that because they either do NOT know what REAL LIBERTY AND FREEDOM ARE, or because they are deluded into believing the Liberal lies as "truth", OR because they themselves benefit and thereby propagate the lie to continue the gravy train of power and corruption that their bribery, bullying, and blackmailing have achieved for them. They got it. They control it. And they don't want to lose it- EVER.
This is NOT merely a matter of "a difference in political views" from two opposing groups, both patriots!
This is NOT merely two "Patriotic ways to solve a problem"!
NO!
One, Conservatism, is rooted firmly IN Founding, Constitutional Principles, values, and views.
The other, Liberalism, is anti-Constitutional, anti-Liberty, un-American, tyranny, and YES, TREASON!
If you're still not convinced read this and all attendant links again. Do some research on your own…if you still are not convinced that Liberalism=Treason then it's because you are NOT an honest seeker of the truth.
UNTIL ONE REALLY BEGINS TO DIG INTO THE TRUE HERITAGE AND HISTORY OF AMERICA THEY WILL CONTINUE TO THINK THIS LONG TRAIN OF LIBERAL ABUSES AND CORRUPTION IS "NORMAL"…EVEN PREFERRED IN CONTRAST TO BEING INDEPENDENT, FREE, AND RESPONSIBLE FOR THEMSELVES. 
Yes. On but these two point alone, taxation and government regulation, to America's Founding Fathers: LIBERALISM=TREASON.
This is NOT a clouded point that America's Founders were silent or confusing on.
No.
They were clear.
Precise.
Consistent.
And passionate about The Founding Principles.
So much so they fought TWO wars against the same major, world power to get and keep their freedom and liberty.
What waaaay TOO MANY take for granted today was the cause of a Revolution to them.
-Rev. Larry Wallenmeyer.