K.ITCHEN S.INK N.EWS/

V.IRAL N.EWS D.UMP 
For those new to this site, or article K.S.N./V.N.D. is my "Clearing House" of news. It is a mix of humor, head-lines, links, cartoons, and videos covering many issues and topics. Sometimes I will make them more specific like with this one.
We will look a LOT at the Trump-Putin ties of collusion, corruption, bribery, bullying, blackmail, obstruction of justice, and, of course, treason. Buckle up…it's fixin' ta get bumpy!
First up, Twitter Patriot Brian Krassenstein:
BREAKING: Trump is reportedly planning a 'one-on-one meeting' with Putin without a single aide present, during his visit with the dictator later this month.
That's not suspicious at all, right Trump supporters?
When is ENOUGH ENOUGH?!?
SOURCE .
Trump planning one-on-one meeting with Putin without aides present: report
BY JACQUELINE THOMSEN – 

07/03/18 09:34 AM EDT
NEXT UP IS MY GOOD FRIEND AND TWITTER PATRIOT, NeverEither:
Because one of the real conservative candidates would have never nominated a conservative justice…..
Graze on #MAGA sheep
Never means never!!!
The Gorsuch appointment, the string of 5-4 SCOTUS decisions with him in the majority, and the Kennedy vacancy has left the never-Trump right standing on a shrinking sliver of ground. After all, they thought HRC would have been preferable.
[MY NOTES ON THIS: This is such an obvious and outright LIE that Brit "Spit for Brains" Hume is trying to foist off here it's PATHETIC! REAL Conservatives who could not, would not, and will NEVER support Trump did NOT "prefer HRC"!! Hume is spewing a baseless and despicable LIE. I, and countless millions of others voted for Evan McMullen. Others wrote in Ted "Boot Licker" Cruz. BUT NONE OF US PREFERRED HRC! NO REAL CONSERVATIVE WANTED EITHER TRUMP OR HRC!! A LOT of Faux "Conservatives" may have. BUT ANYONE wanting either of the four- HRC, Trump, Johnson, Stein- are LIBERALS. WHY??!!! BECAUSE those four losers ARE Liberals! end rant.]
=======
Trump Fires Off Warning Letters to NATO Allies
Ahead of summit, president complains others, especially, Germany, aren't contributing enough
SOURCE .
WHY IS TRUMP HAVING A ONE-ON-ONE MEETING WITH PUTIN…ALONE??
PERHAPS THIS-
JUST IN: Senate Intel Committee backs conclusion that Russia tried to help Trump win
SOURCE .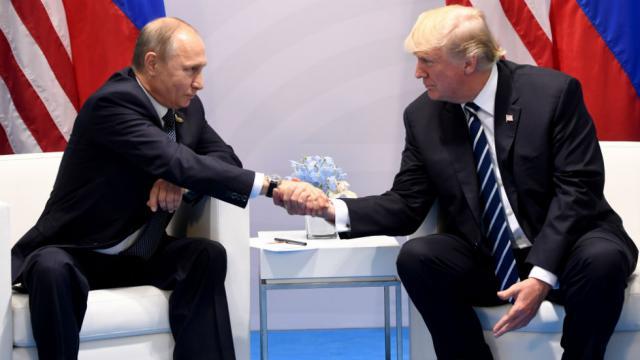 Senate panel upholds finding that Russia backed Trump, contradicting House
======
Not convinced??
Then there is this:
— Deutsche Bank has loaned Donald Trump over $2.5 billion since 1998
— Deutsche bank was fined $630 million for a $10 billion Russian-Money Laundering scheme in 2017
— Retiring Justice Anthony Kennedy's son was TRUMP'S BANKER at Deutsche Bank
THAT'S WAY TOO MANY "COINCIDENCES"
Source 1, Source 2 and Source 3. This is a conspiracy in broad daylight. Most of the dots can be connected on the World Wide Web. And while the Kennedy connection is interesting, the bigger takeaway is that Deutsche Bank is most likely the "laundromat" between Trump and Russia.
Thanks @other98 for getting my work out and helping me expose the CORRUPTION of the Trump Administration.
You nailed the meme!
It was out there. No one was paying attention to it.
SOURCE .
Trump's hidden back channel to Justice Kennedy: Their kids
As White House pushes to confirm Neil Gorsuch, Trump readies lower court picks as they await the next high court vacancy.
=================
STILL NOT CONVINCED THAT TRUMP AND PUTIN'S ONE-ON-ONE MEETING IS TIED TO THEIR TREASONOUS PLOT?? HERE'S MORE-
Verified account @SethAbramson
Still doubt that Trump is executing Putin's plan for the dissolution of the EU?
Verified account @kylegriffin1

During a private meeting at the White House in late April, Trump asked Emmanuel Macron, "Why don't you leave the E.U.?" and said that if France exited the union, Trump would offer it a trade deal, WaPo reports.

Trump is trying to destabilize the European Union

SOURCE .
===============
MORE FROM SETH ABRAMSON, TWITTER PATRIOT, THIS IS A TWEET STORM, A LITTLE TONGUE-IN-CHEEK:
Verified account @SethAbramson
I have this terrible fear Mueller will wrap up his investigation and we'll discover that all Trump did is
* launder hundreds of millions of dollars
* accept hundreds of millions in bribes
* conspire to blackmail the FBI into reopening Clinton's case
* aid and abet Russian crimes
2/ The *worst* part: when the Right says "LOL" we'll have to resort to saying Trump
* committed 25+ acts of felony Obstruction
* tampered with 10+ federal witnesses
* conspired to offer pardons for silence
* sold U.S. foreign policy for private gain
* lied 3,000+ times to voters
3/ In disgrace, Trump critics will eventually fall back on saying he
* knowingly hired Russian agents
* instructed aides to illegally negotiate US policy
* forced his son to issue a false statement about a felony
* spent the campaign negotiating secret business deals with Russia
4/ In response to these lame allegations, the Right will have some killer responses, for instance that Trump
* lied repeatedly about releasing his tax returns
* admitted to being a serial sexual assailant
* never recused himself from his businesses as he promised us pre-election
5/ And think how easily he'll be reelected, given his record of
* nearly tweeting us into nuclear war, claiming he averted it/deserved a Nobel Prize, only to have North Korea punk him like a schmuck
* nearly crashing Earth's economy daily with policies he brain-farted on Twitter
6/ Democrats have no answer to the strong leadership Trump has shown by
* picking judges from someone else's list
* knowing less about every issue than anyone in the room
* changing his position on every issue
* betraying his constituencies with policies he hid while campaigning
7/ No one can argue Trump surrounds himself, as *promised*, with the best people, including all these who've never lied to the FBI, media, or voters
* Flynn
* Sessions
* Stone
* Prince
* Gordon
* Spicer
* Hicks
* Manafort
* Gates
* Papadopoulos
* Page
* Conway
* Sanders
and…
8/ * Nunberg
* Lewandowski
* Kushner
* Trump Jr.
* Bannon
* Eric Trump
* Ivanka
* Caputo
* Clovis
* Cohen
* Giuliani
* Manafort
* Dowd
* Toensing
* Nix
* Sater
* Sekulow
* diGenova
* Schiller
* Nunes
* Hannity
* Pirro
* Pence
* Schmitz
* McFarlane
* Gorka
and more best people.
9/ And in terms of US foreign policy, it's well past time we identified our friends and enemies, as Trump has
FRIENDS
Russia
China
The Philippines
Saudia Arabia
Hungary
The UAE
ENEMIES
All of Europe
All of NATO
All of the United Nations except for our friends (see list above)
10/ So you conservatives can only imagine the embarrassment and sense of being a silly snowflake we progressives feel daily at knowing that we know only 10% of what Robert Mueller does and yet having absolutely no basis to doubt this man's actions, judgment, or policies
Very sad
PS/ A reader points out that I forgot to mention North Korea as one of the great new friends our dear leader has made No one can deny it the proof is in the pudding on that one
=================
AND….
Verified account @NumbersMuncher
It took just sixteen days for this tweet to blow up in Trump's face
AND-
===============
AND BEFORE I CLOSE WITH A FLOURISH OF SUPPORTIVE LINKS, LET ME POSIT THIS:
Verified account @realDonaldTrump
Why was the FBI giving so much information to the Fake News Media. They are not supposed to be doing that, and knowing the enemy of the people Fake News, they put their own spin on it – truth doesn't matter to them!
And when else have we heard: "Enemy of the People…?"
1793: France. When "ennemi du people" met the guillotine for disagreement.
1927: Soviet Union. When Stalin expelled "vrag naroda" to labor camps.
1941: Nazi Germany. When Goebbels called Jews "a sworn enemy of the people."
==================
SUPPORTIVE LINKS:
 -Rev. Larry Wallenmeyer.