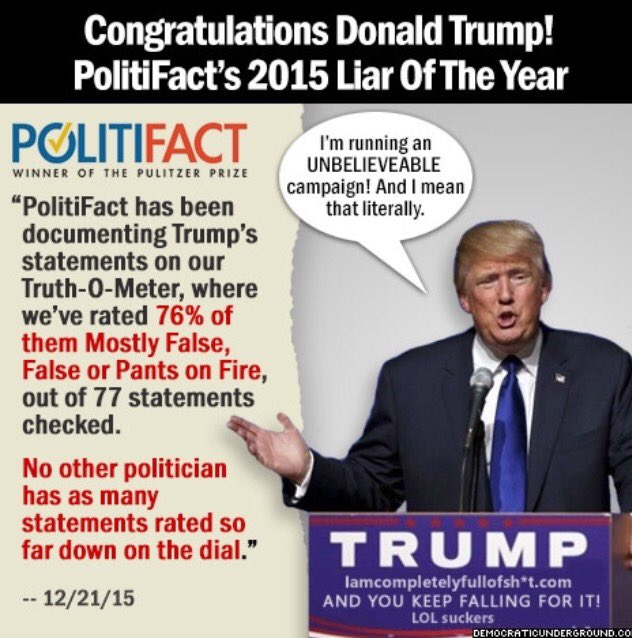 To begin I'll set forth evidence that Trump is indeed a liar. That he lies about his lies. That he makes up lies to distract from other lies. And lies about anything, great or small. In short, Trump is such an habitual liar that he daily, casually, with almost every breath LIES.
It's True: Trump Is Lying More, and He's Doing It on Purpose
SOURCE .
On Thursday, the Washington Post published a remarkable story on its front page revealing a recent spike in the number of "false and misleading claims" made by President Trump. In his first year as President, Trump made 2,140 false claims, according to the Post. In just the last six months, he has nearly doubled that total to 4,229. In June and July, he averaged sixteen false claims a day. On July 5th, the Post found what appears to be Trump's most untruthful day yet: seventy-six per cent of the ninety-eight factual assertions he made in a campaign-style rally in Great Falls, Montana, were "false, misleading or unsupported by evidence." Trump's rallies have become the signature events of his Presidency, and it is there that the President most often plays fast and loose with the facts, in service to his political priorities and to telling his fervent supporters what they want and expect to hear from him. At another rally this week, in Tampa, Trump made thirty-five false and misleading claims, on subjects ranging from trade with China to the size of his tax cut.
==============================
"My IQ is this big."
The 25 Worst Lies From Donald Trump's First 200 Days
==========================
The reason I established that Trump is a "Liar's Liar" is because we will now look at some serious claims he made, and some serious charges against him, and with the FACT firmly entrenched that Trump IS a liar, it should dissuade ALL but the most rabid Trumpster from believing ANYTHING Trump says as a rebuttal.
FIRST UP…
The utter collapse of Donald Trump's 'best people' boast
==================================
==================================
=====================
Bill Blood – "You would have to be a complete moron to believe that those around Trump are getting arrested because of partisanship politics. No, this isn't Mueller's first rodeo. When comes time to issue arrest warrants you can be sure he has all of his ducks in a row. You would also have to be a complete moron to believe that all of these people connected to Trump are going down for criminal acts and Trump is the only clean one out of the bunch. The "Deplorables" could care less if Trump or anyone connected to him are actually guilty though. Nope. That is beside the point to them. They will lie, make up ridiculous excuses and attack those that dare to expose the truth about Trump and his minions. Protecting their "savior" of America that is "saving us from the wicked Demorats" is what they care about. It's us against them and the means justifies the end in their minds. Think about the irony of those last statements. Protecting a lying, cheating, corrupt, immoral, filthy mouthed, vengeful, slanderous, rash, vain, narcissistic, greedy, abusive swamp creature is making this land of the free and the home of the brave great again? I submit that just the opposite is true. He's set the bar in the mud for the office of the presidency and made us the laughing stock of the world. This isn't the conservative party that I used to know. No, there is no conservative party left in America. It's liberals and Trumpism. Millions of us are left somewhere in the middle but we certainly are not being represented in America. I can only pray that the truth comes out and justice is served. We are so overdue for some justice."
========================
My Two Cents by Jim Russell Let's discuss Evraz. Evraz??? What's That?? Well let me entertain you. Evraz is the world's fourth largest producer of steel. It is also a Russian State Owned Company, whose major interest holder is Roman Abramovich. Mr. Abramovich is a Russian Oligarch with extremely close ties to President Putin, (bet you thought I was going to say President Trump, well sorry to disappoint, but that part is coming later). Evraz is most likely a term unknown to the "Cult" for if the words, Pelosi, Clinton emails, or caravan are not in the headline, then they are simply NOT Interested in the subject. But here I offer to the Concerned and Curious Citizens Organization, My Two Cents: I first came across the Evraz Corp, in March of 2017. I was curious as to why President Trump, rescinded the "Made in America" caveat to his Jan, 24, 2017 executive order to proceed with the Keystone XL pipeline. He had Declared to his base, the pipeline will be Completely constructed with American Made STEEL!!! And the Crowd All Cheered! Yet in March he, very quietly, removed that portion of his order. I wanted to know WHY? Upon researching the subject, it turned out the Trans-Canada Pipeline Co. had lobbied the White House to allow the use of the pipe already laying on the ground in North Dakota. This pipe had been manufactured in Canada by Evraz then shipped to various locations along the projected route long before President Obama shutdown the project. Trans-Canada pleadings were that they had already paid for the manufacture and transportation of the pipe and could not reasonably be expected to replace it. In addition Trans-Canada proved that waiting for new U.S. Steel manufactured pipe would add costly time to the start date, thereby delaying the new jobs President Trump had proclaimed. And the added cost would eventually be placed upon the American consumer. The Result was the quiet, almost secret, exclusion of the "Made in America" caveat. Now the Crowd remained silent? Why, no mention of Clinton's emails I assume. But the Bottom line is….this Russian State owned company made money, good ol' American greenbacks, and Putin's pockets got lined. Thank you Donald. Now let's visit memory lane……child at one of the rallies in 2015: "Mr. President, What will the Wall be made of?" Trump: "That may be the best question I get today…..I'll tell you what it's going to be made of, hardened Concrete…." However, in December of 2018 it seems the Democrats swayed him for President Trump tweeted the following: "The Democrats, are saying loud and clear that they do not want to build a concrete wall – but we are not building a concrete wall, we are building artistically designed steel slats, so that you can easily see through it…" But what happened in-between these two very different statements? Tariffs On Imported Steel! Trump placed Tariffs on foreign made steel. This move affected China the most for it is the world's largest exporter of steel, but with the same stroke of the pen Russian imported steel was exempted from these new regulations…mmm….??? Tariffs are in fact a "consumption tax". The consumer pays an exorbitant price when purchasing tariff loaded goods. The object of tariffs is to herd the consuming public away from one source of goods and service to another "preferred" supplier. In this case our President proclaimed American Steel was to be the preferred source. HooRay!…and the crowd cheered. And here's the "But"…But what the Donald didn't reveal was the preferred source of American steel used to build our "big, beautiful", now steel fence, instead of concrete wall, (thanks to the Democrats?), would be….you got it….EVRAZ! The Russian state owned, and Roman Abramovich controlled, steel manufacturer which owns three steel companies in the good ole USA! They have facilities in Oregon, Colorado and Illinois. And to all our surprise EVRAZ happens to be the only U.S. Steel manufacturer capable of manufacturing Mr. Trump's "big, beautiful steel slats" while lining Putin's pockets. . Why is it when one shakes any tree in the Trump forest another Russian falls out? So the question arises, the President is warning of a clear and present danger coming from the South, but is this the deflection away from the not so clear and future funding of his friends? And just what will he receive in return besides a "big, beautiful fence"? Perhaps there is a Russian ladder supply company awaiting completion of the steel slat fence.
=================================
LASTLY, MORE BROKEN PROMISES, AKA LIES FROM DT:
– obamacare – not repealed and Trump fought the freedom caucus to keep it intact, but settled for the mandate being removed that fines men or women that don't want to buy it. – planned parenthood – still fully funded. – sanctuary cities – still fully funded. – the wall that Mexico was going to pay for, only being repaired in areas where a wall already exists. – act presidential, whoops, he failed there. – create a fair tax – nope, the richer got richer and the poor got the shaft – support Israel – Nope, Trump, after saying they could build on the west bank now tells Israel to stop building, so he can give it to Palestine, with the western half of Jerusalem being Palestine's capital. – declaring Jerusalem Israel's capital – whoops, Trump is 34 years late on that one and Reagan declared that in 1984. – a veterans hotline and the VA streamlined and improved – whoops, Trump didn't do that one either. – He would lock up Hillary – nope, Trump said 'Leave her alone, she has suffered enough. – abolish common core – nope, DeVoes was left in charge and common core remains. – Trump wouldn't touch the 2nd amendment. That was a lie when he banned bump stocks. – conservative judges for the supreme court. Whoops, failed again, since Gorsuch votes with liberals and it was Gorsuch that gave the nation the internet tax and violent offenders remain in the nation, since they can't be deported any longer. Kavanaugh, the man that hates the constitution and it was Kavanaugh that told Roberts how to legalize obamacare as a tax in 2010. Kavanaugh helped create the Patriot act which is illegal since it attacks the 4th amendment. – Trump would sanction nations that attack other nations. Whoops, he is still trying to lift sanctions against Russia that own him. – Trump would eliminate the national debt in eight years. Whoops, and he has added two trillion, also having the first trillion dollar deficit in history. Add to that and he received an unlimited debt ceiling from Pelosi and schumer. – Trump vowed to lower prices for everyone. Whoops, he goofed there and his tariffs led to inflation across the board, since the tariffs are paid by the citizens, NOT the nations exporting to the US. – Trump would abolish TPP and NAFTA. Whoops, the new USMCA treaty is a combination of both with little language differences. He had combined them into one treaty to disguise his incompetence. – Trump would end the Iran deal – Whoops, yes, he pulled out of the agreement, but Britain, France, and other nations kept it in place, which merely removed the United States from the negotiation's table, making them silent on world affairs. – Trump promised that he would only use executive orders as a last resort and at last count – he had signed more in two years than eight years of Obama….
====================================
I will conclude by asking ONE very important question:
Does Trump really think he can lie his way out of going to prison??
  -Rev. Larry Wallenmeyer.