Though the above is meant to be funny (Author's note: If it weren't so scary it would be funny), it does not signal the true start of America's descent into Liberalism, which goes back to the Liberalization of America's universities, colleges, and so-called elite academia in the 1870's. For brevity we will concern ourselves with what marked America's first shift(s) as a nation toward Liberalism in 1913 and bring it forward to today via a timeline.
1913- President Woodrow Wilson (a racist, globalist, and Socialist) is the "father" of the IRS, INCOME TAX, The Federal Reserve bank, and The League of Nations, which would then give way to The United Nations. Wilson's tax and economic policies led in part to The Great Depression.
1923-1929- CALVIN COOLIDGE. A small, Constitutionally restricted government, and tax CUTTER. Truly a Constitutional-Conservative and a silent version of the later Ronald Reagan. Greatly slowed the march toward Marxism/Liberalism.
1929- Herbert Hoover, another Liberal, Big Government President, exacerbated Wilson's taxing with his Big Government spending. Hoover began the "alphabet soup" government bureaus that plague us to. This spending REQUIRED MORE $$$, hence taxes went UP…the logical application of Liberalism is ruin.
1933- FDR. What Wilson and Hoover began FDR put on steroids and applied even more vehemently. More bureaus, more government spending, to "Liberal Logic" necessitated MORE taxation. Truman continued this during his term.
1953- Eisenhower slowed the march down, BUT his "Super Highway" program, AND his continuing of ALL "New Deal" programs, AND expanding them did keep America's march into Liberal ruin going. Eisenhower described himself as a "Progressive Moderate".
1961-1969- JFK and LBJ sped the Marxist march back up…A LOT. Especially Johnson with his "Great Society", which was a warmed over FDR "New Deal". In short: Liberal answer is ALWAYS MORE GOVERNMENT…ALWAYS.
1969-1976- NIXON FORD…Minimum Wage, The 3 Phases of Wage and Price FREEZES, established the EPA…more and more BIG GOVERNMENT MEDDLING.
1977-1981- CARTER. A BIG pusher of Affirmative Action, aka Race & Gender based quotas; Carter also instituted the Cabinet level positions of the Depts. of Energy and Education, more reasons to spend $$$, hence to RAISE taxes. Carter's energy policy included government price control a'la Nixon's wage and price freezes…all of which are, of course, Liberal, and FAILED.
1981-1989- REAGAN. Even more than Eisenhower greatly slowed the march towards more Marxism, more akin to Coolidge. Reagan's tax CUTS help bolster the economy, create jobs, and bring in an economic boom. Reagan had to fight with a wholly Liberal/Democrat Congress, but was still able to slow the march down.
1989-2000- GEORGE H.W. BUSH AND CLINTON. Bush sr. broke a major campaign promise of "No New Taxes" and raised taxes a LOT. Clinton raised taxes, weakened our National Security, and tried to push through Nationalised Health Care, aka Marxism. Oh, and Lewinski.
2001-2008 GEORGE W. BUSH. I believe a sincere man, meant well, BUT was economically worse than his dad with bail outs/T.A.R.P, NO CHILD LEFT BEHIND; the Democrat created Dot.com collapse and housing collapse made things economically worse. And when Liberal ideas fail, as they can ONLY do, the answer? MORE LIBERALISM. Ugh!
2008-2016- OBAMA. Obama-Care. The SINGLE BIGGEST Marxist, BIG Government grab EVER. And Obama's CONSTANTLY apologizing to America's enemies, and cold-shouldering our Allies. Obama though more polite, civil, educated, and refined than Trump was actually the predecessor of what was to come.
2016-present- TRUMP. Wow! Take ALL the racism of Wilson and LBJ, ALL the Big Government "solutions" of FDR, LBJ, and BHO, add ALL the lying and corruption of Nixon and Clinton, throw in a short attention span, heinously bad temper,and the IQ of a clump of dirt, and you have Trump. For more detail on Trump that is deeply and thoroughly documented see HERE .
FOR MORE ON HOW BAD IT IS NOW SEE:
HERE and
HERE . This last one I wrote originally in 2015…NOT ONE PERSON HAS EVEN TRIED TO REFUTE IT, ANSWER IT, OR DENY IT. NOT. ONE.
All this has been well and deeply documented.
WHY ISN'T ANYTHING BEING DONE???
MY QUESTION:
WHY, AND HOW, DOES ANYONE STILL DEFEND AND SUPPORT TRUMP???
=======
The report is complete, but it's possible more guilty pleas could come after further investigations.
========
=======
=======
========
PREDATORS TRUMP DEFENDED
• Rob Porter
• Steve Wynn
• Roy Moore
• Steve Bannon
• Bill O'Reilly
• Corey Lewandowski
• Roger Ailes
• Andrew Puzder
• Mike Tyson
• Donald Trump
"Trust me I will only hire the best people. BELIEVE ME! They will be great."
=======
HOW can any sane person, Conservative or Liberal, ESPECIALLY SOMEONE CLAIMING TO BE A CHRISTIAN, defend and support THIS??!!!!
I'm going to speak to Conservatives now, primarily those who claim to be Christian.
HOW do YOU defend THIS?!!
Trump has snubbed an ally over some whacked-out fantasy to buy Greenland, told Jews who vote for Democrats that they're disloyal, and referred to himself as the Chosen One. I eagerly await GOP loyalists saying with a straight face they think this is a stable, normal person.
-Tom Nichols, Twitter Patriot.
Skeptical? Don't believe me?
Here, this is from Trump's own Twitter account:
"Thank you to Wayne Allyn Root for the very nice words. "President Trump is

the greatest President for Jews and for Israel in the history of the world, not just America, he is the best President for Israel in the history of the world.

..and the Jewish people in Israel love him…. ….

like he's the King of Israel.

They love him

like he is the second coming of God

…But American Jews don't know him or like him. They don't even know what they're doing or saying anymore. It makes no sense! But that's OK, if he keeps doing what he's doing,

he's good for….. ..all Jews, Blacks, Gays, everyone. And importantly, he's good for everyone in America who wants a job." Wow!
================
The bizarre-even-by-Trump-standards past 72 hours, explained
From an ill-fated attempt to purchase Greenland to God comparisons, the past three days have been a lot.
President Donald Trump repeatedly threatened to release ISIS fighters in Europe as a form of punishment for countries like Germany and France; said he's strongly considering trying to change the Constitution by executive order (it doesn't work that way); indicated he hasn't ruled out trying to illegally serve more than two terms; rewrote history during comments about Russia's expulsion from the G8 that framed the situation in the most pro-Kremlin manner possible; and, despite five draft deferments, joked about giving himself the Medal of Honor.
That was Wednesday. And that's an incomplete list of all the outlandish stuff Trump said on that day alone.
Any of the aforementioned statements would've generated major scandals coming from the mouth of any other president. But given the week Trump has been having, they arguably didn't even make the cut of the five most WTF things he's said since his New Jersey vacation ended on Monday.
Even in the context of a presidency that has regularly veered into surreal territory, the 72-hour period from Monday through Wednesday stood out. From a silly, ill-fated attempt to purchase Greenland that turned into a diplomatic row to amplifying a conspiracy theorist who compared him with God, Trump seems to be out there more than ever before.
Here's a chronological rundown of just some of the lowlights.
Trump gets mad when the Danish PM accurately describes his effort to buy Greenland as "absurd"
The president's desire to purchase Greenland from Denmark — even though it isn't for sale — started off humorously enough. Trump even managed to poke some fun at himself over the whole thing on Twitter on Monday.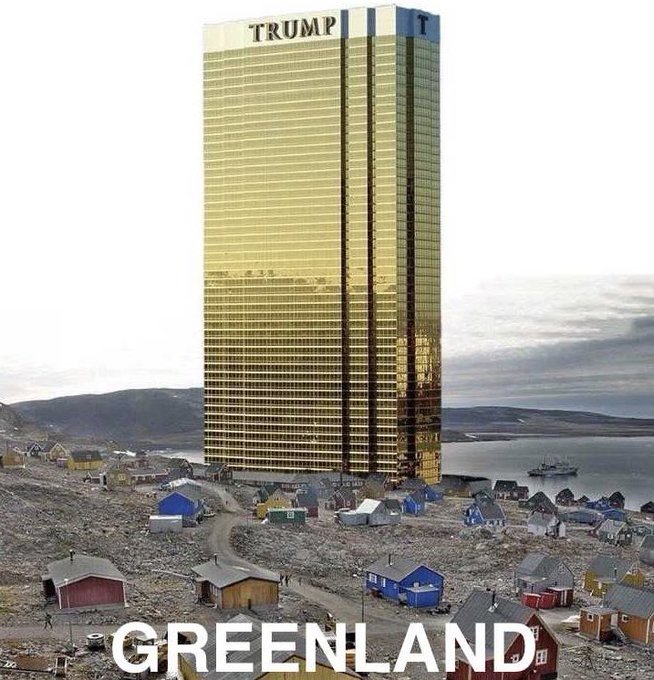 But shortly after Trump posted that tweet, Danish Prime Minister Mette Frederiksen dismissed the idea of selling the resource-rich island to America as "absurd." That seemed to wound Trump's robust sense of pride, causing him to lash out.
Out of nowhere, Trump on Tuesday escalated things by announcing that in light of Frederiksen's comments, he decided to cancel his planned state visit to Denmark — one he reportedly invited himself to in the first place
Sen. Chris Murphy (D-CT) noted that the chain of events was worthy of a Simpsons episode.
Little known fact: the current CNN breaking news headline "President Trump Postpones Denmark Trip After Prime Minster Refuses to Sell Greenland to United States", was, word for word, in a 1995 episode of The Simpsons.
And yet there was more to come. Trump took things to another level on Wednesday, calling Frederiksen's comments "nasty."
"She shouldn't treat the United States that way, by saying, 'absurd.' That's not the right word to use, 'absurd,'" Trump said, adding that he thinks he knows Denmark "well" because "I have many people from Denmark who live in the United States."
[NOTE: Trump said "I have many…" I?? The U.S. is NOT Trump's property!!!!]
Before Wednesday was over, Trump was attacking NATO in general and Denmark in particular for not spending as much as he wants them to on defense. What started as farce had turned into a diplomatic debacle.
Trump says he's "the chosen one" and compares himself to the king of Israel. No, really.
In recent weeks, Trump has tried to score political points off Reps. Ilhan Omar (D-MN) and Rashida Tlaib's (D-MI) criticisms of Israel in an extremely misleading manner by saying things like they "hate Israel and all Jewish people."
Trump seems to think that in light of Omar and Tlaib, no American Jew should vote for a Democrat. And on Tuesday, he said so in a way that invoked the very "dual loyalties" trope Republicans spent so much time criticizing Omar over earlier this year.
"I think any Jewish people that vote for a Democrat — I think it shows either a total lack of knowledge or great disloyalty," he said.
The president's accusation that the majority of American Jews are either dumb or traitorous did not go over well. But on Wednesday morning, he made it even worse by quoting commentary from far-right conspiracy theorist Wayne Allyn Root in which Root asserted that Jews in Israel regard Trump as something akin to "the King of Israel" or "the second coming of God." (Jews do not in fact believe in the second coming of God. [NOTE: Jews await the coming of Messiah, to them it is the first coming])
During his Wednesday afternoon media availability, Trump indicated that he's taking Root's comparison of him to divine figures more seriously than you might think. At one point he paused, looked toward the heavens, and said, "I am the chosen one."…
======
LET ME ASK THIS AGAIN IN CASE YOU MISSED IT:
HOW can any sane person, Conservative or Liberal, ESPECIALLY SOMEONE CLAIMING TO BE A CHRISTIAN, defend and support THIS??!!!!
IF ALL THIS WAS NOT ENOUGH TO CONVINCE YOU OF:
THE DANGER AMERICA IS IN
THE DANGER THE WORLD IS IN
THAT THERE IS NO POLITICAL ANSWER…
THEN MAYBE THIS WILL HELP:
THERE ARE OTHER INVESTIGATIONS GOING ON.
AND ANOTHER POLITICIAN/PERSON IS NOT THE ANSWER.
THE ANSWER????
TURN TO
TRUST IN
FOLLOW COMPLETELY
THE LORD JESUS CHRIST. PERIOD.
 -Rev. Larry Wallenmeyer.