Jesus did the above twice. Once at the beginning of HIS Ministry…the Second time within a week of HIS Crucifixion.
Believe it or not, as goes The Church so goes the world.
When The Biblical Church of The Lord Jesus Christ is strong and vibrant, rooted in God's Word, washed in The Blood of Jesus, full of The Holy Ghost and Fire even the sinner takes note and, at least outwardly, amends their way. When The Church was strong, active, and growing in the Grace and of The Knowledge of The Lord Jesus Christ sinners would mind their P & Q's around us, watch their language, and stifle much of their profane behaviour.
BUT…as The Church grew cold, and strayed from God's Word and Prayer, it began to take on the attributes, habits, and methods of THE WORLD. And to the extent The Church strayed away from God and HIS Holy Word both The Church and the world declined…and began looking, sounding, and BEING more and more like each other.
This article is NOT for the faint of heart. IF you are comfortable in a lukewarm, worldly, "bless me" church…then ONLY keep reading IF you want to see and read The Truth. BUT…IF you hunger and thirst after righteousness then then you will identify with this as true and receive it gladly. My outline for this article is thusly:
Set the precedent for the main body, Part 2, with links to previous articles and to scripture,
Start by addressing current events with a Biblical world-view, this will deal with politics, and then deal with the underlying sins that made these possible,
Sum things up, and then close with a pictorial monologue…here we go…
1. THE FOUNDATION.
FIRST, SCRIPTURAL PRECEDENT.
MATTHEW 7 (get PAST verse one and read it ALL…in context).
NOW, FOR LINKS TO ARTICLES THAT FULLY SET THE STAGE.
The Paganization of Christianity.
Good People Do NOT Go To Heaven.
Calling Out All Christians And Conservatives. 
Is It REALLY About The Constitution Anymore?
ARTICLES CONTAINING FACTS AND EVIDENCE ON COVID-19 FROM THE CDC (AMERICA), CDC (EUROPE), AND FROM WHO, AND OTHER MEDICAL EXPERTS AND DOCTORS: HERE  HERE  HERE   HERE  HERE   HERE  and HERE .  
Now, on to…
2. The "Scorch the Skin Off The Lie and The Liar" Truth.
[***WARNING!!*** If you do NOT have a genuine, sincere hunger and thirst for The truth **STOP NOW!!** 

Read NO Further. You have been warned and duly notified.***]
The Political, Earthly Aspects: 

The Symptoms.
TRUMP IS A LUNATIC.
Trump speculates about injecting disinfectants to treat COVID-19
SOURCE . [CONTAINS VIDEO EVIDENCE.]
EXCERPT.
During a briefing in which the White House pitched "emerging" research on the benefits of sunlight and humidity in diminishing the threat of the coronavirus, President Trump wondered aloud about the possibility of injecting disinfectants into patients. Mr. Trump remarked at Thursday's White House briefing that he's seen that disinfectant "knocks it (COVID-19) out in a minute. And is there a way you can do something like that by injection inside or almost a cleaning? As you see, it gets in the lungs and it does a tremendous number on the lungs — so it'll be interesting to check that. … It sounds interesting to me." 
But William Bryan, head of science and technology at the Department of Homeland Security, seemed to shoot the idea down as quickly as it was mentioned, saying it wasn't being considered. When a reporter asked Bryan, "There's no scenario that could be injected into a person, is there?" Bryan replied, "No."
============
George Conway, Noble Committee Chair
all hail the dimwit-in-chief
There has been a significant increase in calls to poison control in the state of Illinois in the last two days, Illinois Public Health Director Dr. Ngozi Ezike said during a Saturday afternoon press conference…[By Trump].
A spike in New Yorkers ingesting household cleaners following Trump's controversial coronavirus comments
SOURCE .
An unusually high number of New Yorkers contacted city health authorities over fears that they had ingested bleach or other household cleaners in the 18 hours that followed President Trump's bogus claim that injecting such products could cure coronavirus, the Daily News has learned.
The Poison Control Center, a subagency of the city's Health Department, managed a total of 30 cases of possible exposure to disinfectants between 9 p.m. Thursday and 3 p.m. Friday, a spokesman said.
=========
This is probably where he got the idea.
Revealed: leader of group peddling bleach as coronavirus 'cure' wrote to Trump this week
Mark Grenon wrote to Trump saying chlorine dioxide 'can rid the body of Covid-19' days before the president promoted disinfectant as treatment
The leader of the most prominent group in the US peddling potentially lethal industrial bleach as a "miracle cure" for coronavirus wrote to Donald Trump at the White House this week.
In his letter, Mark Grenon told Trump that chlorine dioxide – a powerful bleach used in industrial processes such as textile manufacturing that can have fatal side-effects when drunk – is "a wonderful detox that can kill 99% of the pathogens in the body". He added that it "can rid the body of Covid-19".
A few days after Grenon dispatched his letter, Trump went on national TV at his daily coronavirus briefing at the White House on Thursday and promoted the idea that disinfectant could be used as a treatment for the virus. To the astonishment of medical experts, the US president said that disinfectant "knocks it out in a minute. One minute!"
He went on to say: "Is there a way we can do something, by an injection inside or almost a cleaning? Because you see it gets in the lungs and it does a tremendous number on the lungs, so it'd be interesting to check that."
SOURCE .
============
During the give and take of the discussion someone went for the bogus "CNN/fake news" tactic, the reply was spot on:


"Your cited source are for other stories, in this case you're incorrect. There are increased call to poison control in IL over the past 48hrs, due to people misusing bleach. See last three paragraphs."
Pritzker highlights mental health needs as COVID-19 cases continue to rise
SOURCE .
==============
====================
Dr. Ngozi Ezike advises Illinois residents against ingesting cleaners after poison center calls increase
SOURCE .
CHICAGO, Ill. (WIFR) — The head of the IDPH, Dr. Ngozi Ezike warned Illinois residents at a daily press conference on Saturday to not ingest household cleaning products to try and cure COVID-19.
Ezike says the warning stems from the number of calls to the Illinois Poison Center, which have gone up. She says calls have included people using detergent as a sinus rinse, as well as calls about people gargling with cleaners or bleach and water in a misguided attempt to cure COVID-19.
Dr. Ezike says, "Please listen to scientists and health experts on how to stay healthy. The best way to stay healthy is to avoid becoming infected in the first place. To do that, stay home, if you do go out please wear a face covering, maintain 6 feet of distance between you and others, wash your hands, and do not try home remedies."
This comes after President Trump asked Deborah Birx of the COVID-19 task force on Thursday about injecting COVID-19 patients with disinfectant and exposing them to UV light. Birx later said she had never heard of that type of reasoning ever to try and cure COVID-19.
The president said he was being sarcastic, and later tweeted CDC guidelines on household cleaners. [LIAR!]
=================
WHEN YOU "OUT LEFTIST" THESE TWO LEFTISTS YOU ARE WAAAAY LEFT!! 

***PARDON THE LANGUAGE*** IF YOU'RE A TRUMPSTER YOU SHOULD BE USE TO THIS COARSE LANGUAGE THOUGH.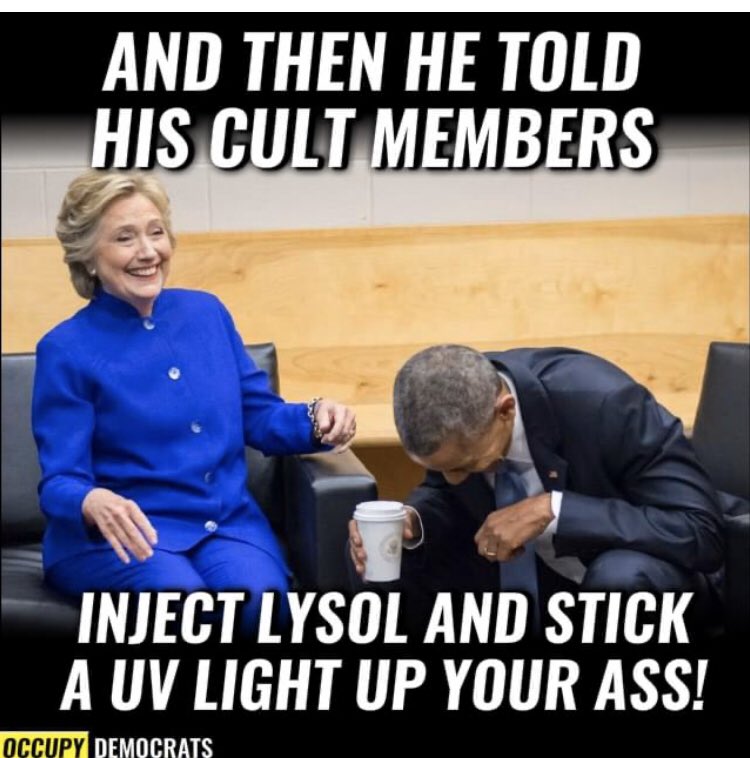 ===========
Trump bragged about the ratings his coronavirus news conferences were getting in the middle of a pandemic and even compared them to the finale of The Bachelor. But as soon as he makes a complete fool of himself telling Americans to inject disinfectants into their blood, he quits…It's much better for the American people if Trump stops doing these news conferences because he uses them to spread deadly misinformation like taking hydroxychloroquine to injecting bleach. We need a President who actually leads and helps people instead of making things worse.
=============
Trumpsters be all…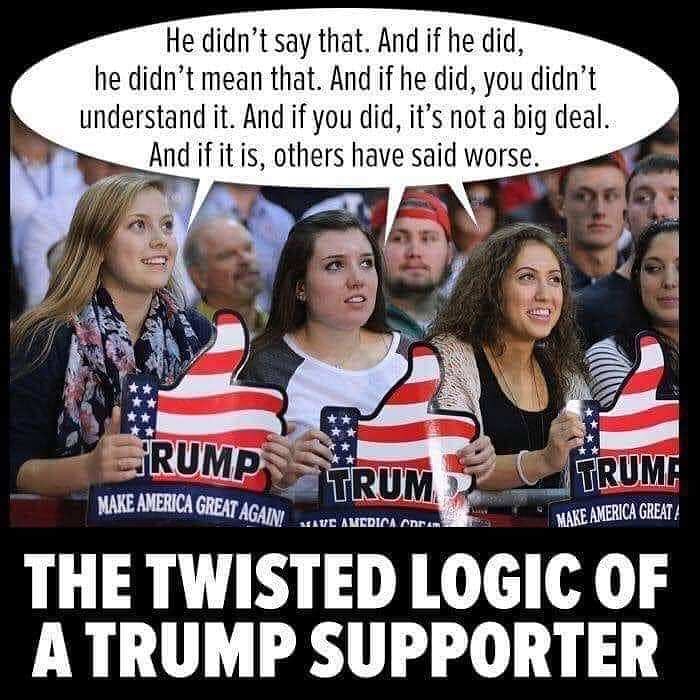 =========
"How DARE the Television Set show me saying the Very Stupid Things that I said! What is the purpose of having a Television Set? UN-FAIR WITCH-HUNT!"
-Trump…or a reasonable facsimile.
==================

==========
====================================
We ARE where are today, these are the SYMPTOMS we face today BECAUSE of THIS:
Hosea 8:1-7

 

King James Version (KJV)
8 Set the trumpet to thy mouth. He shall come as an eagle against the house of the Lord, because they have transgressed my covenant, and trespassed against my law.
2 Israel shall cry unto me, My God, we know thee.
3 Israel hath cast off the thing that is good: the enemy shall pursue him.
4 

They

have set up kings, but

not

by me:

they

have made princes, and I knew it

not

: of their silver and their gold have they made them idols, that they may be cut off.
5 Thy calf, O Samaria, hath cast thee off; mine anger is kindled against them: how long will it be ere they attain to innocency?
6 For from Israel was it also: the workman made it; therefore it is not God: but the calf of Samaria shall be broken in pieces.
7 For they have sown the wind, and they shall reap the whirlwind: it hath no stalk; the bud shall yield no meal: if so be it yield, the strangers shall swallow it up.
===
HERE IT GOES, THE MAIN PART OF MY MESSAGE…
Beginning as far back as the 1870's when America's universities became increasingly more Liberal, Atheistic, and Humanistic, including America's Bible colleges and Seminaries…then it first manifest publicly in 1918 when Woodrow Wilson pushed for and got: The Federal Reserve Bank- unConstitutional; The IRS/Income Tax- unConstitutional; and The League of Nations- unConstitutional.
Then move up to Hoover, FDR, Truman, JFK, LBJ, Nixon, Carter, GHWB, Clinton, GWB, Obama, and the worst, Trump…
You look at The America from 1775 up to 1870 and it is still pretty much The America our Founders gave us, "One Nation Under God".
As stated already the change began slow…almost imperceptible at first…
BUT the SINGLE BIGGEST CHANGE happened in 1962-1963…when THE HIGHEST COURT in America banned God from Public Schools and Public lands/buildings.
To this day America has NEVER repented of that sin…actually we have compounded our sin of rejecting God and choosing to go further and further from God. As a DIRECT RESULT of our repeated choosing of sin, AND refusing to repent we as a nation are weak, wicked, corrupt, and illiterate to The Bible and all things Godly. In 1984 while as an Assistant Supervisor of Security at The Nelson Art Gallery I PERSONALLY witnessed THIS:

In the European Religious art section of The Nelson Art Gallery a group of 7th and 8th graders came through. The tour guide showed them an El Greco painting of The Lord Jesus Christ on The Cross. The ENTIRE CLASS asked, "WHO is that man?" The guide said "That's Jesus." The class then asked, "Why is he on The Cross?" The guide gave a very political reason, "The leaders of that time didn't like him." and moved on.

Next they came to Michelangelo Merisi da Caravaggio's painting of the Archangel Michael casting Satan in chains into the bottomless pit. Again the ENTIRE class asked, "Who is that?" The guide explained. The class then asked, "WHY throw Stan in The Bottomless Pit?"!!!
1984… "Ah, that was an isolated instance…way back then…"
Really?
THIS happened just this week:
Have a new guy at work, name is Isaac, between 18-22 years old. I told him I knew his son. He said "Son?!" I replied with a smile, "Yeah, Jacob. As In Abraham, Isaac,and Jacob."

He just looked at me. Had NO clue what I was talking about. I said they're the Biblical fathers of the Jewish and Christian faith. Blank stare. Nothing.
I walked away…praying and sad.
Daily I read some new atrocity that is going on in our land, and all around the world. A nation that once was "The Land of The Free And The Home of The Brave…One Nation Under GOD…In GOD We Trust…"
BUT IS NOW so backslid, so wicked, so far from God many have NOT ONE idea WHO God even is, some deny God even exists!
I read about Washington, Adams, Franklin, Jefferson, Madison, Henry, Lincoln, Coolidge, Reagan…
And then I read the insane, moronic, egotistical, vile bilge from Wilson (racist/globalist), Hoover/FDR/Truman (racist/globalist/Socialists), JFK/LBJ/Nixon, Ford, and Carter (immoral, vulgar, racist, globalist, Socialists), Clinton, Obama, and now the barrage of bile from Trump (Globalist, depraved, womaniser, vulgar, vile, racist, Socialist)…
CHURCH, Christian, and Conservatives…READ your Bibles! Study America's Founding Fathers and Founding Documents!
Then…BE HONEST…look, listen, read what HAS happened, and IS HAPPENING daily in America.
WE  ARE BACKSLID AND FAR FROM GOD AS A NATION!
Yes. There ARE good churches still. Pockets here and there of true Biblical-Christianity…
BUT FAR TOO much of the WORLD is IN the church-
and NOT enough of The Church influencing the world!
We ARE Laodicea!
Lukewarm! Worldly! Carnal! Backslid…and most are so illiterate of The Bible they don't even see it!
"What do you see, Reverend? Is there time? Is there hope?"
As I look at God's Word and look around…the answer is:
NO.
No, there is NO more time. And there is NO more hope for America and the world to return to Biblical-Christianity….BUT...
BUT…
1 Corinthians 15:51-57

 

King James Version (KJV)
51 Behold, I shew you a mystery; We shall not all sleep, but we shall all be changed,
52 In a moment, in the twinkling of an eye, at the last trump: for the trumpet shall sound, and the dead shall be raised incorruptible, and we shall be changed.
53 For this corruptible must put on incorruption, and this mortal must put on immortality.
54 So when this corruptible shall have put on incorruption, and this mortal shall have put on immortality, then shall be brought to pass the saying that is written, Death is swallowed up in victory.
55 O death, where is thy sting? O grave, where is thy victory?
56 The sting of death is sin; and the strength of sin is the law.
57 But thanks be to God, which giveth us the victory through our Lord Jesus Christ.
The Return of The Lord Jesus Christ FOR HIS Church at The Catching Away, The Rapture IS OUR BLESSED HOPE!
Luke 21:20

 

King James Version (KJV)
20 And when ye shall see Jerusalem compassed with armies, then know that the desolation thereof is nigh.
27 And then shall they see the Son of man coming in a cloud with power and great glory.
28 And when these things begin to come to pass, then look up, and lift up your heads; for your redemption draweth nigh.
Matthew 24:32-36

 

King James Version (KJV)
32 Now learn a parable of the fig tree; When his branch is yet tender, and putteth forth leaves, ye know that summer is nigh:
33 So likewise ye, when ye shall see all these things, know that it is near, even at the doors.
34 Verily I say unto you, This generation shall not pass, till all these things be fulfilled.
35 Heaven and earth shall pass away, but my words shall not pass away.
36 But of that day and hour knoweth no man, no, not the angels of heaven, but my Father only.
===================
Church of The Lord Jesus Christ, we don't know the day nor the hour…BUT repeatedly JESUS SAID SOON!
Look UP! Lift up your heads! Your redemption draweth NIGH!
 -Rev. Larry Wallenmeyer.