A quick look at what we

ONCE WERE

to see just HOW FAR America has ALREADY FALLEN.
Here is the link to Patrick Henry's fiery call for Liberty.
Here are excerpts from the speech:
No man thinks more highly than I do of the patriotism, as well as abilities, of the very worthy gentlemen who have just addressed the House. But different men often see the same subject in different lights; and, therefore, I hope it will not be thought disrespectful to those gentlemen if, entertaining as I do opinions of a character very opposite to theirs, I shall speak forth my sentiments freely and without reserve. This is no time for ceremony. The questing before the House is one of awful moment to this country. For my own part, I consider it as nothing less than a question of freedom or slavery; and in proportion to the magnitude of the subject ought to be the freedom of the debate. It is only in this way that we can hope to arrive at truth, and fulfill the great responsibility which we hold to God and our country. Should I keep back my opinions at such a time, through fear of giving offense, I should consider myself as guilty of treason towards my country, and of an act of disloyalty toward the Majesty of Heaven, which I revere above all earthly kings…

… Let us not deceive ourselves, sir. These are the implements of war and subjugation; the last arguments to which kings resort. I ask gentlemen, sir, what means this martial array, if its purpose be not to force us to submission?…

…Sir, we have done everything that could be done to avert the storm which is now coming on. We have petitioned; we have remonstrated; we have supplicated; we have prostrated ourselves before the throne, and have implored its interposition to arrest the tyrannical hands of the ministry and Parliament. Our petitions have been slighted; our remonstrances have produced additional violence and insult; our supplications have been disregarded; and we have been spurned, with contempt, from the foot of the throne! In vain, after these things, may we indulge the fond hope of peace and reconciliation. There is no longer any room for hope…

…If we wish to be free– if we mean to preserve inviolate those inestimable privileges for which we have been so long contending–if we mean not basely to abandon the noble struggle in which we have been so long engaged, and which we have pledged ourselves never to abandon until the glorious object of our contest shall be obtained–we must fight! I repeat it, sir, we must fight! An appeal to arms and to the God of hosts is all that is left us!…

…They tell us, sir, that we are weak; unable to cope with so formidable an adversary. But when shall we be stronger? Will it be the next week, or the next year? Will it be when we are totally disarmed, and when a British guard shall be stationed in every house?  Shall we gather strength by irresolution and inaction?

…It is in vain, sir, to extenuate the matter. Gentlemen may cry, Peace, Peace– but there is no peace [Jer. 6:14].  The war is actually begun! The next gale that sweeps from the north will bring to our ears the clash of resounding arms! Our brethren are already in the field!  Why stand we here idle [Matt. 20:6]? What is it that gentlemen wish? What would they have? Is life so dear, or peace so sweet, as to be purchased at the price of chains and slavery?

Forbid it, Almighty God! I know not what course others may take; but as for me, give me liberty or give me death!
The single greatest threat and enemy of Liberty is THE LIE.
Lies, dishonesty, perjury, slander, "half truths", deception, deceit, and delusion. (John 8:31, 32, 36; John 17:17; John 14:6).
EVERY tyrant, EVERY despot, EVERY dictator, king, ruler…President MUST LIE to obfuscate and muddy The Truth.
They do this by seeming to get as close to the truth as they can, but still lie, still hide facts, and hide facets of the WHOLE Truth…and then lead further FROM The Truth and deeper in to lies and delusion, (II Thessalonians 2:2-13; Romans 1:16-32).
Those lacking discernment and who lack critical thinking blindly follow until they think slavery is freedom, right is wrong, good is bad, lies are truth, death is life…until they ARE slaves and it's too late. To try and combat this I will first then…
EXPOSE THE LIE(S).
Horowitz: We have been lied to: 6 facts that change

everything

we know about SARS-CoV-2
PERTINENT EXCERPTS.
1) The shocking inflation of COVID-19 death numbers: From day one, we were warned that states are ascribing every single death of anyone who happens to test positive for the coronavirus — even if they are asymptomatic — to the virus rather than the clear cause of death. Now, thanks to a lawsuit in Colorado, the state was forced to revise its death count down by 23 % over the weekend — from 1,150 to 878. The state is now publishing numbers of deaths "with" COVID-19 separate from deaths "from" COVID-19. As I reported on Thursday, county officials started accusing the state's department of health of reclassifying deaths of those who tested positive for the virus but died of things like alcohol poisoning as COVID-19 deaths just to insidiously inflate the numbers. This revision in Colorado is a bombshell story that, of course, will remain unknown to most Americans. Every state needs to do this, and if they did, we would find an across-the-board drop in numbers by at least 25%, the same %age by which Dr. Birx reportedly believes the count is being inflated, according to the Washington Post. For example, in Minnesota, state officials are now admitting that every single person who dies in a nursing home after testing positive is now deemed to have died from the virus, never mind the fact that 25% of all natural deaths in a given week occur in nursing homes and that most cases of COVID-19 are asymptomatic, which means more often than not, they died exclusively of other causes.
2) States with longer lockdowns had worse results: Kyle Lamb posted a solid analysis on Twitter, grouping states by how long they implemented a lockdown and averaging out the deaths per 100,000 people by each grouping. The results are astounding, as there is a perfectly inverse relationship between how long a state implemented a lockdown and how successful it was in keeping the deaths down. I independently cross-checked these numbers, and they appear to be accurate.
KYLE LAMB, via Twitter:

Someone didn't believe me when I told them that more stringent lockdown states actually are faring (much) worse. 49 states + DC grouped by days in stay at home order or non-essential business closures (N.Y. excluded for fairer comparisons). Check this out…
While this doesn't necessarily prove that lockdowns cause more COVID-19 deaths (although they definitely cause other deaths), it's nearly impossible to assert the other way around – that lockdowns prevent deaths – if we see zero correlation in the data. This is especially true given that Florida is the third most populous state and has the highest concentration of seniors, yet deaths and hospitalizations are way down since the state reopened on May 4. Florida is more densely populated than Michigan and Pennsylvania, yet has one-sixth and one-fourth of the deaths per capita, respectively. The same holds true for Georgia, which is a fairly densely populated state. Infections are down over 40% and deaths are down 31% since reopening. As Secretary of Health Alex Azar said yesterday, "We are seeing that in places that are opening, we're not seeing this spike in cases. We still see spikes in some areas that are, in fact, closed."
3) Outside nursing homes, the fatality rate never warranted such action, even if it would work: Every day we find more hard data showing that the overwhelming majority of cases are asymptomatic or mildly symptomatic, and outside nursing homes, the chance of dying is very low and very limited to a population we can more efficiently shield. For those who are younger and healthier, deaths are almost nonexistent. Spain was one of the hardest-hit countries and has a higher overall fatality rate than others, yet its age-stratified fatality rates mirror what we have seen in the Netherlands, Denmark, France, and elsewhere. One Twitter commentator has broken down the age-based fatality rates of the comprehensive Spanish antibody study, and the results are similar to what we've seen elsewhere: 
SOURCE .
Based on the most accurate antibody testing data available (Spain, 60k, countrywide), you would not be correct. IFR is less than 0.7% in Spain, but deaths of old skew the numbers. India is a much younger population so the IFR would be much lower.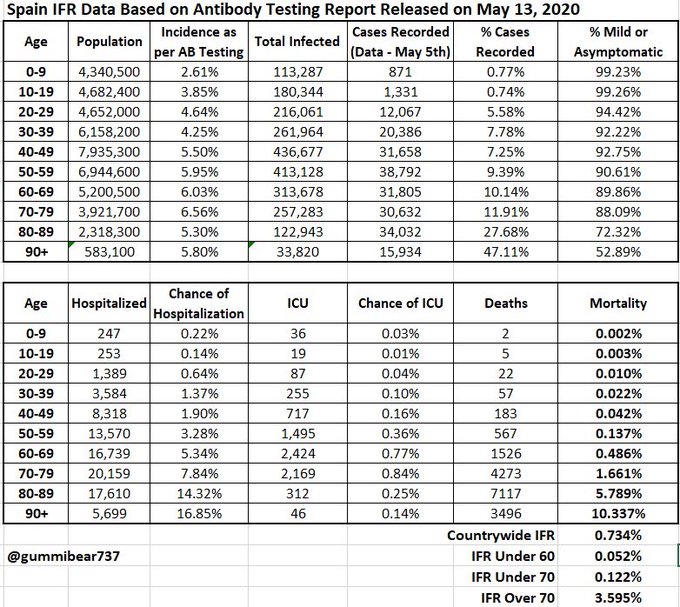 He used public information to calculate the case data and the population age data, and I have spot-checked some data points and they all seem on target. It's identical to what the Netherlands found.
Remember, Spain was one of the hardest-hit countries, but even there, 57% of all deaths and the overwhelming majority of deaths of those above age 80 were in senior care facilities. When you take them out of the equation, the death rates are shockingly low. Yet the same politicians who focused on locking up an entire country failed to care for those in nursing homes. This demographic COVID-19 death chart from Massachusetts speaks volumes about the targeted scope of the danger.
It's essentially the same story in every state.
4) Outside New York, this is barely worse than bad flu seasons: While Europe is opening its schools, almost every U.S. state continues to keep schools shut. Yet according to the CDC's latest weekly report, "For children (0-17 years), COVID-19 hospitalization rates are much lower than influenza hospitalization rates at comparable time points during recent influenza seasons." Even the World Health Organization's top scientist just admitted that children "seem less capable of spreading the virus." As for everyone else, if you look at the bump in overall deaths for most states (outside the tristate area), they are either at, slightly below, or slight above the 2018 flu season. But at this point, everything is way below a typical flu season in the winter, yet you wouldn't know it from listening to the media. According to the CDC, hospitalizations and deaths have been declining in all 10 designated regions for the past 3-7 weeks. Still, we are now being more fascist that even Italy in violating civil rights.
5) Excess deaths are from the lockdowns, not the virus: While there is zero evidence that lockdowns saved any lives of coronavirus patients, there is clear evidence they cost other lives. It has been observed in a number of states that there are excess deaths being detected, primarily from people dying at home. The CDC is predicting 21,462-40,097 excess deaths NOT due to COVID-19, likely from those too scared to come to the ER because of the exaggerated risk being associated with COVID-19. Also, a recent analysis of excess deaths in England shows that they are seeing thousands of people dying at home from other symptoms because of the lockdown.
6) Social distancing was invented by a high-school kid and politicians, not scientists: Jeffrey Tucker of the American Institute for Economic research reports that the origin of this cult of "social distancing" being used for totalitarian lockdowns was the brainchild of a high schooler's sociology paper in 2006, promoted by the Bush administration during the avian flu. It was widely mocked by the epidemiological community, including by Johns Hopkins, for "causing the potential for a 'serious adverse outcome,'" thereby ensuring that "a manageable epidemic could move toward catastrophe."
How have we allowed such an illogical approach to crush our liberties, economy, hospitals, education, and criminal justice? How have we lost our freedoms?
The answer is that the public is not getting the right information. This is why the political class is doing everything in its power to censor anyone who dares question the idolatry of this lockdown cult. YouTube has censored the videos of Knut Wittkowski, who was a top epidemiologist in Germany and then served as the head of biostatistics, epidemiology, and research design at Rockefeller University. One would think we'd want to hear his opinion, but there is only one view that is allowed to gain traction. Why is it that only one side is scared of the information of the other side?
As James Madison warned, "Knowledge will forever govern ignorance: And a people who mean to be their own Governors, must arm themselves with the power which knowledge gives."
===========
MORE LIES TO STEAL OUR LIBERTY.
THE DOCTORS SAY…
FULL ARTICLE HERE. THIS LINK HAS A OVER 8 LINKS TO MUCH MORE INFO AND EVIDENCE FROM DOCTORS AND MEDICAL EXPERTS.
[EXCERPTS.]
TRUTH: It is now almost impossible for anyone in the general public or general medical community to know the actual number of deaths from COVID-19. That is because sometime in March US hospitals started testing all ER patients and every patient who died, regardless of cause of death, for COVID-19. Those patients are being included by the media in COVID-19 death tolls. Yes, a victim of a car accident brought to a US ER who passes away will be tested for COVID-19. Two of the most egregious examples of misrepresentation involve infants. One of the fascinating things about coronaviruses from a medical standpoint is children are almost universally immune to deleterious effects. A study from back in 2004-2005 was conducted in which swabs were done in both controls and children hospitalized for respiratory illness. The incidence of coronavirus was the same for controls and hospitalized children and the conclusion was HCoV (coronavirus) infection was not associated with hospitalization or with increased severity of illness in those hospitalized due to other infections. Search NIH if you want to review these findings. Obviously, COVID-19 is not included in that study since it was first identified recently. However, COVID-19 has not been associated with pediatric illness anywhere. Not China, South Korea, Italy, or Spain. So on March 29 when BuzzFeed.News and an Illinois paper, The Guardian, led with the headline "The First Infant Has Died In The US After Testing Positive For The Coronavirus," it caught our attention. The article goes on to say the infant's death was announced by Governor JB Pritzker and, depending on which article you read, either Pritzker, or Dr. Ngozi Ezike, director of the Illinois Department of Public Health, said: "If you haven't been paying attention (to COVID-19), maybe this is your wake-up call." On April 2, CBS News reported Connecticut Governor Ned Lamont had announced "It is with heartbreaking sadness today that we can confirm the first pediatric fatality in Connecticut linked to COVID-19." He went on to say it was likely one of the youngest deaths from the disease "anywhere." The problem is neither death has actually been attributed to COVID-19. On April 3, the Hartford Courant correctly clarified that all patients who die in Connecticut hospitals were being tested for the virus, regardless of manner of death, and that Connecticut's Chief Medical Examiner had not ruled COVID-19 to be the infant's cause of death. Just yesterday, April 18, NBC 5 Chicago reported Chicago Department of Public Health Commissioner Dr. Allison Arwady said it is preliminarily believed the infant in Illinois did not die from coronavirus.
============
TRUTH: COVID-19 has been treated like a world-ender; it's 

not

 even 

remotely

 close.  
As mentioned earlier, it has infected just over 2 million people in the world. Not killed 2 million people. Actually, not even made 2 million sick. Just infected. So it is 76 million short of infecting 1% of the world's population. 
[MY NOTES: Sooo, we are CRASHING our entire economy/jobs for a PUNY virus that has NOT even remotely close to 1% INFECTED…with a "fatality rate" of less than .3%!! THIS is NOT about health- THIS is about CONTROL!]
It is 998 million short of infecting as many as influenza has this year, the vast majority of which are sicker than the average coronavirus patient. The world has never shut down for any disease before. And it chose this one to do so?
TRUTH: This is

not

a medical crisis, but a POLITICAL crisis.  [MY NOTES: I've reported and said THIS since January!]
There is a saying in politics, "never waste a crisis," and this is apparently true even if the crisis is fabricated.
We briefly debated leaving out politics, but the reality is most have already figured this out and there is no explaining the phenomenon that is COVID-19 hysteria without talking politics.
In short, Democrats attempted to impeach Trump late in 2019 and failed. [MY NOTES: WRONG. They succeeded in impeaching Trump, the Senated failed to remove him as he NEEDED to be removed.] Shortly after a State of the Union address in which he touted considerable economic success, COVID-19 was made front and center by the media. Most probably feel both parties have failed us but there is no debating which party is most responsible for pushing the fear. Every time President Trump argues for reopening, the press and the Democrats gnash their teeth and talk higher death tolls. The governors of Illinois and Connecticut who incorrectly reported infant deaths are Democrat. Michigan governor Gretchen Whitmer, who has gone so far as to restrict her state's residents from mowing their lawns and planting flowers, is a Democrat. Louisiana governor John Bel Edwards, who threatened to permanently take licenses from open businesses and organize a special police task force to arrest anyone in groups of more than ten, is a Democrat.
Mayor Walt Maddox is a Democrat. He told us in March that if he did nothing Tuscaloosa County would experience 3,686 deaths due to COVID-19. Think about that for just a second. It was first identified in Wuhan, China, a city of over 11 million people. China has a population of 1.4 billion and at the time of his presentation, COVID-19 had killed a little over 3,200 in the entire country. Tuscaloosa County has a population of just under 184,000 and is considerably less densely populated than Wuhan, China. That number is not only meant to do nothing except incite fear but indicates a serious lack of insight and judgement.
THE TRUTH SHALL MAKE YOU FREE…IF YOU LISTEN TO IT…
MAXIMS OF TRUTH. 1. WHEN YOU BELIEVE A LIE YOU BEGIN THAT INSTANT TO LOSE LIBERTY.
2. YOU CONTINUE TO LOSE LIBERTY TO THE EXTENT YOU FOLLOW A LIE.
3. WHEN YOU BEGIN TO HELP PROPAGATE THE LIE YOU ARE NOT FREE, BUT RATHER DELUDED AND DELUSIONAL.
4. ONLY AS YOU HONESTLY EXAMINE AND ACCEPT TRUTH WILL YOU BEGIN TO BE FREE AGAIN.
5. YOU WILL GET WHAT YOU CHOOSE; AND YOU WILL SERVE SOMEBODY.
6. SERVE THE TRUTH AND BE FREE.
7. SERVE THE LIE AND BE A SLAVE.
IF YOU CHOSE TO LIVE IN FEAR IT IS BECAUSE YOU HAVE

BELIEVED THE LIE(S).

 

BUT…keep your fear, lack of faith, and lack of common-sense to YOURSELF. NOT all of us chose to be slaves.
Those of you who are bound in fear BECAUSE you CHOSE to believe the Lies do

NOT

try to guilt or shame US who CHOSE common-sense and Truth into being slaves to cowardice.
NOR turn into backstabbing traitors and report us for exercising our GOD-GIVEN Rights and Liberties!
Because in the end YOU WILL get the results of CHOOSING lies, fear, and slavery. GALATIANS 6:7, 8
Now to begin to wrap this up with some cold, hard TRUTH…spoken in LOVE…but…this WILL hurt those who've chosen The Lie…
FIRST:
It is NOT being a "patriot" to cower in fear to your own government.
It is NOT "courageous" to spinelessly follow what the government tells you to do- especially given how many times a DAY they LIE to you.
It is NOT "smart" to swallow hook-line-n-sinker everything the "experts" tell you- USE YOUR BRAIN- THINK- RESEARCH- CHECK THINGS OUT FOR YOURSELF- THEN IF the preponderance of VERIFIABLE research and evidence supports a view…THEN believe it. BUT THINK!
When tyranny spreads and abounds it is due to people falling for LIES AND FEAR!
WHEN EVERYONE IS EQUALLY DESTITUTE, AND UNABLE OR UNWILLING TO FIGHT BACK AGAINST THE TYRANNY OF THEIR OWN GOVERNMENT…

THEN WHAT?!!
THINK!
Of all the things we have FOUGHT AND DEFEATED…far too many of you are letting a VERY WEAK, PUNY VIRUS THAT-
99.99% FULLY RECOVER FROM!

– induce YOU into accepting tyranny and slavery!!! WHY?!!
LOOK AT THE FACTS! LISTEN TO THE VAST MAJORITY OF THE EVIDENCE THAT IS READILY AVAILABLE!
They know this! Dr. Fauci and Dr. Birx know this! Our new Surgeon General said this and came out on them giving false advice!
Sunlight destroys coronavirus quickly, say US scientists
===============
More than 100,000 small businesses have permanently closed due to coronavirus, study estimates: 

[CORRECTION: closed due to government implementation of socialism/tyranny.]
A new study estimates about 2 percent of small American businesses have closed for good.
============
I've been saying this for a while and I'll say it again here:
This is

not

about safety.
This is

not

about health.
This is about control pure and simple.
This is a worldwide, big government attempt to see who will be followers and blindly do what they're told to do regardless of how stupid it is, how pointless it is, and how useless it is,

and those who actually still think for themselves and love Liberty.
I am a Patrick Henry: Give me liberty or give me death!
I am

not

going to be one of those people that say the experts, the government , "whoever" is always right, and I'm

NOT

going to blindly follow them even into a box car to a special camp for my protection.
==========================
Of ALL the diseases we let them close down OUR RIGHTS AND LIBERTIES FOR…we let it be one of THE WEAKEST, PUNIEST viruses EVER in ALL of History!!

As I close let leave you some "Memes of Truth" to ponder…
SADLY, THIS IS ALL TOO TRUE.
MORE LIKE 3 1/2 MONTHS…
GOING TO SAY IT AGAIN:
LASTLY…YOU WERE WARNED…
Now…WHAT are you going to do armed with the facts and Truth?
I KNOW what I'm going to do…
I'm going to DO as God says in Proverbs 3:5, 6.
I'm going to TRUST HIM.
NOT lean on my own understanding.
I'm going to follow GOD as HE leads.
NO fear.
NO blind eye.
NO deaf ear.
NO ignorantly following the will/laws of man.
BUT…
STAND

ON

GOD'S WORD.
LIVE

BY

GOD'S WORD.
AND FOLLOW

GOD'S

LEADING…
WHICH IS WHAT I DO,

AND ALL OF US ARE TO DO EVERYDAY ANYWAY.
 -Rev. Larry Wallenmeyer.