PROLOGUE: This article gets personal…
I have been active on two/2 fronts since I became a Born-Again, Biblical-Christian on August 14th, 1976. FIRST AND FOREMOST, I've devoted my heart, soul, and life to preaching, teaching, counselling, and ministering in music and worship The Eternal Gospel of The Lord Jesus Christ, and salvation through FAITH in Christ alone, via the gift of God's grace when Jesus died on The Cross for me.
I preached my first sermon in my dad's pulpit in Needles, California. The text was I Corinthians 15:51-57 and I Thessalonians 4:13-18…I had been a Christian for one month and God called me to preach, my first sermon was on the soon return of The Lord Jesus Christ to catch away HIS Church/Bride. Since then I've studied through the entire Bible 70 times, attended 3 Bible colleges, focusing on Bible Doctrine, Apologetics, and Current events in the light of Biblical prophecy.
SECONDLY, as part and parcel of sharing The Gospel and BEING a witness (Acts 1:8″…and ye shall BE witnesses…"), as BEING the salt and light that Christ called us to be I began to apply God's Word to everyday aspects of life. Meaning applying God's Word in a practical, literal sense to work, family, the job, relationships, school, entertainment, culture, society, and, yes, politics. Jesus is to BE Lord of EVERY FACET  of life, NOT just the religious/spiritual aspects. Jesus IS to BE Lord of ALL. Period. In keeping with my faith in The Lord God and HIS Word over the years from August 14th, 1976 til today I have been or currently am involved in:
DAILY BIBLE STUDY
DAILY PRAYER
FASTING AS GOD CALLS FOR IT
PREACHING GOD'S WORD
TEACHING GOD'S WORD
COUNSELLING GOD'S WORD
LEADING WORSHIP ACCORDING TO GOD'S WORD
WRITING A CHRISTIAN YOUTH NEWSPAPER
STREET MINISTRY
CONCERT MINISTRY
PROJECT MINISTRY
PICKETING ABORTION CLINICS
FOOD AND CLOTHING PANTRIES
FREE COMMUNITY BREAKFAST FOR THE POOR & HOMELESS
HAVE WORKED FOR AND WRITTEN FOR CHRISTIAN AND CONSERVATIVE SITES SUCH AS; RESIST NET, PATRIOT ACTION NETWORK, ONE NATION UNDER GOD, CONSTITUTIONAL CONSERVATIVE, TEA PARTY CONSERVATIVES, CONSERVATIVE FORUMS, FREE REPUBLIC, CHRISTIAN-CONSTITUTIONALIST, AND BIBLICAL-CONSTITUTION NEWS
Back when I began my Christian walk things were much different. The election of a single, Godly man could, and did make a BIG difference in the morale and morals of America. BUT…this is not then.
America's sins are so entrenched. America's heart so hardened. America is so bent on rejecting God and gleefully choosing evil that God has given us up as he did Judah, see Jeremiah chpts.12-17.
And on top of all that, the return of The Lord Jesus is SO VERY IMMINENT that the entire world is now in the final stages of setting up for The Reign of Anti-Christ.
There will be NO revival to advert what God has long ago prophesied. 
This IS it.
We are in the LAST MOMENTS of the End Times.
"So, why warn anyone about anything then?"
Because there ARE those who WILL hear and WILL repent, and put their faith and trust in The Lord Jesus Christ.
And because God told me to, see Jeremiah 1:10; Ezekiel 3; and Ezekiel 33. I, and EVERY Christian are "Watchmen on The Walls"…what are we doing? Are we giving a CLEAR signal of God's Word? Are we giving a message from our own hearts and desires? OR are we fallen asleep on our watch as the forces of Hell are marshalled to install The One World government, religion, and economy under the (albeit temporary) rule of The Anti-Christ?
So, until The Lord Jesus Christ catches us away out of here I WILL WARN.
The Lie That Was Chosen To Take Over The World
DISCLAIMER: THIS may not be the actual crisis that is used to install The Anti-Christ, but it certainly IS a "test run", and one of the VERY LAST "test runs" before "the Real McCoy".
Of all the things they could have chosen to take away our God-given Liberties and Rights it turns out to be one of the weakest, least deadly viruses EVER.
Truly what the Nazis, Stalinists, and Liberals in the good, ol' U.S.A. have said for almost 100 years:
Tell a lie. Make it big. Repeat it often. Stifle opposition. And the masses will believe a lie.
God spoke of this in Romans 1:16-32, in II Thessalonians 2:2-12, and in II Timothy 4:1-8 when HE said people WILL exchange The Truth for a lie…and would rather believe than The Truth…to the point of stopping up their ears to NOT hear Truth…and that as their "reward" for this CHOICE God would give them over to a reprobate mind, and send them a string delusion that may believe the lie and be damned.
So, we are reaping the decades long harvest of the sowing of so many lies, so many counterfeits, so much deception that people are now doing as God described in Isaiah 5:13-26 where they call evil good, and call good evil.
Now, without further ado…I will tackle THE LIES
The Lies About The "Need" To Wear A Mask:
To many, to way too many, Dr. Fauci has become THE Final Word on all things COVID-19…even the supposed call for wearing a mask 24/7/365.
But…IS THAT the truth?
Listening to the video is best because you can see how he thinks those who think they need to wear a mask are silly.
~ "There's NO reason to be walking around with a mask," infectious disease expert Dr. Anthony Fauci told 60 Minutes.
While masks may block some droplets, Fauci said, they do not provide the level of protection people think they do. Wearing a mask may also have unintended consequences: People who wear masks tend to touch their face more often to adjust them, which can spread germs from their hands.
But there is another risk to healthy people buying disposable masks as a precaution. The price of face masks is surging, and Prestige Ameritech, the nation's largest surgical mask manufacturer, is now struggling to keep up with the increased demand.
"It could lead to a shortage of masks for the people who really need it," Fauci said."
SEE VIDEO BELOW:
https://www.youtube.com/watch?v=PRa6t_e7dgI
https://m.youtube.com/watch?v=PRa6t_e7dgI
===========================
However, The CDC doesn't recommend that people in public areas wear masks to protect themselves from respiratory illnesses/ including COVID-19 or flu. You should only wear a mask if a healthcare professional recommends it.
There's very limited scientific evidence of benefit, if any, of wearing a surgical mask in a casual situation. Wearing a mask all the time could allow viruses to be transmitted around it and if it becomes moist it will encourage the growth of viruses and bacteria and will not be effective.
Author: Rosemarie Beltz (WLTX)
Published: 6:27 PM EST February 24, 2020
Updated: 1:44 PM EST February 26, 2020
SOURCE .
===
LISTEN TO THE AUDIO CLIP….IMPORTANT!
Wearing a face mask could put you at greater risk for coronavirus. Here's why:
As coronavirus fears mount in the United States, experts warn that face masks won't help most people avoid the virus — and they may actually increase the risk of getting it.
"The average healthy person does not need to have a mask, and they shouldn't be wearing masks," says Dr. Eli Perencevich, a professor of medicine and epidemiology at the University of Iowa's College of Medicine, according to Forbes.
"There's no evidence that wearing masks on healthy people will protect them," Perencevich said, the publication reported. "They wear them incorrectly, and they can increase the risk of infection because they're touching their face more often."
SOURCE .
SALT LAKE CITY (Feb 27, 2020)– Health officials say you shouldn't be wearing protective face masks as a preventative measure against getting sick. In fact, they say wearing a mask might make you more likely to catch something.
Fears over the spreading coronavirus have led to a massive shortage of protective face masks across the world with many hoping they can prevent the sickness by wearing a mask.
https://kslnewsradio.com/1920141/wearing-a-mask/?
The WHO still stands by its original recommendations that there is no evidence that wearing a mask by a healthy person in a community setting is beneficial.
=====
If you are healthy, you only need to wear a mask if you are taking care of a person with COVID-19.
SOURCE .
======================
==========
SOURCE .
Wearing Face Masks and Gloves Doesn't Prevent You From Getting Sick
Mar 12, 2020
1. Myth: Face Masks Are a Good Defense Against Catching the Flu
Keep in mind how small a virus actually is, the typical length of a virus ranges from 200 to 1,000 nanometers (for reference, a red blood cell is about 10,000 nanometers), and many of the masks on the market — which are commonly used improperly — can't prevent something so small from entering our bodies.
The best defensive strategy is proper hand-washing, mindful covering of your mouth upon coughing and sneezing and not touching your eyes, nose, and mouth.
2. Myth: Wearing Gloves Can Prevent You From Picking Up Germs
3. Myth: Vitamin C Helps You Get Better Faster
The best remedy is good old-fashioned sleep, the more your body rests, the speedier your recovery.
4. Myth: The Flu Is the Same as Having a Bad Cold
In the United States alone, 36,000 people die and more than 200,000 are hospitalized each year because of the flu. Dr. Pate encourages people to get vaccinated. Even if the shot doesn't prevent you from getting the flu, it can decrease the chance of developing severe symptoms.
==================
UP-DATE***
THIS ARTICLE SHOWS A TIME-TABLE.
UP TO THE END OF FEBRUARY AND INTO MARCH THE CDC (AMERICA), CDC (EUROPE), AND THE W.H.O. WERE ALL SAYING WEARING A MASK IS NOT NEEDED, AND IN NON-STERILE ENVIRONMENTS MORE OFTEN THAN NOT CAN CAUSE HEALTHY PEOPLE TO GET SICK.
THEN SOMEWHERE IN MID MARCH OR EARLY APRIL THE CDC (AMERICA) BROKE WITH THE OTHER TWO AND NOW RECOMMENDS MASKS, STRONGLY RECOMMENDS MASKS.
WHY?
MY RESEARCH LEADS ME TO CONCLUDE THIS:
EUROPE IS A CONTINENT WITH MANY DIFFERENT NATIONS. THE U.S. IS ON A CONTINENT (AND MORE), BUT IS ONLY ONE NATION.
SO WHEREAS IT IS FAR MORE DIFFICULT TO GET MANY INDEPENDENT AND COMPETING NATIONS TO AGREE ON SOMETHING…ALL THAT IS NEEDED HERE/THE U.S. IS JUST ONE CORRUPT GROUP OF INFLUENTIAL PEOPLE TO MAKE A FAR AND OVER-REACHING "LAW"/RULING FOR ALL OF AMERICA.
HAVE YOU EVER THOUGHT TO ASK "WHY ARE THE AREAS WHERE THERE IS MORE/STRICTER GOVERNMENT REGULATION HAVING ALL THE CASES, I.E. NEW YORK?
AND WHY ARE THE AREAS WITH LITTLE TO NO REGULATION HAVING THE FEWEST CASES?
AND, LASTLY, WHY ARE THE AREAS OPENING UP ALREADY SEEING THEIR CASE NUMBERS DROP, WHILE AREAS STILL UNDER HEAVY GOVERNMENTAL ENFORCED LOCK DOWN ARE STILL HAVING MAJOR PROBLEMS?
THE CDC (AMERICA) RULING CHANGED…BUT THE EVIDENCE, THE FACTS DID NOT.
WHY?
BECAUSE THIS IS NOT ABOUT HEALTH.
THIS IS NOT ABOUT SAFETY.
THIS IS PLAIN AND SIMPLE ABOUT CONTROL. PERIOD
THE GREATEST ENEMY OF TYRANNY IS TRUTH.
THE GREATEST ENEMY OF LIBERTY IS LIES.
==============
==========================
MASKS ARE A SICK JOKE ON HUMANITY.
*****Sharing from a friend:*****
My daughter. 19 yrs old. Healthy. Frontline worker at a huge grocery store chain. Started feeling sick about two weeks ago. Side and back pain. Nausea.. Chest pain. Primary doc sent her for chest x-ray.. Something "lit up" on right side. Sent for MRI. Cat scan. Ultra sound of back and abdomen areas..NOTHING.. While at work was unable to breathe. Chest pain. Rushed to e.r. quarantined. Tested for covid. Young. By herself because no one can be with her. Turns out its pleurisy.. An inflection of the outside of the lining of the lungs. They basically tell her.. It's because she has been wearing a mask for over 8 hours a day 5-6 days a week. Breathing in her own bacteria. Carbon dioxide.. Caused an infection. And now she is in severe pain. Has to be off work with no pay.. But you wont see that on social media! She's 19. Healthy. And now is bed bound and struggling to breathe. Antibiotics. Steroids. Breathing treatments.
(Jennifer Brown)
====================================
The Lies About The Number of Deaths and Fatality Rate.
The CDC's New 'Best Estimate' Implies a COVID-19 Infection Fatality Rate Below 0.3%
That rate is much lower than the numbers used in the horrifying projections that shaped the government response to the epidemic.
According to the Centers for Disease Control and Prevention (CDC), the current "best estimate" for the fatality rate among Americans with COVID-19 symptoms is 0.4 percent. The CDC also estimates that 35 percent of people infected by the COVID-19 virus never develop symptoms. Those numbers imply that the virus kills less than 0.3 percent of people infected by it—far lower than the infection fatality rates (IFRs) assumed by the alarming projections that drove the initial government response to the epidemic, including broad business closure and stay-at-home orders.
The CDC offers the new estimates in its "COVID-19 Pandemic Planning Scenarios," which are meant to guide hospital administrators in "assessing resource needs" and help policy makers "evaluate the potential effects of different community mitigation strategies." It says "the planning scenarios are being used by mathematical modelers throughout the Federal government."…
SOURCE .
==================
EVEN IN HARD LEFT CALIFORNIA THEIR IS A CRY FOR SANITY, A CRY TO RETURN TO LIBERTY!
'A Year's Worth of Suicide Attempts in the Last Four Weeks': California Doctor Calls for End to Lockdown
The doctor in charge of a Bay Area, Calif. trauma center said the state should end its lockdown orders after an "unprecedented" spike in suicide attempts amid the coronavirus pandemic.
"We've never seen numbers like this, in such a short period of time," Dr. Mike deBoisblanc, head of trauma at John Muir Medical Center, told local station ABC7. "I mean, we've seen a year's worth of suicide attempts in the last four weeks." He added that he thinks "it's time" to end the state shutdown.
=======
Horowitz: The CDC confirms remarkably low coronavirus death rate. Where is the media?
SOURCE .
Most people are more likely to wind up six feet under because of almost anything else under the sun other than COVID-19.
The CDC just came out with a report that should be earth-shattering to the narrative of the political class, yet it will go into the thick pile of vital data and information about the virus that is not getting out to the public. For the first time, the CDC has attempted to offer a real estimate of the overall death rate for COVID-19, and under its most likely scenario, the number is 0.26%. Officials estimate a 0.4% fatality rate among those who are symptomatic and project a 35% rate of asymptomatic cases among those infected, which drops the overall infection fatality rate (IFR) to just 0.26% — almost exactly where Stanford researchers pegged it a month ago.
============
Japan Ends Coronavirus Emergency With 850 Deaths and No Lockdown
Japan's Prime Minister Shinzo Abe has announced the end of his state of emergency declaration for the novel coronavirus pandemic, with just 851 deaths reported and without ever implementing a lockdown.
"I have decided to end the state of emergency across the nation," Abe said during a televised press conference on Monday. "In just over a month and a half, we almost brought (the infection) situation under control."
================
Epidemiologist: Coronavirus could be 'exterminated' if lockdowns were lifted
SOURCE .
'Going outdoors is what stops every respiratory disease'
A veteran scholar of epidemiology has warned that the ongoing lockdowns throughout the United States and the rest of the world are almost certainly just prolonging the coronavirus outbreak rather than doing anything to truly mitigate it.
Knut Wittkowski, previously the longtime head of the Department of Biostatistics, Epidemiology, and Research Design at the Rockefeller University in New York City, said in an interview with the Press and the Public Project that the coronavirus could be "exterminated" if we permitted most people to lead normal lives and sheltered the most vulnerable parts of society until the danger had passed.
"[W]hat people are trying to do is flatten the curve. I don't really know why. But, what happens is if you flatten the curve, you also prolong, to widen it, and it takes more time. And I don't see a good reason for a respiratory disease to stay in the population longer than necessary," he said.
"With all respiratory diseases, the only thing that stops the disease is herd immunity. About 80% of the people need to have had contact with the virus, and the majority of them won't even have recognized that they were infected, or they had very, very mild symptoms, especially if they are children. So, it's very important to keep the schools open and kids mingling to spread the virus to get herd immunity as fast as possible, and then the elderly people, who should be separated, and the nursing homes should be closed during that time, can come back and meet their children and grandchildren after about 4 weeks when the virus has been exterminated," he added.
=====================
I've been saying this for a while and I'll say it again here:
This is not about safety. This is not about health. This is about control pure and simple.
This is a worldwide big government attempt to see who will be followers and blindly do what they're told to do regardless of how stupid it is, how pointless it is, and how useless it is, and those who actually still think for themselves and love Liberty.
I am a Patrick Henry Give me liberty or give me death. I am not going to be one of these people that say the experts, the government , "whoever" is always right, and I'm NOT going to blindly follow them even into a box car to a special camp for my protection.
==============================

IF The PHONY "pandemic" of COVID-19 was REALLY as Bad as They Say it is…Then WHY are hospitals empty, and closing???
They closed up the huge field hospital without even seeing one patient. Millions of dollars wasted. Cuomo said they would need 160,000 vents and only ended up using 19,000.
Not naming names because I told them I wouldn't. Wouldn't want them to lose their jobs. These are nurses in New York City who were told not tell how many coronavirus patients were in the hospital! They all had the same opinion exactly so I am going to believe it! The hospital had very few! They used maybe two ventilators and not one patient was ever on the ship they brought in to the harbor! They felt uncomfortable being hailed as heroes since none of them had even been close to a coronavirus patient! This has convinced me this was a government, man made crisis! Our government just keeps lying to us! 
=======================
I've got friends who are nurses here, in Alabama, saying pretty much the same thing. They can't speak out publicly because they were told they would be reprimanded…
 …yes one of my close friends is a nurse here in Alabama. She said she felt so uncomfortable because people were telling them they were heroes and she wanted to tell them hero for what. We didn't have any patients. She was told she would lose her job if she let anyone know they weren't patients!

STILL WANT TO THINK THAT IT IS NOT ABOUT BIG GOVERNMENT OVERREACH AND TYRANNY? THEN READ THIS:
In church closings, Minnesota's governor undermined his own authority, invited defiance
SOURCE .
"Let every person be subject to the governing authorities," St. Paul wrote to the early Christians of Rome, encouraging them to obey the laws of the very empire that would later require his head.
Paul specifically told the Christians of Rome to show proper honor toward their political leaders and to pay their taxes. He did not mean for Christians to be silent about injustice, but the church he was helping build was to be an instrument of salvation, not of political revolution or social change.
This has certainly been true in the United States, where Roman Catholicism is historically a religion of foreigners and immigrants. As a sort of guest, the institutional Church tends to be quiet — some Catholics would say to the point of timidity. And even when the bishops do speak on issues of life and death and grave injustice, Catholic bishops in the U.S. would never challenge secular authorities on purely administrative matters.
That is, until now.
For weeks, the Catholic bishops of Minnesota, along with some of their Protestant counterparts, have been in talks with Gov. Tim Walz, a Democrat, seeking permission to reopen their churches. They have come to the conclusion that Walz's guidelines for reopening the state lack any rational basis and show no signs of changing. Therefore, they have decided the guidelines are unworthy of their obedience.
Already, malls and some other retailers are permitted to operate at up to 50% of their normal capacity. Walz also announced last week that bars, restaurants, salons, and other such businesses may reopen at reduced capacity starting June 1. Yet no provision has been made in any of these new rules to allow resumption of public worship. Even in June, the current rules will remain in place that no more than 10 people may gather at once for religious services — a ridiculous restriction, given the presence of massive cathedrals that seat thousands.
Even worse, Walz's lockdown is indefinite. He will not give a date for reopening. And by the bishops' account, no amount of dialogue or discussion has caused him to budge in the slightest. Thus, the bishops are taking the only rational course — they are openly defying him.
[ME: GOOD> Obey the laws of man UNLESS they contradict THE LAWS OF GOD.]
====================
THINK REAL HARD ABOUT THE FDR QUOTE BELOW, ESPECIALLY IN CONTEXT WITH THE MODERN DAY MANTRA OF TAKE ADVANTAGE OF EVERY CRISIS…
========================
This guy is clueless. It is now obvious that he was guessing all along. He is just another part of the overpriced over praised bureaucracy.
But…. but… but…. don't you believe in "science"? Putting a clueless doctor, who can't see the forest for the trees, in charge of directing the greatest economy on earth had to be the biggest blunder of the century.
Dr. Anthony Fauci says staying closed for too long could cause 'irreparable damage'
…He said the U.S. had to institute severe measures because 
Covid-19
cases were exploding then. "
But now is the time, depending upon where you are and what your situation is, to begin to seriously look at reopening the economy, reopening the country to try to get back to some degree of normal."…
=========
A Patriot friend writes:
I believe that this whole CV thing is overblown and that it actually poses very little threat to healthy people. Up until mid-March, when I got furloughed from my job, I worked as a hotel lobby greeter where I came into fairly close contact with a LOT of different people from a LOT of different places, even overseas. At this point, our state's stay at home order had not yet been enacted, and nobody in my workplace was wearing masks. I could have been exposed to the CV a million times over and never knew it, but neither me nor any of my co-workers ever got sick, that I'm aware of. I also have gone out grocery shopping multiple times over the past couple of months, without a mask, and I have been FINE. Also, my parents, whom I live with and are more vulnerable than I am, haven't caught anything from me, either! Things have been opening back up in our state, and more people are getting out and about to the point where life feels almost normal here, and yet we haven't had a huge increase in cases! This whole CV has just been overhyped and blown out of proportion for somebody's personal benefit – and it sure isn't for the average American!
There are actual news reports from multiple independent sources that say the numbers attributed to Covid-19 cases and fatalities from covid-19 We're grossly exaggerated from 88 to 91% …that is not a pandemic of a disease, that is a pandemic of Lies!!
WHY would they do lie? BECAUSE they seek to control through lies, fear, and manipulation. PERIOD.
=====
I've said this before, one of only two things I agree with Trump on IS his desire to re-open America and our economy…and to NOT shut down again… BUT Trump is such an egregious and contemptible liar, so given to fraud, slander, pity-parties, and moronic tantrums that he squanders ANY credibility. I don't know if it was by design, or if Trump just so stupid, egotistical, and a pathological liar that it's just a NATURAL RESULT…but Trump IS tight to re-open and NOT shut-down again…too bad a treasonous liar said that.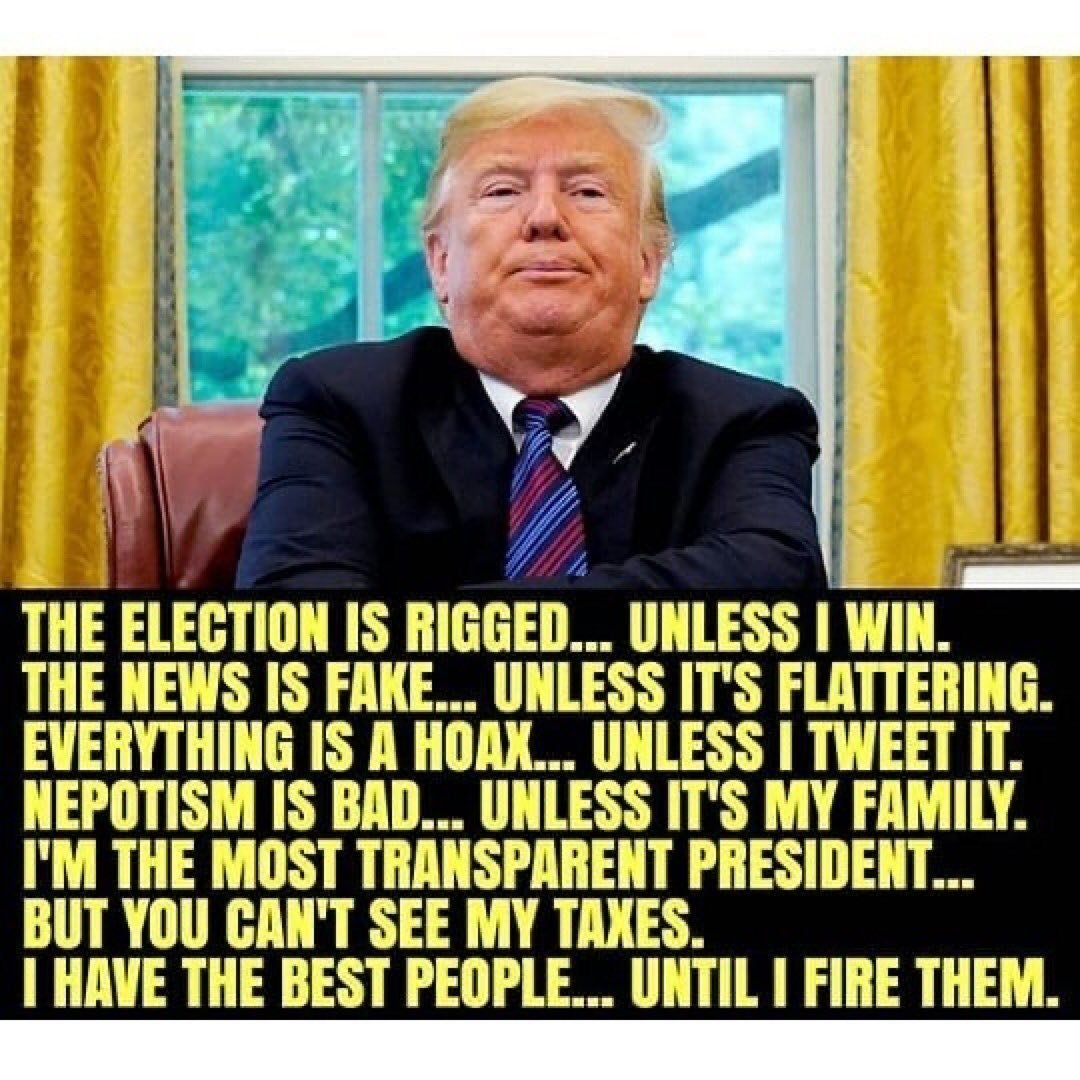 ===============
ONE LAST PARTING SHOT RIGHT DOWN THE STACKS…
READ: The Declaration of Independence, The Federalist Papers, Constitution, The Bill of Rights (especially Amendments 1-11).
We are NOT slaves!
We are Free Born!
ACT AND LIVE LIKE IT!
 -Rev. Larry Wallenmeyer.