Putin and Russia's grooming of Trump paid off:
Trump sides with Putin over US intelligence
=======================
Trump on LIVE tv during a "debate" called FOR Russian interference saying they should release over 33,000 of HRC's emails.
Trump has also asked Ukraine, China, N. Korea and anyone else to release dirt on his political opponents.
Trump ADMITTED in an interview with Lester Holt that he "got rid of Comey because of 'the Russian thing' ".
Trump has consistently sided with OUR ENEMIES all while attacking OUR/U.S. intel, military and our Allies. I will divulge my observant reasons why later. 
===================
Now the latest, and possibly WORST act of Treason committed by Trump:
SOURCE .
told colleagues he briefed President
on the intelligence assessment that Russians were paying bounties to kill American service members in Afghanistan back in March 2019—

a full year earlier than has been previously reported
===
AP sources: White House aware of Russian bounties in 2019
Top officials in the White House were aware in early 2019 of classified intelligence indicating Russia was secretly offering bounties to the Taliban for the deaths of Americans, a full year earlier than has been previously reported, according to U.S. officials with direct knowledge of the intelligence.
The assessment was included in at least one of President Donald Trump's written daily intelligence briefings at the time, according to the officials. Then-national security adviser John Bolton also told colleagues he briefed Trump on the intelligence assessment in March 2019.
The White House did not respond to questions about Trump or other officials' awareness of Russia's provocations in 2019. The White House has said Trump was not — and still has not been — briefed on the intelligence assessments because they have not been fully verified. However, it is rare for intelligence to be confirmed without a shadow of a doubt before it is presented to top officials.
===
Spies and Commandos Warned

Months Ago

of Russian Bounties on U.S. Troops
The recovery of large amounts of American cash at a Taliban outpost in Afghanistan helped tip off U.S. officials. It is believed that at least one U.S. troop death was the result of the bounties.
WASHINGTON — United States intelligence officers and Special Operations forces in Afghanistan alerted their superiors as early as January to a suspected Russian plot to pay bounties to the Taliban to kill American troops in Afghanistan, according to officials briefed on the matter. They believed at least one U.S. troop death was the result of the bounties, two of the officials said.
The crucial information that led the spies and commandos to focus on the bounties included the recovery of a large amount of American cash from a raid on a Taliban outpost that prompted suspicions. Interrogations of captured militants and criminals played a central role in making the intelligence community confident in its assessment that the Russians had offered and paid bounties in 2019, another official has said.
Armed with this information, military and intelligence officials have been reviewing American and other coalition combat casualties over the past 18 months to determine whether any were victims of the plot. Four Americans were killed in combat in early 2020, but the Taliban have not attacked American positions since a February agreement to end the long-running war in Afghanistan.
The details added to the picture of the classified intelligence assessment, which The New York Times reported Friday has been under discussion inside the Trump administration since at least March, and emerged as the White House confronted a growing chorus of criticism on Sunday over its apparent failure to authorize a response to Russia.
==================
In floor speech on Russian bounties and Trump's knowledge of intel, Sen. Duckworth says "ignorance isn't exculpatory." "'No one told me' is not an excuse for a commander in chief…it is in fact a confession of incompetence," she adds
"He's had time to call Joe Biden names, however….not once in the past 72 hours has he found time to express outrage that American service members are dead,"
Duckworth says. "Not responding here is a response in its own way."
Duckworth accuses
Trump of making it "more likely that more spouses will be widowed and more moms and dads turned into gold star parents."
"How dare he still call himself the commander in chief?

"
==============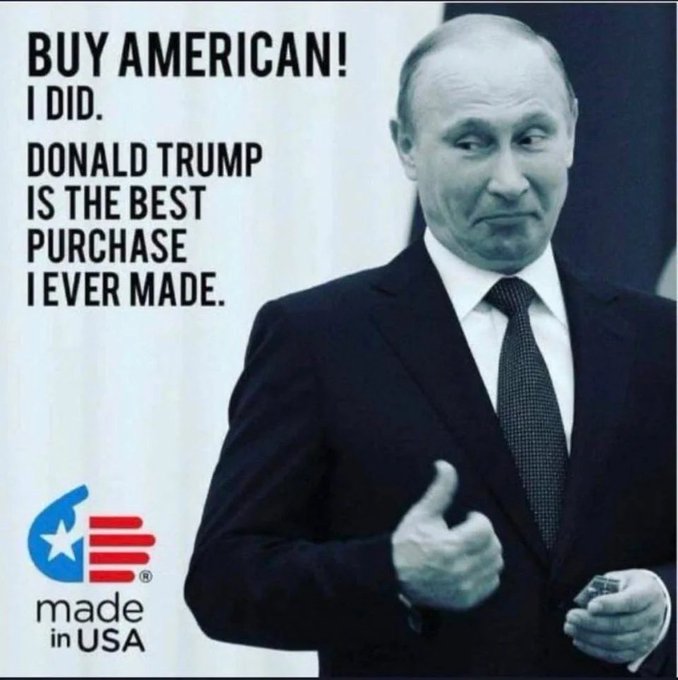 David Rothkopf: "After Trump learned Russian military… had put a bounty on the heads of coalition forces in Afghanistan, it's not that Trump did nothing.

He did the unthinkable. He offered up substantial diplomatic rewards to the Russians & the Taliban."
So Trump signed off on:
Russian murders of American soldiers,
Chinese concentration camps,
extorting Ukraine,
betraying Kurds,
selling nuclear secrets to Saudis,
putting kids in cages, t
ear gassing U.S. citizens,
and politicizing masks during the #COVID19 pandemic?
Anything else??
"Some bounties that Putin has offered have been collected, meaning the Russians believe their offering cash to kill Americans has actually worked to get some Americans killed. And President* Trump was told about this in March. And he has done nothing." VIDEO .
"Treason" is specifically defined as giving aid and comfort to someone with whom we are at war. IS RUSSIA IN A CYBERWAR WITH THE USA?

Mueller testified in July 2019 that yes, Russia is still cyber-attacking us. Please read
=========================
Stop saying that

#TrumpKnewAndDidNothing. He did do something.

After

Putin paid to have the lives of at least 3 American soldiers taken from them,

Trump invited Putin to be part of the G8 again.
If this isn't treason, I don't know what is.
============
My Thoughts.
I'm soon to be 61 years old. in my life-time there have been 99% Left-of-Center to Flat-Out Marxist politicians, including the Presidency. Within the the President's office alone there have been/are:
JFK- LEFT-OF-CENTER; LIBERAL.

LBJ- MARXIST; RACIST.

NIXON- LEFT-OF-CENTER; LIBERAL.

FORD- LEFT-OF-CENTER; LIBERAL.

CARTER- SOCIALIST; INCOMPETENT.

GEORGE H.W. BUSH- LEFT-OF-CENTER; LIBERAL.

CLINTON- SOCIALIST; WOMAN MOLESTER.

GEORGE W. BUSH- LEFT-OF-CENTER; LIBERAL.

OBAMA- MARXIST.

TRUMP- MARXIST; PATHOLOGICAL LIAR; SERIAL WOMAN ASSAULTER; FRAUD; CON; PROFANITY LACED PERVERT; TRAITOR.
ONLY Ronald Wilson Reagan was a true Constitution and Liberty Loving Conservative.
In all this, only LBJ and Nixon come close to approximating the vile wretchedness that is Trump. And Trump is far worse. In politics, demeanor, and in his daily life Trump exhibits the worst, most toxic mix of:
WOODROW WILSON
HERBERT HOOVER
FDR
TRUMAN
JFK
LBJ
NIXON
FORD
CARTER
CLINTON AND
OBAMA.
From Trump's OWN history, actions, and associations Trump has LONG BEEN Anti-American, and now a flat-out Traitor.
============
As is becoming my custom, I will now close out with a:
MEME FLURRY.
THE PROBLEM ISN'T JUST TRUMP…
SAME IS TRUE WITH TRUMP V. BIDEN…OR ANY LIBERAL G.O.P. VS. ANY DEMOCRAT.
YES, YES WE ARE…
OR ANY OTHER LIBERAL…
THIS is what a REAL President says:
THIS IS THE SAD, SICK, TWISTED MAN THAT THE G.O.P. DECIDED WAS THEIR BEST (???)!!!!
SOUNDS FAMILIAR…
MARK MY WORDS, WRITE THIS DATE DOWN, YOU HEARD IT HERE FIRST: COVID-19, THE WEAK, PUNY VIRUS, AND THE MARXIST BLACK LIVES MATTER RIOTS AND LOOTING ARE DISTRACTIONS FROM TRUMP'S TREASON!!!
THE RIOTS AND COVID-19 ARE DISTRACTIONS FROM TRUMP'S TREASON…WITNESS:
THERE IS NO "PANDEMIC"…NEVER WAS. YOU HAVE BEEN LIED TO. THIS WAS NEVER ABOUT SAFETY. THIS WAS NEVER ABOUT HEALTH. THIS WAS AND IS ABOUT CONTROL! AND…A DISTRACTION FROM TRUMP'S TREASON, AND A PRECURSOR TO TYRANNY.
Annndd Lastly,
=================
In closing let me clearly and emphatically state that TRUMP IS A TRAITOR.
America, IF we as nation have the time and desire to, NEED to humble ourselves, pray, SEEK GOD'S FACE, and turn FROM OUR WICKED WAYS…NOW!
 -Rev. Larry Wallenmeyer.