Trump was NEVER "the Right Man/Choice", see:
HOSEA 8 .
We as Biblical-Christians and Constitutional-Conservatives TRIED to warn you all from the git-go…you WOULDN'T listen then…

PLEASE, PLEASE LISTEN NOW.
13 Ways Trump

Isn't

Conservative
SOURCE .
13 Ways Trump Is

NOT

Conservative
The label "Never Trump" is off the mark — not because true conservatives could potentially support Trump, but because our rejection of him has nothing to do with his name or who he is. Instead, rejection of Trump has everything to do with his policies and behavior as President. In more ways than not, his conduct has been antithetical to conservatism's core, in direct tension with most everything for which we've claimed to fight in the past.
Put simply, Trump is not conservative. Here are just a few reasons why (in no particular order):
Trump has unilaterally levied billions in tariffs in contravention of free trade and free market principles,

raising prices for consumers and putting the squeeze on domestic businesses that rely on foreign sources of supply.

Not conservative.
Trump has brokered preferential tax deals for companies like Carrier, picking winners and losers in the exact same way Obama used taxpayer money on pet projects like Solyndra.

Not conservative.

Trump has ignored the constitutional separation of powers on several occasions. He has, among other things, tried to unilaterally end the statutory asylum process for refugees and, most recently, threatened to unilaterally declare a "disaster" at our border to appropriate funds that Congress won't give him. Just because the Constitution makes things tough sometimes doesn't mean you should ignore it. Not conservative.
Trump has cozied up to our enemies (e.g., Russia and North Korea) for little-to-nothing in return and strained relations with some of our closest allies (e.g., Britain and Canada). Not conservative.
Trump has conducted himself in a way wholly unbecoming of the dignity of the office he holds. He tweets about the fleeting topic du jour like an impetuous teenager and directs the nation's attention to the dramatic and inconsequential. Not conservative.
Trump has utilized the antitrust laws to threaten and attack certain companies, like "Amazon's Washington Post," in order to execute a personal vendetta or just because he's been rubbed the wrong way. Not conservative.
Trump has routinely made judgments about the quality and ability of Americans based on their race. He once claimed that a Hispanic Article III judge (who was a native-born US citizen) could not fairly adjudicate a dispute because of his heritage. Not conservative.
Trump has, on a number of occasions, undermined the rule of law and the legitimacy of our courts by personally attacking career Justice Department and FBI officials, and attacking the independence and competence of Article III judges. Not conservative.
Trump blindsided his top military advisers and key allies when he abruptly announced that he would withdraw some 2,000 troops from Syria. Ill-planned and lacking any coherent rationale, the move provoked the resignation of then-Secretary of Defense Jim Mattis. Retreating from battlefields on a whim and abandoning our allies like the Kurds is a weak betrayal of our values and our commitments. Not conservative.
Trump has waged war against the press, creating hostile environments for reporters and chilling the freedoms that the Constitution guarantees and upon which this country was built.

He attacks and deflects instead of answering questions head on. Snowflake.

Not conservative.
Trump's

politics are vindictive, personal, and mean-spirited. He often opts to demean his opponents and critics by calling them names and publicly shaming them,

and very rarely makes substantive counterarguments.  [MY NOTE: Trump CAN'T make a substantive countrerargument. THAT requires thought, logic, reason, and IQ above 50.]    Not conservative.
Trump has also increased the national debt to historic levels on the back of his $1.3 trillion omnibus spending binge. At $21 trillion, the national debt now stands at a near all-time high. But, Trump is busy tweeting late-night missives at folks and could care less. [MY NOTE: with the Marxist COVID -19 bail-outs it IS at the HIGHEST level EVER!] Not conservative.
Finally, Trump has repeatedly shown himself to be morally bankrupt. He knowingly lies when the facts are uncomfortable for him, rarely if ever takes responsibility for his mistakes, and has attacked women, minorities, the disabled, and vets for political gain. Not conservative.
Just two years ago, conservatives were busy taking folks like Mitt Romney and Marco Rubio to task for being insufficiently conservative over miscues paling in comparison to Trump's heresies.
The cult of hypocrisy that surrounds Trump today is killing our movement's coherence. Doing a few things we might like doesn't make up for a mountain of bad things that make a mockery of our beliefs.
So — if you consider yourself a conservative, but you're wearing a red MAGA hat cheering the president's every move, please look in the mirror.
Ask yourself if Trump really passes the conservative sniff test.
Then, snap out of it, throw the hat away, and let's get back to our principles.
=================================
Remember all the way back to earlier THIS yes?
I do.
Over 500 law professors

say Trump engaged in 'impeachable conduct' in his dealings with Ukraine
SOURCE .
Over 500 legal scholars signed an open letter stating President Donald Trump engaged in "impeachable conduct" in his dealings with Ukraine.
The letter said there's "overwhelming evidence that President Trump betrayed his oath of office by seeking to use presidential power to pressure a foreign government to help him distort an American election."
The scholars said both chambers of Congress "would be acting well within their constitutional powers" if they ultimately vote to impeach and remove Trump.
=================
But what has "the-lying-24/7/365-Fraud" said or done recently that smacks of treason you ask?
Glad you asked, THIS is what…
"If This Isn't Treason Then Nothing Is!" and "All Things Trump"
SOURCE .
THIS COVERS TRUMP'S SIDING WITH TURKEY AND RUSSIA OVER OUR ALLIES THE KURDS AND OUR OWN MILITARY!
========
K.S.N./V.N.D. :More Fun And Treason With Trump And Putin
THIS COVERS TRUMP'S-AGAIN/STILL- SIDING WITH PUTIN/RUSSIA OVER ALL 17 U.S. INTEL AGENCIES, THE U.S. MILITARY, OUR ALLIES, AND AGREEING WITH PUTIN OVER RUSSIA MEDDLING IN OUR ELECTIONS!!!
================
The Rev. Riffs On Trump.
SOURCE .
THIS SHOWS TRUMP'S CATERING AND KOWTOWING TO PUTIN/RUSSIA, HU/CHINA, N. KOREA…AGAIN OVER U.S. INTEL, MILITARY, AND OUR ALLIES!!!
==============
WHY I AM #NEVERTRUMP
SOURCE .
HERE ARE MANY OF MY PERSONAL REASONS WHY I CAN NEVER SUPPORT TRUMP, IT INCLUDES LINKS SHOWCASING HIS TREASON OVER AND OVER AGAIN.
=================
How Does ANY Rational Person Defend And Support Trump?!!
SOURCE .
HERE TRUMP HAS THE AUDACITY TO ADMIT THAT HE IS SMART ENOUGH TO COMMIT CRIMES!!!
=================
This IS Reality: Plain and Simple
SOURCE .
THIS IS A VERY DETAILED LOOK AT TRUMP'S CONNECTIONS TO RUSSIA, THE RUSSIAN MOB, AND TO PUTIN DATING BACK TO 1977!!!
=========
And to catch us up to the present…as best we can anyway…
Treason, Thy Name IS Trump.
AP sources: White House aware of Russian bounties in 2019
Former Ambassador John Bolton told colleagues he briefed President Trump on the Russian bounties an U.S. soldiers

in MARCH 2019!!!
================
==================
And just today…
Trump Pushed CIA to Give Intelligence to Kremlin, While Taking

No

Action Against Russia Arming Taliban
Pompeo looking at Traitor Trump like "WHAT?!!"
Why would the Russian government think it could get away with paying bounties to the Taliban to kill American soldiers? One answer to that question may be the extraordinary response that Moscow received when the Trump administration learned of a precursor to the bounty operation. From mid-2017 and into 2018, Pentagon officials became increasingly confident in intelligence reports that the Kremlin was arming the Taliban, which posed a significant threat to American and coalition forces on the ground in Afghanistan.
President Trump's actions in the face of the Russia-Taliban arms program likely signaled a weak US resolve in the eyes of Putin and Russian military intelligence.
Three dimensions of Trump's response are described in detail in this article, based on interviews with several former Trump administration officials who spoke to Just Security on the record.
First, President Trump decided not to confront Putin about supplying arms to the terrorist group. Second, during the very times in which U.S. military officials publicly raised concerns about the program's threat to US forces, Trump undercut them. He embraced Putin, overtly and repeatedly, including at the historic summit in Helsinki. Third, behind the scenes, Trump directed the CIA to share intelligence information on counterterrorism with the Kremlin despite NO discernible reward, former intelligence officials who served in the Trump administration told Just Security.
Most of these officials emphasized, as a caution, the significant qualitative difference between arming the Taliban and paying bounties to kill American service members—a massive escalation. Unlike bounties, the Russian-Taliban arms program could also be potentially explained, or plausibly denied, by Moscow as an effort to assist the Taliban's fight against the common enemy of ISIS. That said, the arms also reportedly became increasingly sophisticated in what appears to provide the Taliban an edge against NATO and Afghan government forces.
The failure to push back on the weapons program signaled to Putin that he could press further, said Michael Carpenter, Deputy Assistant Secretary of Defense with responsibility for Russia in the Obama administration. "When Western powers fail to push back, the Kremlin keeps prodding and probing — until it meets resistance, or until the costs for President Putin and his regime exceed the perceived benefits," Carpenter wrote in Just Security on Friday…
====================
Look, if this and everything else you've already been told about Trump doesn't make you QUIT defending and supporting Trump…
THEN NOTHING WILL CHANGE YOUR MIND. WHICH IS SAD.
YOU HAVE CHOSEN TO SUPPORT THE MOST VILE, WRETCHED, FRAUDULENT, PHONY EXCUSE FOR A MAN, LET ALONE A PRESIDENT, THIS SIDE OF JUDAS ISCARIOT.
AND WHEN AMERICA IS DESTROYED FOR GOOD FROM WITHIN YOU HAVE NO ONE TO BLAME BUT YOURSELF.
YOU HAVE BEEN WARNED, NOTIFIED, EDUCATED, AND REASONED WITH…IF YOU CONTINUE TO CHOOSE TO DEFEND AND SUPPORT TRUMP YOU OWN AMERICA'S DESTRUCTION.

PERIOD.
God's LOVE IS unconditional…BUT His mercy IS conditioned upon OUR GENUINE REPENTANCE, see Luke 13:1-5 , Luke 17:2 .
America as a nation NEEDS to repent.
America has needed to repent ever since 1963 when WE BANNED GOD. Read Leviticus 26 and Deuteronomy 28 .
"Yeah Brother Larry, BUT is America really that bad?"
Read these Scripture passages, then look around at what is ACTUALLY transpiring in America:
THOSE Scriptures and what is going on RIGHT NOW…The Holy Word of God depicted THESE days down to the last jot and tittle!
Yes. Things ARE very bad.
Have been very bad for 5 decades…and are only getting WORSE. 
IF ever a nation NEEDED to repent it IS America…and repent NOW.
I'm going to close with a 
FLURRY OF MEMES…and closing comments:
OR at the best EXTREMELY DELUDED!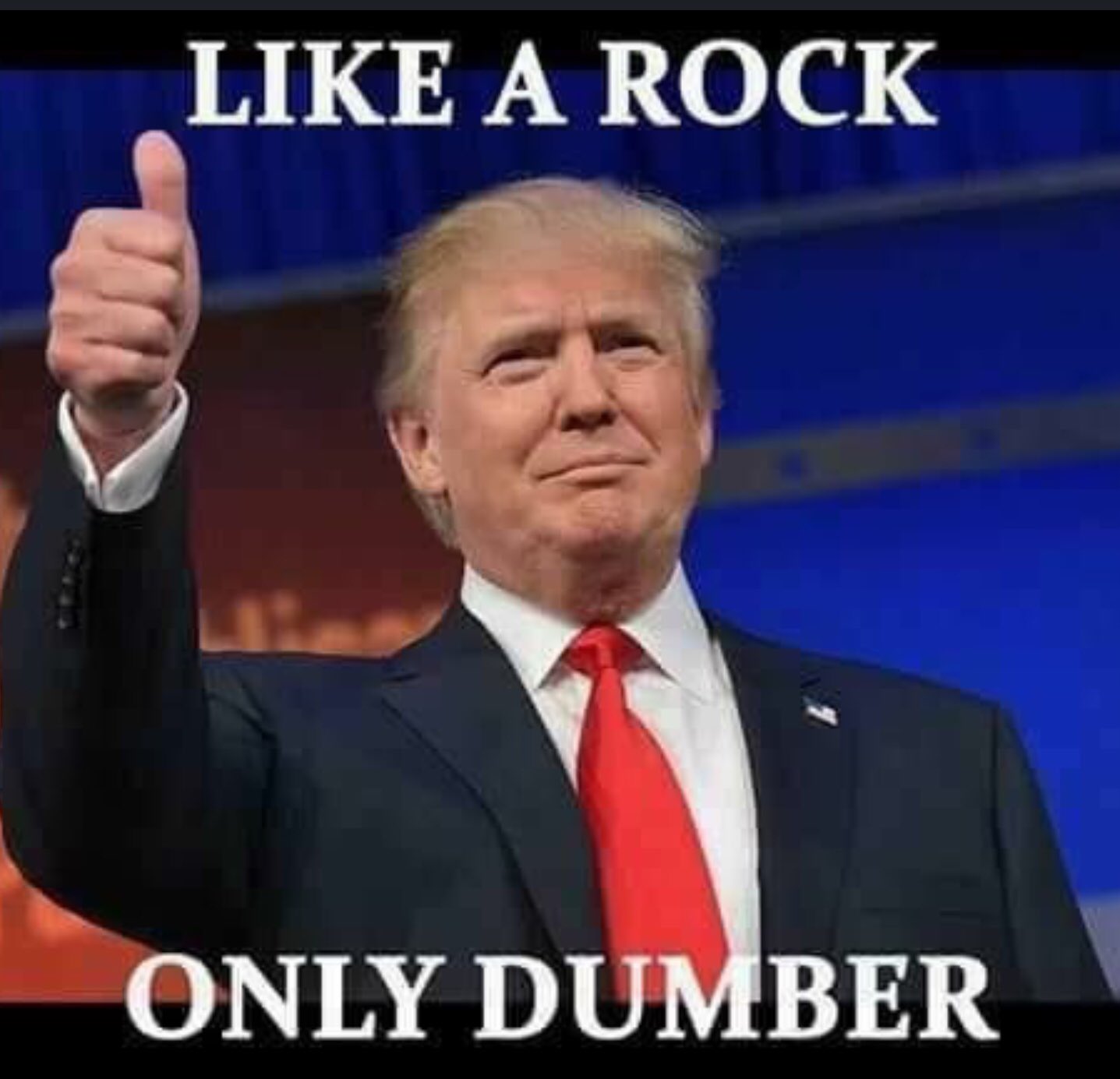 "LOGIC"?!! HA!!!
"The country has never before now elected somebody who is so manifestly unfit intellectually, morally, temperamentally, for the office of President of the United States".. – Steve Schmidt, Republican
CLOSING COMMENTS.
I am only 60 years old and I can't recall in my life-time a more malignant, vile, wretched person to become President.
LBJ was a wretched, racist Leftist. Nixon was not far behind.
Clinton was a racist, pervert, and Leftist as well who sold/gave N. Korea and China Nuclear Rocket and Launching technology at least 14 different times.
Obama, though more civil acting, was as hard Left as they come.
But Trump is all the WORST of ALL of them put together in ONE vile, festering, Hard-Left, rude, racist, sexist, TRAITOR. 
IF America even has the time to repent, I don't think she has the

WILL

to.
I do NOT see the nation wide cry for repentance.
And I have been looking and listening for that for 44 years.
So…think, watch, listen, pray…and get ready.
 -Rev. Larry Wallenemeyer.