Over the last five years, Republicans have shown willingness to accept – or at least ignore – lies, racism, and xenophobia.
But now, it is a party that is also willing to acquiesce to sedition, insurrection, violence, extremism, and anti-democratic authoritarianism. Maybe that's what Lindsey Graham meant when he talked about "Trump-plus"!
~ Charlie Sykes, The Bulwark
=======
=====
=====
Well, in his defense he IS an Idiot…
Jim Forrest:
1) # of GOP who backed the TX lawsuit to overturn the Presidential election: 126;
2) # of GOP who voted against certifying the Electoral College votes of PA: 138;
3) # of GOP who voted to protect the committee assignments of Q'Anon conspiracy theorist/bigot Congresswoman Marjorie Taylor Greene: 199;
4) # of GOP who voted against impeachment: 197;
5) # of GOP who voted to acquit Trump: 43;
6) Overall, the pro-Trump vote in the House & Senate: 240-17!
=====
======
========
=====
And just in case folks think Moscow Mitch McConnell was a "hero" there's this:
So here is the take away from McConnell speech:
1) Trump is guilty as hell.
2) Impeachment was unconstitutional since trump was out of office. 

[NOTE: That is a LIE.]
3) He and the Republican party did not want to be responsible for the punishment.
4) He did not want to alienate Trumpers.
5) He suggested that the criminal justice system is the place to deal with this.
6) This would make the courts responsible for the punishment, taking the onus off the GOP. H/T Kathy Brumley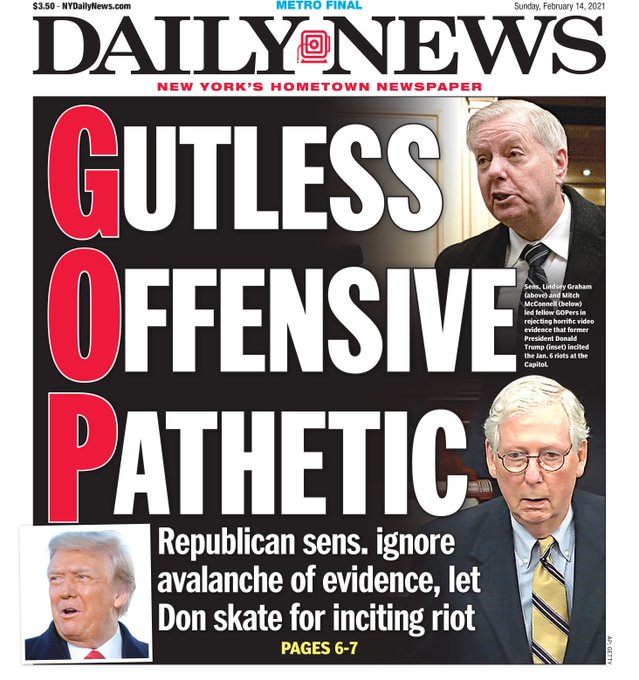 =====
Tom Hoefling
At the conclusion of the American Revolution, when King George III of Great Britain heard that General George Washington would resign his commission to a powerless Congress, he reportedly told the American painter Benjamin West: "If he does that, he will be the greatest man in the world."
Years later, Washington willingly gave up power again when he left the presidency after only two terms, even though there was at that time no constitutional barrier to him serving as many terms as he wanted, or, more properly, as many terms as the people would be willing to give him. In his case, of course, that probably would have been as many terms as he wanted.
George Washington set the example for the peaceful transfer of power in the United States of America, an example that has been followed perfectly for more than two centuries.
Until Donald Trump.
Donald Trump is nothing like George Washington. In fact, he is the exact opposite of George Washington.
It's crystal clear that Donald Trump was willing to do literally anything, up to and including the unleashing of a violent insurrectionist mob on the Congress of the United States during the conclusion of the presidential electoral process, to prevent the peaceful transfer of the power of the presidency to the candidate who clearly defeated him in the 2020 election, Joseph Biden.
Donald Trump is not the greatest man in the world. In fact, he is the worst man in the world. He is the worst man, by far, to ever step foot onto the public stage in America. No one else is even close.
The Senate must convict Donald Trump and block him from ever holding any public office ever again. It's absolutely necessary.
If the Republicans refuse once again to uphold their oaths and convict Trump, they will go down in history as feckless, unprincipled, oath-breaking fools – like Trump, utterly unworthy of their high offices.
EPILOGUE. Vote: 57-GUILTY.  43-ACQUIT. Though a STRONG MAJORITY FOUND TRUMP GUILTY, IT WAS NOT THE CONSTITUTIONALLY NEEDED SUPER MAJORITY OF 67…TOO MANY COWARDS AND TRAITORS IN THE GOP.
He's guilty. It's as obvious as the nose on your face. But the Republicans couldn't care less. Moral right, the Constitution, their oaths, none of that means a thing to them. All that matters to them is the approval of Donald Trump and his totally corrupted base. It's disgusting. It's sad. And it will lead to further destruction in our country. That's as certain as the sun coming up in the morning.
SOURCE .
======
Little Lying Donnie El Trampo is the most vile, wretched, corrupt, and depraved moron to be President EVER! Trump is the WORST of Nixon, FDR, Clinton, LBJ, Carter, and Obama in one festering pile.

JUST IN: Sen. Mitch McConnell: Former Pres. 
Donald J. Trump
 "didn't get away with anything—yet."
"We have criminal justice system in this country; we have civil litigation. And former presidents are not immune from being accountable by either one." abcn.ws/3jOqDXq
H/T Loretta Sezz
"One thing that is so so bothersome about the insurrection, is that Trump

never

called to check on his own vice president.
He

never

sent word to White House Staff questioning Pence's safety.
He

never

tweeted he was concerned for Pence's safety.
He

never

uttered a word saying that Pence was special to him and he hoped Pence was okay.
No

, he called

his

terrorists "special" and said "we love you" to them. HE LOVES TERRORISTS??? THEY ARE SPECIAL???
Trump

never

verbally attacked the terrorists behavior.
He

never

called out the insurrectionists for their actions.
He

never

even criticized them. As he has done to other Americans, FOR FOUR YEARS.
Just think if Trump had shown even

a tiny bit

of disapproval. Just think if he had treated

his

mob as he has treated other Americans for 4 years.
Trump still hasn't shown concern for what Pence went thru.
STILL!
No concern!
Everyone has watched as Mike Pence was so loyal to former president Trump. EVERYONE!
Yet

Trump was so much more concerned with postponing or stopping the vote

he

never

once told his supporters to stop going after Pence.
It is so very, incredibly, disturbing, to

know

that Trump watched as people were threatening Mike Pences life,

and Trump…still…didn't…care.


We all watched!
We

saw

them looking for Pelosi, hunting for Pence.
We saw their hatred, all instilled by Trump.
We all saw how our nation was under attack.
We

saw

our representatives lives were threatened by

Trumps

terrorists.
We

all saw

lives were in danger and there were terrorists seeking to

harm or kill

our Vice President and others.
And even Republicans,

even those who are Trump worshippers

, their lives were in danger. But Trump

never

showed an ounce of concern for any of them.
If we saw it, you

know

Trump saw it.
EVERYONE knew it was happening.
Trump was the president. And he let it go on for hours without even a criticism.
And this is what is so bothersome! So shocking! Once again, and hopefully for the final time… TRUMP IS AND WAS

NO

PRESIDENT!"
I genuinely believe that Trump could testify in this trial and say " I tried to kill every last one of you losers and if I get a second chance, I'll do it again" , he would still be acquitted!
======
Every one of these Senators failed the American people. They have shown their personal political careers are more important than upholding their oath to office.
From: Daniel Jova:
The Senate Rs are aiding and abetting

a cult leader

that wants to be

a dictator

.
=====
Trumpsters have been charged with criminal conspiracy in last month's deadly attack on the U.S. Capitol.
=====
=====
IT IS NOT OVER YET…GOOD…
Georgia prosecutor probing Donald Trump's 'find us votes' call to secretary of state Brad Raffensperger says investigation goes beyond just the call and that grand jury subpoenas are coming
Trump's Senate impeachment trial is underway to decide whether he is guilty of 'incitement of insurrection'
Fulton County DA Fani Willis announced probe after leak of probe where Trump asked Raffensperger to 'find' votes 
"The investigation seems that it will go past just this one phone call that
discussed,' she told MSNBC 
Grace Teng:
It's a sad day for America
when the insurrectionists go to jail, but the leader of the insurrection
goes free by his enablers 
Trump hands Nutty Nancy the House.
Trump hands the Senate to upChuck Schumer.
Trump hands the White House to idiot Biden.
Trump sent the US into a recession in 2019 and then sent 400,000+ people to the morgue in 2020…
…and you morons celebrate an acquittal of a twice impeached, disgraced, one-term LOSER after the fact?
Y'all are proof that "Trump Derangement Syndrome" rots the brain….