Scripture text .
Introduction.
The issues, problems, the resulting crisis/judgment, the varied reactions go that we see in life and throughout all of history are revolving cycles (Judges 2:11-23 ;  Psalms 106:40-48 ; Amos 2:1-8 ; Romans 1:16-32  ). This pattern- sin, God calls, continue to sin, God sends judgment, continue to sin, God pours out His Righteous judgment in His wrath and fury, man either finally repents and is immediately restored, OR rebels further into reprobation/apostacy and is destroyed-  begins in Genesis 3 and is repeated thereon individually and nationally til the culmination of all things in Revelation.
Hence it behooves us all to study and seek out God and His Holy, Eternal Word and learn, live, and govern according to The Law of God and The Morals of God as found IN The Bible. See: PSALMS 78:72 ; Matthew 20:26-28 ;  Exodus 18:21 ; Psalms 37:30-31 ; Psalms 78:72 ; Proverbs 16:12 ; Proverbs 29:4 ; I Peter 5:2-4 ; James 3:1 ; Titus 1:7-9 ; II Samuel 23:3 .
Though this IS known, or at the least, knowable to those who will actually seek out and study, apparently we are currently in the stage of the cycle where we are forgetting, have forgotten, and have forsaken God, God's Laws, and God's Morals. It is THIS that I'll address in this article. 
Prologue.
Since last summer the remaining family and friends that still agreed with me Biblically, Politically, and Morally was being sifted yet again.
Were my principles and world-view the one changing , or being revealed as Liberal, aka un-Biblical ? OR was it my family and friends changing or being revealed? ("The Big Reveal" began back in 2015 when Trump descended the golden escalator and announced he was running for President. With each new crime that Trump committed, with each new Liberal, profane, defaming tweet, utterance, and deed the reveal and subsequent revealing would heighten and become more clarified and intensified. )
The question remained, "Who changed/was revealed Liberal/un-Biblical? Me? or them?
This NOT an attack or a "hit piece", though I do refer to and quote from family and friends, NO names are mentioned so only the particular individual being referred to will know who I am referring to.
I open myself up to close examination and scrutiny. If it turns out that I am indeed the one who changed or was revealed to be more Liberal/un-Biblical than advertised then, please, point out where I depart from Biblical Christianity and by so doing, depart from Constitutional-Conservatism.
"Why THIS article NOW?" Because of events and concurring conversations I've had recently with family, friends, and colleagues the sifting intensified again. I was not surprised at the sifting, that is a regular occurrence, we all have "shake ups" in our family, friends, and colleagues from time to time that we each have to deal with.
BUT I was quite taken aback at WHO the sifting revealed this time. 
I had one close family member go on a tirade about my not supporting Trump, even yelling at me for 10-15 minutes, and then trolled me on FB for 5 days with pro-Trump/Qanon "news" articles. Because of who this family member is I did not block them. Anyone else I would have been blocked much earlier.
Three good friends of mine did the same thing, one of them began trolling me, sending me PM's at Messenger in all caps blathering on and on about Qanon Voting Fraud Conspiracy theories. I asked for actual, tangible proof. Not one bit was ever presented. The troll/friend made vain attempts at posting hearsay, and empty accusations that had already been proven wrong in court 67 times. I tried to move on, he was in incessant about ranting at me to the point I had to block a friend.
Other friends tried to guilt me into believing the Liberal, CDC/Fauci lies about coronavirus, masks, social distancing. Again I pointed out the many times that the CDC and Fauci had changed 100% of that they were saying, and flat-out LIED. To no avail. Their emotional, baseless view was right. I was wrong regardless of the evidence, quotes, and facts I posited.
And most recently a friend and colleague of mind experienced a sifting. I had been an Administrator in a FB group he started, and was no longer an Admin. I inquired and found out it was due to:
Long time friends of his were deleted/blocked from the group due to their repeated voiced support for either Trump, Biden, or the Qanon voter fraud conspiracy non-sense. They were asked what they meant for clarification, asked for verifiable proof of their views. They failed to do so. So because this was a Constitutional-Conservative group I deleted and blocked them for posts in conflict with both the group's name and the group's TOS/Forum Rules. I was told that Liberal/Conspiracy views CAN indeed be posted and discussed if done so in a "civil manner". BUT allowing Liberal/Conspiratorial views to be "civilly and rationally" discussed openly on a Constitutional-Conservative site breeds confusion and leads folk who are either new to Conservatism, weak, struggling, or shallow fence sitters to go into Liberalism.

 

He also said that he did not like my posts that, in his words, were "making fun of certain types of people". Here is the post where I "made fun of certain type of people":
***Liberals sissy-fied men-
Then folks wonder why there's so much confusion, insecurity, inferiority complexes, people going to the psychologist or to the psychiatrist so they can find themselves… God made you who you were and you let Society make you into something you were never supposed to be.***
Where is this "making fun of certain types of people"? I am expressing a clear Biblical view, and am doing so in the love of God.
3. Then he said he didn't want to discuss the Liberal Green Energy issue, his words were, "I want to get back to politics". ???
Green Energy IS politics. Just as the Liberal attack of making men effeminate and "masculinising" women IS Political. It was NOT Christians NOR Conservatives that attacked marriage, the family, and God created gender of male and female, ergo dragging MORAL issues INTO Politics. It was Liberals who did this. It was Liberals who deliberately dragged morals and the family into Politics.

AND IF we do don't answer their lies with clear and resounding truth America IS Dead.
4. He then said he "wanted to get back to the way of having God involved in the country as well as the states. I feel the rest is more opinion than fact".
9 Know ye not that the unrighteous shall not inherit the kingdom of God? Be not deceived: neither fornicators, nor idolaters, nor adulterers, nor effeminate, nor abusers of themselves with mankind,
10 Nor thieves, nor covetous, nor drunkards, nor revilers, nor extortioners, shall inherit the kingdom of God.
11 And such were some of you: but ye are washed, but ye are sanctified, but ye are justified in the name of the Lord Jesus, and by the Spirit of our God.
You can't have it both ways. You can not prohibit discussions on the Liberal assault of family, morals, and marriage- and yet supposedly "wanted to get back to the way of having God involved in the country as well as the states". And then say, "I feel the rest is more opinion than fact", when it is clearly defined and detailed in God's Holy and Immutable Word, and hence, not "mere opinion", it is indeed fact.
I politely and without any fanfare left the group. I did not belong in it.
======
Since all THAT

this

has happened:
How far gone is the Trump GQP?

They gave the "Ronald Reagan" award to an internet troll/homosexual activist/insurrectionist at CPAC.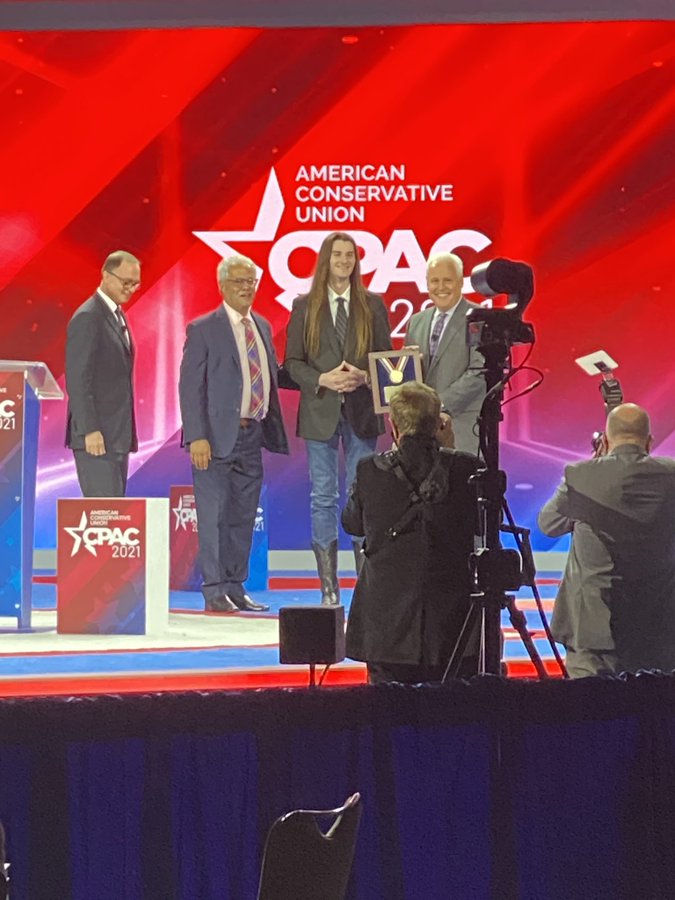 Scott Presler is the tall, long-haired MALE in the middle. He is a sodomite, transexual, white-supremacist, who was at, and engaged in the January 6th, 2021 Trump Insurrection, making him a traitor.
Wow.  @ScottPresler was just presented with the Ronald Reagan award at @CPAC tonight. He 1000% deserved the award.
Congratulations Scott! I'm so proud of you!
=====
More recently, Presler was in Washington, D.C., for the Stop the Steal rally and even called 

the Jan. 6 insurrection

the "largest civil rights protest in American history."
=====
Amid Anti-Trump Protests,

One LGBTQ Group Celebrated
While anti-Trump protesters demonstrated throughout the inaugural weekend, Gays for Trump celebrated the country's new leader.
SOURCE .
=====
The TRUE Biblical-Christian, Constitutional-Conservative reply IS:
How far gone is the Trump GQP? They gave the "Ronald Reagan" award to an internet troll/homosexual activist/insurrectionist at CPAC.
===
The Founding Fathers and The Lord God weep. Leviticus chpts. 18-20; Romans 1:16-32; I Corinthians 6:1-13; Ephesians 5:1-14; Galatians 5:16-25.
===
Best nazi? Best seditionist? Best white nationalist? Grand wizard of KKK? So many options. What happened Hitler award wasn't available in time? 
==
The new GOP : Rep Lauren Boebert's (R-CO-3) husband was arrested for showing his penis to minors in public. She herself has been arrested four times, and may have given tours of the Capitol to terrorists that later attacked Congress. This is what we are dealing with.
===
Ronald Reagan is turning in his grave that the meaning of an award named for him has been twisted to honor racist propaganda
===
Ronald Reagan would be ashamed of what the GOP has become
===
Ronald Reagan would not have been at CPAC. He doesnt believe in Nazis
==
Ronald Reagan would not recognize the conspiracy theory rich party.
===
What did Reagan ever do to deserve this dishonor?
===
What??? Who the h*ll is he? Party taken over by Trump cultists and extremists R.I.P. GOP Once a Party that was a Party of Ideas, was Decent & had Morals & Integrity Now? Circling the toilet…
===
Should have been named the Goebbels award. Reagan is rolling over in his grave seeing what you've done to his party.
===
A big lie, insurrectionist and traitor deserves nothing!
===
Reagan would hate everything about the so called conservative party today – every stinking thing the @gop stands for. Just thought you should know.
===
Reagan in his first address to CPAC in 1974 observed, "we are the oldest continuing republic in the world." The folks at CPAC in 2021 promote a lie that led to an attempt to overthrow the Republic just last month. Presler approved of the attempt.
===
So … it seems that this was not a "Conservative" convention at all! It was a Trump rally/fund-raiser/propper-upper/you-name-it!! Sounds like it had nothing to do with conservatism at all! I suppose the Golden Calf should've been a first clue!
===
I no longer engage with the R party on any level. They're DEAD to me.
===
This guy was listed as a speaker at "the Wild Protest" outside the Capitol on Jan. 6th. "Gays for Trump" or something.
===
Wow, weird that you guys are now giving awards to Nazis.
===
Right wing racist gets Reagan award. Well that about cements the decline of the @CPAC
===
===
Who the heck is Scott Presler, and why is he not in jail waiting for trial for sedition?
===
He's a Nazi though…He looks like a very happy Nazi.
=====
But that was NOT the only sifting that happened since the aforementioned exchanges with family and friends…there was THIS also:
The dude went full political nut job, in conjunction with the insurrection on the Capital. What rational company would want to do business with his company?
My Pillow's Mike Lindell dropped by 18 retailers, blames 'cancel culture'
SOURCE .
Mr. Lindell visited Mr. Trump at the White House on Jan. 15, five days before his presidency ended, to discuss allegations of election fraud that the My Pillow founder has since made into a movie.
=======
Now, let's review this:
1) Lindell so confused he thinks Trump is a Conservative,
2) Lindell thinks supporting Trump is Conservative and saving America,
3) Lindell supports Trump even to the point of committing Sedition, Insurrection, and Treason,
4) Lindell even made a movie supporting all these crimes against America, Our Constitution, and Liberty.
The sad thing is I've had a LOT of friends who say they are Conservative but are going to continue to do business with Lindell and MyPillow. They claim it's in support of The Free Market, something that Lindell and Trump & Co. have fought against for 4 years. Never mind the crimes of Sedition, Insurrection, and Treason. Nope. They are going to "support" The Free Market.
With that rationale they should be able to justify giving $$$ to Planned Parenthood because it IS a Free Market and like Trump said "they do a lot of good for women". 
Their views are neither Constitutional, Christian, supportive of a Free Republic, nor of the Free Markets. Their choice if it ran to it's logical end would be the death knell to ALL they say support and stand for.
==============
The BIG Question? HOW Did We Get To HERE?
First, ALL Law and ALL government is the act and result of Legislating Morality. See also HERE . "When the foundations are destroyed what can the righteous do?" is how we began, now let's consider that God's judgment begins at God's House with God's people.
1 Peter 4:16-19 King James Version
16 Yet if any man suffer as a Christian, let him not be ashamed; but let him glorify God on this behalf.
17 For the time is come that judgment must begin at the house of God: and if it first begin at us, what shall the end be of them that obey not the gospel of God?
18 And if the righteous scarcely be saved, where shall the ungodly and the sinner appear?
19 Wherefore let them that suffer according to the will of God commit the keeping of their souls to him in well doing, as unto a faithful Creator.
ALL Law and ALL governance and government IS based upon some morality. The question is, "Whose moral/legal code will we follow?" Will we follow that of The Lord God of The Bible? Or maybe Hammurabi? Or is it the bloody and oppressive Sharia law of Islam? How about the morals/laws of Marx, Lenin, Stalin, and Mao? or perhaps Hitler?
In America it was decided in 1776 that OUR Constitution, Laws, Rights, and Liberties would be founded upon God's Word, the Bible. The Bible was the most quoted, and most referenced source by any and all of America's Founding Fathers.  [NOTE: There are ELEVEN links to proof, evidence that support that paragraph fully.] 
America did NOT decide to found our nation upon the transient, and fallible grounds of man's views, "laws", or opinions, but rather found America squarely upon the steafdast, immutable, infallible Laws and Morals of Almighty God.
As long as America honored God and His Word and governed in accordance with Him we grew, prospered, were protected, guided, and had rights, liberties, and security like no other nation ever.
But as we began to stray in the early 1900's we saw cracks in our Foundation appear. Til today we had "the choice" of the Democrat Marxist or the Republican Marxist. Yes, we DO have many sound and solid 3rd Parties to choose from, BUT America's public has been so indoctrinated to a 2 Party System that unless and until that delusion is BROKEN America will, and can, ONLY get worse.
I have written before that since America banned God in 1962 that the judgment we entered in 1913 accelerated BIGLEY! So I will not deal at length about that here, suffice to say IF it is not too late already America NEEDS to repent NOW before it IS too late.
So, while my friends and family say they want to have GOD being addressed in our National and State governments, BUT they do not want God's Law, nor God's morality to be the very Foundation of said discussion their vocal assent is moot, totally neutered, with no effect whatsoever. You can NOT have it both ways. You can NOT follow God "your way", God is NOT like Burger King, it IS His way and His way alone.
Something I haven't done in a while is to…

MEME OUT:
THERE IS A FALSE ARGUMENT THAT "NAZISM IS RIGHT WING"…REALLY??
It is called NATIONAL SOCIALISM, and it is more in keeping with The Democrat Party and all else of Liberalism.
Another invention of The Liberals/Democrats:
Via the Coronavirus Scare:
TRUTH.
Yep, pretty accurate:
It's a Fact Jack-
NOW I CRITICIZE BIDEN-
THINK.
While in the process of writing this very article I had to block a friend for doing the below:
Regardless of what ANY man, group, or organisation says Sin is still Sin, including, but NOT limited to: perjury, treason, hatred, murder, lying, sodomy/homosexuality, insurrection, adultery, fornication, theft, and fraud.
America's Death Knell Began To Toll In 1913-
THINK.
Sadly true…
TRUTH.
TRUTH. Where do YOU stand?
Learning the below will bring so much peace:
THINK.
This is who I voted for:
THINK…PLEASE.
As long as we followed the way set by our Founders we grew and prospered- As long as we follow the course we are currently on America WILL be destroyed.
 -Rev. Larry Wallenmeyer.