Let's Start at the (so-called) "Top" of the Political food chain in America:
The gentleman on the left is Benjamin Franklin. He along with ALL of America's Founders believed, stated, and FOUGHT A WAR for a Constitutional Republic that was strictly defined, and restricted by the SPECIFIC ENUMERATED provisions IN The Constitution, witness these quotes:
Back to the opening meme…the guy on the right is Joe Biden, a moronic, imbecile, and Marxist Wing-Nut, who has NO authority to do ONE thing in violation of The U.S. Constitution and our Founding Documents. PERIOD.
Now let's look at a supposed G.O.P., who is actually a jackass- 
Yes. This mega-wealthy, self-important, "entitled", Marxist wind-bag

told

America:
"SCREW YOUR FREEDOM!"
SEE HIM SPEW THIS MARXIST CRAP HERE.
NO!
Screw all you Leftists jackasses and your evil Marxist tyranny!!
Here in the great state of Missouri we do NOT have a mask NOR a vaccination mandate…BUT where I live in Jackson County in the Greater Kansas City metro area the Democrats, aka Communists,  have against State laws and ordinances passed "laws" mandating masks for Jackson County!
The Marxist mandate, by State of Missouri law can ONLY last 30 day, it was reinstated on August 9th, yet here it is September 11th and Jackson County along with spineless, complicit, Communist enablers like Walmart and other BIG retail are STILL enforcing a Marxist, tyrannical ordinance!
Meanwhile small, local, mom and pop businesses are being forcefully closed, shackled, and watched by police, sheriffs, and other Communist traitors.
Now the Commie Jackasses at Jackson County extended the mask mandate another 30 days til October 7th!!! ALL contrary to State LAW, and against THE WILL OF "WE THE PEOPLE"!! At the meeting to extend the mask MARXIST mask mandate all the public that showed up OPPOSED IT except for ONE Communist!
====
Kansas City, Missouri (in Jackson County), board says "The Scene" bar violated COVID-19 order; revokes liquor license
KANSAS CITY, Mo. — A Kansas City, Missouri board says it revoked a bar's liquor license after it failed to comply with COVID-19 health orders.
The Scene KC Rock Bar, 14816 East U.S. Highway 40, had its license revoked Wednesday by the Liquor Control Board of Review.
This is tyranny pure and simple.
If the Gaggle a big government, big Pharma, and the big media can get away with closing down the small, privately owned, mom-and-pop businesses and be successful at it… They will go for bigger businesses, I guarantee they will go for bigger businesses.
This is not about medicine.
This is not about safety.
This is not about health.

It's beyond ironic that the places and business that do NOT have mask, NOR vaccine mandates are-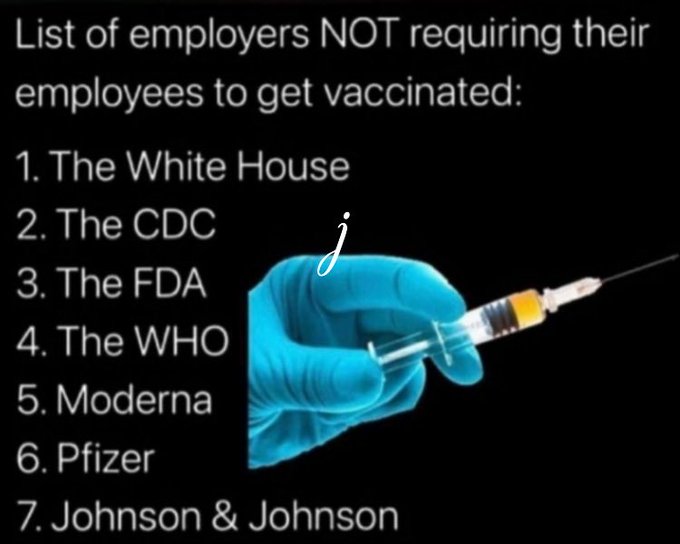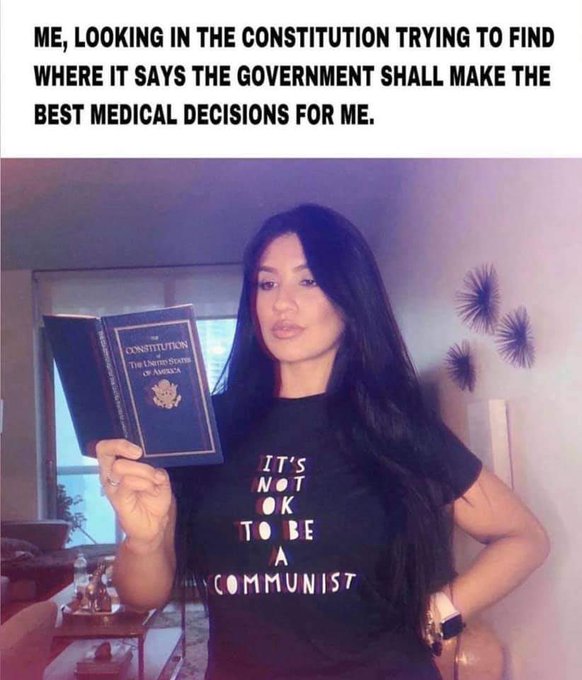 Brilliant.
Government 'leaders' not only destroyed national economies and divided societies, they destroyed whatever remaining trust in government there was, which is perhaps the only good thing to come of all this.
Every public official, every self-styled 'expert' and every 'journalist' who fed the fear has blood on their hands.
Not only did they NOT 'save' anyone,

they added to the death toll.

From people who died and are dying of the jabs to the very young and very old who have died / are dying of failure to thrive because of lack of contact, and people who died in any one of a number of ways that acute fear/anxiety can kill.
Millions have died or will have died because of the way this was mishandled.
Then factor in those who have been/will be sterilized by the jabs, and those suffering permanent disability.
Worst of all, the vast majority of the church was not only silent, but was complicit in spreading and reinforcing the fear.
From Patriot Daniel Perez:
I live in Florida. We have no mask mandates. We have banned vaccine mandates. We have never done social distancing. Guess what? We are at about the national average for infections and have fewer deaths per million than New York, New Jersey, Massachusetts and Pennsylvania.
The reality is that people are in denial. They think that masks and vaccines will stop Covid. They won't.
Even the CDC said in a study released last week that

one third of those vaccinated have been infected since vaccination

… and that number is growing.
With new variants, the likelihood of encountering one which is completely immune to current vaccines is growing. This is actually very simple. We're all going to be infected. All of us. Our kids. Our parents. Our grandparents. Everybody. And there isn't a stinking thing anybody can do to stop it.
The fact that we spent so much effort in slowing it down probably hurt us. Had we simply let this thing run its course around the country and around the world early on, we would all have been infected and gotten over it by now. Herd immunity would have kicked in and there would be no variants developing because it would have died out.
EVERYTHING we have done has been an exercise in futility.
It hurt our economy. It hurt our families. It hurt our relationships with those who disagreed (regardless of which side of the fence one is on.) And it actually allowed this stupid bug to flourish. This is what happens when we approach problems from a place of fear rather than a position of strength. We should have taken a fraction of what we did spend and used it to build facilities where we could isolate and protect the truly vulnerable, the ill and elderly.
The rest of us should have sucked it up and dealt with two weeks of being sick. And we would have been done a year ago. There's the selfishness. Trying to avoid this thing instead of facing it head on.
When I was a kid, if someone had chickenpox, everybody's mom put their kids together with the sick kid. We all got chickenpox and that was that.
That is how we should have handled this Covid bug. Accept that we were going to get sick. Deal with it when it happens. And move on with life. We screwed this up – globally – out of pure cowardice. And we are still doing so.
THIS is NOT "new".
It did NOT "spring up over night".
Marxist, Socialists, Communists, and other various Constitution and Liberty hating people and groups have been tirelessly at work in undermining and destroying America since the 1870's. This Marxist enemy INSIDE America gained impetus in 1913-
The original strategy to destroy America, was employed by the Frankfort School and came from

Italian Communist Antonio Gramsci who realized that in order to achieve a Socialist victory

. Cultural institutions would have to be infiltrated and subverted.
Gramsci realized that America, steeped in traditions of freedom and liberty, would

never

to succumb to a frontal assault and its workers were too busy accumulating capital to allow themselves to be used as cannon fodder for a bloody revolution.
The Frankfort School would patent the familiar "Critical Theory" which was accurately defined by a student as the "essentially destructive criticism of all the main elements of Western culture, including Christianity, capitalism, authority, the family, patriarchy, hierarchy, morality, tradition, sexual restraint, loyalty, patriotism, nationalism, heredity, ethnocentrism, convention, and conservatism."
Under Critical Theory, anything emanating from the west is to be libeled and attacked over and over again while at the same time, anything emerging from a "progressive" country or group is to be applauded including the murder of over 100 million people. All blame for societal and economic ills are to be shifted to the west.
The saturating drumbeat of Critical Theory would lead to "Cultural Pessimism" which is when a person grows to loathe the society, which nurtured him and The Frankfurt School introduced the idea of psychological conditioning as a means of changing the culture to fit their image.
This would largely replace the traditional American approach to learning which was rational philosophical argument. The Frankfurt School would mainstream the dictate of the Moscow Central Committee laid down in 1943. This declaration, right from the horse's mouth, illustrates exactly what were up against: "Members and front organizations

must continually

embarrass, discredit and degrade our critics. When obstructionists become too irritating, label them as fascist, The association will, after enough repetition, become 'fact' in the public mind."
=====
It's quickly coming to down to having to be vx'd to do anything. Soon you'll need it to fly, work most jobs and probably buy groceries. Most of us saw this coming 2 years ago. I guess the question is how long are you going to hold out?
=======
Revelation 13:1

And I stood upon the sand of the sea, and saw a beast rise up out of the sea, having seven heads and ten horns, and upon his horns ten crowns, and upon his heads the name of blasphemy.
2 And the beast which I saw was like unto a leopard, and his feet were as the feet of a bear, and his mouth as the mouth of a lion: and the dragon gave him his power, and his seat, and great authority.
3 And I saw one of his heads as it were wounded to death; and his deadly wound was healed: and all the world wondered after the beast.
4 And they worshipped the dragon which gave power unto the beast: and they worshipped the beast, saying, Who is like unto the beast? who is able to make war with him?
5 And there was given unto him a mouth speaking great things and blasphemies; and power was given unto him to continue forty and two months.
6 And he opened his mouth in blasphemy against God, to blaspheme his name, and his tabernacle, and them that dwell in heaven.
7 And it was given unto him to make war with the saints, and to overcome them: and power was given him over all kindreds, and tongues, and nations.
8 And all that dwell upon the earth shall worship him, whose names are not written in the book of life of the Lamb slain from the foundation of the world.
9 If any man have an ear, let him hear.
10 He that leadeth into captivity shall go into captivity: he that killeth with the sword must be killed with the sword. Here is the patience and the faith of the saints.
11 And I beheld another beast coming up out of the earth; and he had two horns like a lamb, and he spake as a dragon.
12 And he exerciseth all the power of the first beast before him, and causeth the earth and them which dwell therein to worship the first beast, whose deadly wound was healed.
13 And he doeth great wonders, so that he maketh fire come down from heaven on the earth in the sight of men,
14 And deceiveth them that dwell on the earth by the means of those miracles which he had power to do in the sight of the beast; saying to them that dwell on the earth, that they should make an image to the beast, which had the wound by a sword, and did live.
15 And he had power to give life unto the image of the beast, that the image of the beast should both speak, and cause that as many as would not worship the image of the beast should be killed.
16 And he causeth all, both small and great, rich and poor, free and bond, to receive a mark in their right hand, or in their foreheads:
17 And that no man might buy or sell, save he that had the mark, or the name of the beast, or the number of his name.
18 Here is wisdom. Let him that hath understanding count the number of the beast: for it is the number of a man; and his number is Six hundred threescore and six.
Neither the mask or the vaccine mandates are THE Mark of The Beast.
Back in the mid 1990's I worked for PSF, Premium Standard Farms, we even back then timed in, timed in and out for lunch, timed out to go home, and BOUGHT meals and product there by having our RIGHT HAND scanned!
The Globalists, Marxists, Elites, Liberals…"whatever" have been working for a LONG time to take over…take COMPLETELY OVER.
I would rather stand and die ALONE for my Lord and Saviour, Jesus Christ- Than to LIVE a LIE with "the masses".
America's Founders warned us…we did NOT listen.
 -Rev. Larry Wallenmeyer.