What's so crazy is that people are cheering the tyranny for "the common good".
H/T CRAIG DURHAM & DANIEL PEREZ:
Hospitals forcing employees to get the shot, or be fired IS creating staffing shortages. States are calling in the National Guard to assist with the healthcare systems,

but the reports are silent on WHY there's a healthcare shortage

, and only mention a surge of covid.

The government/media complex is going to cover up the healthcare shortage

, and shame people into thinking the healthcare worker shortage is just another horse paste story. Watch for the future Maddow story making this into a conspiracy. SMH!
I think the 'shortages' and other strains on the system are the result of 0BAMA-Care

(ECON 101: what is provided below true cost or at subsidized cost is overused)

and

government seized on what would otherwise have been just another viral illness as a cover story.

According to the narrative, packed ERs are because covid.
BUT ERs were packed BEFORE covid, and it was because people didn't want to wait weeks to months for a doctor appointment. Remember the 0bama-Care sales pitch, when we were told it would eliminate ER overcrowding?
Yes, staff layoffs make the situation orders of magnitude worse, but that is what government does best.

Besides, are staff being canned because of the quackcine, or because there isn't enough work for them because people are afraid to go to the hospital.
=====
"Let not any one pacify his conscience by the delusion that he can do no harm if he takes no part, and forms no opinion. Bad men need nothing more to compass their ends, than that good men should look on and do nothing." – John Stuart Mill.
WHEN HYSTERIA COLLIDES WITH REALITY: HUMOR ENSUES.
FROM A TWITTER PATRIOT:
Very Concerned COVID Parent

@ZeroCOVID4Ever
After a terrifying 30-minute wait in the Emergency Room, surrounded by the potentially unvaccinated, a nurse who also might not have been vaccinated admitted us. ARE YOU VACCINATED?

I screamed at her.
A doctor saw us. I told them that Testy was dying of COVID, and also maybe of long COVID. They conducted a rapid COVID test. A few minutes later, they returned and said "This child does not have COVID."
WHAT DO YOU MEAN? I howled. I told them I had conducted several home COVID tests and that they'd all come back positive.
Why then, I asked, through my 12 masks and my face shield and a snorkel, is Testy so listless and pale? Why is his breathing shallow?
"Your son is severely malnourished," the doctor said. "When was the last time he ate fresh fruits and vegetables?" I told them that I hadn't been to the store since March 2020 and we were subsisting mostly on beans, potatoes, cellar onions, and an occasional dried soup packet.
"You need to feed your child and not worry so much about COVID," the DOCTOR said.
I must find a doctor who isn't anti-

#science. We need to heal my son before it's too late. Please won't someone save us?
=====
FOLLOW "THE SCIENCE":
They then convened a high level meeting with The Chief FB "Fact-Checkers", Larry, Curly, and Moe, and passed more idiotic, nonsensical, Marxist guidelines for all to follow… except them.
You know, "the science":
Oh you rebellious infidels! FOLLOW "The Science":
Millions of people are now stuck in a perpetual fear loop. It doesn't have to be this way… Don't be so irrationally terrified of death that you refuse to live. It's unhealthy and miserable.
Did Fauci Really Say More Kids Have Died of COVID Than the Flu?
PHOTO OF THE CURRENT BIGGEST LIAR, TYRANT WANNA-BE, AND GENOCIDAL MANIAC, TONY "THE FRAUD" FAUCI.
|
Posted: Sep 20, 2021 1:45 PM
SOURCE.
Anthony Fauci has the most punchable face right now.
The man goes back and forth on everything. He admits that store-bought masks don't work to curb the spread of COVID.
The NIH looks like they were serious players in the research that created the virus that most likely escaped from a lab in Wuhan. He was against a study that did not recommend COVID vaccine boosters, now he's changing his tune.
He's the QB1 concerning the 'get vaccinated but also stay inside' narrative that undercut the whole vaccine push. It rightfully generated skepticism about whether the vaccine even worked. Now, he's dropped Nagasaki-sized bombs of misinformation about COVID, kids, and the flu. He said that we've lost more kids to COVID than the flu. That's simply a lie. And the CDC's own data proves that IS A LIE: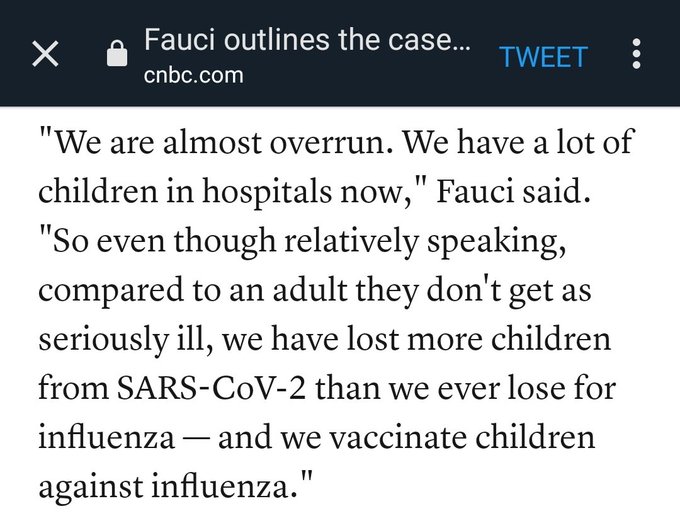 Did Anthony Fauci lie when he said more children have died from the virus than ever have died from the flu? Unless you think he's an incompetent boob that didn't learn a thing in 50 years in public health (hold the jokes please), then yes. And I will demonstrate that here.
So far, there have been 439 deaths of children ages 0-17 *with* COVID-19 since the start of the pandemic. Remember, this is over 20 months — the first of many important qualifiers. 2/3

From the CDC Wonder database, for multiple cause of death, here are the number of deaths ages 0-17 with flu for ICD-10 codes J09-J11 for types of influenza by year 2010-19. So Fauci was telling the truth, right? Hold up. No, not even close.
3/4
COVID-19 deaths are capturing almost every COVID-induced illness in the past year because every kid is being tested that goes into a hospital, and it's overcounting because any kid that dies with a positive test is a multiple cause COVID death.
4/5
Flu, on the other hand, isn't counted that way. If we tested every kid in the hospital during flu season and counted every kid dying with the flu as dying from the flu, numbers would be insane. CDC knows this. They know the real count is much higher. 5/6
To illustrate, let's use CDC estimated flu burden. In the 2012-13 flu season, for instance, the CDC estimates that the flu caused 1,161 deaths *from* the flu. Remember there are 439 COVID-19 deaths in 20 months.
6/7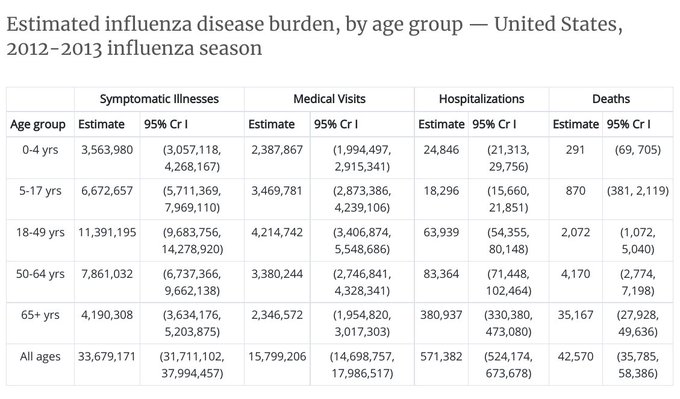 A lesser but still deadlier 2017-18 flu season is estimated to have caused 643 deaths for ages 0-17. While official flu deaths are clearly significant undercounts, COVID-19 deaths are known overcounts. 7/8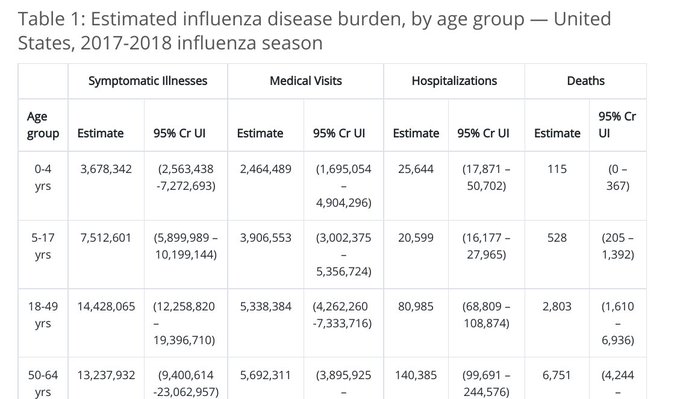 H1N1 flu virus, on the other hand, accounted for an estimated 1,153 deaths of ages 0-17 from Sep. 2009 through April 2010.
9/10

We see this in hospitalizations. The EIP surveillance network, which covers about 14 states and roughly 10% of the U.S. population designed to match demographics, estimates 33.5 cumulative hospitalizations for the flu in 2017-18 for ages 0-17.
10/11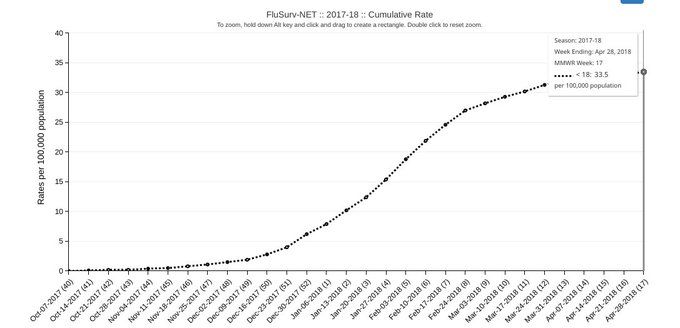 But the same surveillance network shows 55.5 hospitalizations 0-17 per 100,000. Remember, this is in ~20 months. This is also "COVID-associated hospitalizations" because the CDC acknowledges it includes all confirmed positive tests…
11/12
https://covid.cdc.gov/covid-data-tracker/#covidnet-hospitalization-network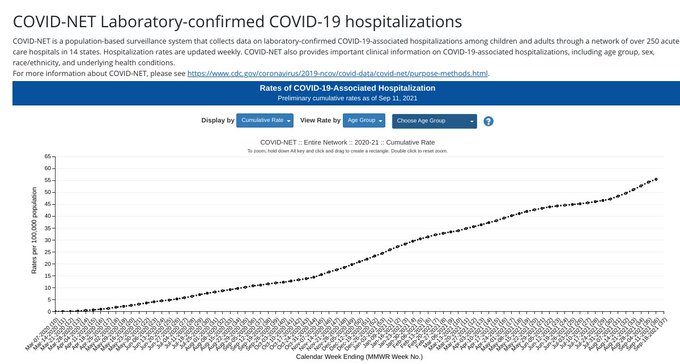 If we go back to the CDC estimated disease burden, we find an estimated 43,142 hospitalizations for ages 0-17 in the 2017-18 flu season. On July 1, 2017, the Census Bureau estimates a population of 73,632,336 or 58.6 hospitalizations per 100,000! 12/13
So the estimate of hospitalizations from flu in 2017 has a higher rate (58.6 per 100,000) than *with* COVID-19 in 20 months (55.5). But wait, there's more! 13/14
A study from Stanford back in May showed that at one hospital, 39% of pediatric patients had no symptoms whatsoever. 30% had mild or moderate symptoms.
14/15
This is backed up by a larger, more comprehensive study that just came out reported by The Atlantic that found in 50,000 hospitalized patients in VA hospitals, almost 48 percent have been asymptomatic or mild/moderate symptoms in 2021.
14/15b
Bottom line: there is no evidence that COVID-19 is more dangerous to children than the flu. The data shows the opposite. Fauci did indeed tell a big fib. End.
P.S.
Despite counting every pediatric death as one *with* COVID-19, not necessarily *from*, the weekly mortality rate for COVID per million for ages 0-17 is 46% lower than the average 10 previous estimated flu season disease burdens *from* flu and 79% lower than H1N1.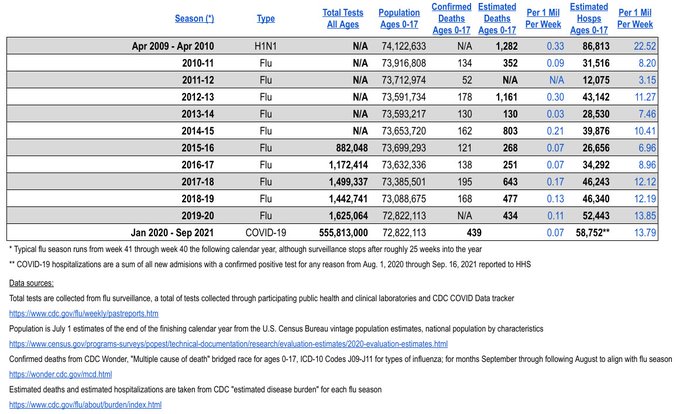 I know you have done this already but mute this guy when he's on television.
What he says is a lie. It's not true.
He's been a science fiction peddler
for months 
[My Note: YEARS, since the 1980's at least!]
 and
he really has NO authority to issue any edicts whatsoever.
He has become the most insufferable man on the planet who at this point—should probably be launched into the sun. 
Shut up, Tony. You're a lying sack—and always will be. Also, it's you people who have derailed your goals on vaccination by acting as if they don't work so a big round of applause for all you idiots. 
=====
The GOVERNMENT, NOT "Kid Corona"

, has created crisis upon crisis- Part 1.
Former SMSD teacher says mask decision 'pushed me out'
He now teaches in his home- SOURCE.
OVERLAND PARK, KS — Some Kansas City-area parents have chosen to take their students out of public and private schools this year, in favor of teaching them at home.
One of those parents resigned from his teaching job in the Shawnee Mission School District and is now teaching his children, and other families' children, in his home.
Josiah Enyart had been teaching elementary school for years.
Enyart said he was planning to teach at Comanche Elementary School in SMSD again this year, but the district's decision to require masks for all students changed that.
"I don't think the kids needed them, and so I was looking forward to them going and having a normal year and being able to be kids and learn," Enyart said. "I can't imagine what a first grader's thinking when they look up seeing a teacher not wearing a mask and they have to wear one. So that was really the big thing that that pushed me out."
Enyart calls the flu a "bigger health concern" for his kids than COVID-19. Doctors with the University of Kansas Health System maintain that COVID-19 and influenza are completely different viruses, and carry very different risks. Specifically, COVID-19 can cause multisystem inflammatory syndrome (MIS-C) and long-haul covid symptoms — neither occur with the flu….
=====
Mississippi Gov. Reeves Calls Vaccine Mandate an 'Attack by the President on Hard-Working Americans'
|
Posted: Sep 20, 2021 3:45 PM 
SOURCE.
=====
Rae's Café files counter claim calling mask mandate 'unlawful, nonsensical;' asks judge to award damages
BLUE SPRINGS, MO (KCTV) — The battle over Jackson County's mask mandate has a new legal twist. The owner of the Rae's Café' wants damages and blasts how the county shut down her restaurant tuned private club.
Attorneys representing Amanda Wohletz filed a counter petition packed with allegations of county employees targeting and harassing a small business owner.
On Tuesday morning, Rae's Café was open. Pork chops and eggs were on special. What was attracting the most attention, however, was a piece of paper out front reminding customers of the mask mandate and the medical exemption.
The filing argues she's technically following the county's mask mandate since it allows for medical exemptions. Employees of Rae's Café say wearing a mask caused them anxiety and mental stress that prevented them from being able to work in masks. The lawsuit claims they all had proper medical documentation when the county shut down the Café.  ..
=====
The GOVERNMENT, NOT "Kid Corona",

has created crisis upon crisis-

Part 2.
Biden administration to lift travel ban for fully vaccinated international travelers
White House COVID-19 response coordinator Jeff Zients announced on Monday that the Biden administration will allow*  fully vaccinated travelers from around the world to enter the U.S.beginning in November. *[My Note: "Allow"?!! Who does Joey "Jerkwad" Biden think he is?!! Joseph Stalin?!! U.S. Constitution Article 1, Sections 8 & 9, the 9th, 10th, and 11th Amendments 1) do NOT grant any level of government the authority to DICTATE whether we can travel, or where we can travel!!]
Why it matters: The announcement comes as President Biden seeks commitments from countries to donate vaccines to the global COVAX initiative. He is expected to host a COVID summit on the sidelines of the UN General Assembly this week, and many of the countries attending have expressed frustration with the travel ban.
Details: Fully vaccinated travelers will need to complete pre-departure testing within three days prior to their departure to the U.S. They will not be required to quarantine upon their arrival.
Zients said the Centers for Disease Control and Prevention will determine the definition of "fully vaccinated" and what vaccines qualify for this policy. 

[My Note: The CDC does NOT determine our/MY God-given, Constitutionally-Codified Rights and Liberties! NOR do they have ANY authority to MAKE UP and CHANGE definitions! This is UNMITIGATED Marxist Tyranny and "WE The People" MUST TELL them to shove it!!]

The CDC will issue a contact tracing order requiring airlines to collect current information from each U.S.-bound traveler, including a phone number and email address. [My Note: Does "Show me your papers." sound eerily and scarily familiar? It should.]
"This will enable the CDC and state and local public health officials to follow up with inbound travelers and those around them if someone has potentially been exposed to COVID-19," Zients said…[My Note: The government does NOT have the God-given, Constitutional authority to do ANY of this!]
THIS creates government MANDATED segregation, a caste system, apartheid, and tyranny of the "elite". We need to TELL THEM to shove off!!
For more on this see: HERE.
=====
Biden enlists Disney, Microsoft CEOs in push for vaccine mandates
WASHINGTON, Sept 15 (Reuters) – U.S. President Joe Biden met on Wednesday with U.S. CEOs and other top business leaders as he pushes companies to require workers to be inoculated against COVID-19 amid a surge in infections among the unvaccinated.
Participants in the meeting included the chief executives of Walt Disney Co (DIS.N), Microsoft Corp (MSFT.O) and Walgreens Boots Alliance Inc (WBA.O) .
Biden last week announced vaccine mandates for nearly all federal employees, federal contractors, and larger companies as the number of U.S. infections continued to rise, hospital beds in some parts of the country filled up and mask requirements returned. After months of trying to persuade Americans to get free vaccinations, the White House is pushing state and local governments, companies and schools to adopt mandates requiring them instead.
SCROLL DOWN TO SEE WHO'S EXEMPTED…THE "BOSSES" ARE EXEMPTED- THE PEONS ARE MANDATED!!!!
=====
There are 22 million healthcare workers in the US ~25% are unvaccinated.
That's 5 million heroes that: 
thinks are dangerous 
thinks are stupid 
thinks shouldn't be allowed to travel 
thinks are as bad as suicide bombers
=====
The GOVERNMENT, NOT "Kid Corona",

has created crisis upon crisis- Part 3.
A historic eviction crisis could be coming to the U.S. in days, this housing expert warns
Most evictions have been banned in the U.S. since last September, but that protection is now set to end in days. In August, millions of families could be pushed out of their homes.
The share of adult renters who remain behind on their housing payments — around 16% — has been slow to drop. The $45 billion in federal rental assistance allocated by Congress to address the crisis has been painfully slow to reach people, and the economic recovery has been uneven.
The Centers for Disease Control and Prevention's national eviction moratorium has faced numerous legal challenges and landlords have criticized the policy, saying they can't afford to house people for free or shoulder the country's massive rental arrears, which could be as high as $70 billion.
=====
This experimental vaccine will not make the virus go away, but will make you a slave to lifelong boosters.

Otherwise known as a business plan.
Inventor of mRNA vaccines and RNA as a drug

, Bench to Bedside vaccines and biologics consulting.
=====
It's Deja Vu` all over again!
Why did they EXEMPT THEMSELVES? Do they KNOW something DANGEROUS about this JAB that they hope WE DON'T KNOW?
FIGHT BACK- OR DIE.
WOW! a vaccine that "works" for a whole 12 days! 12 days? Are you kidding me?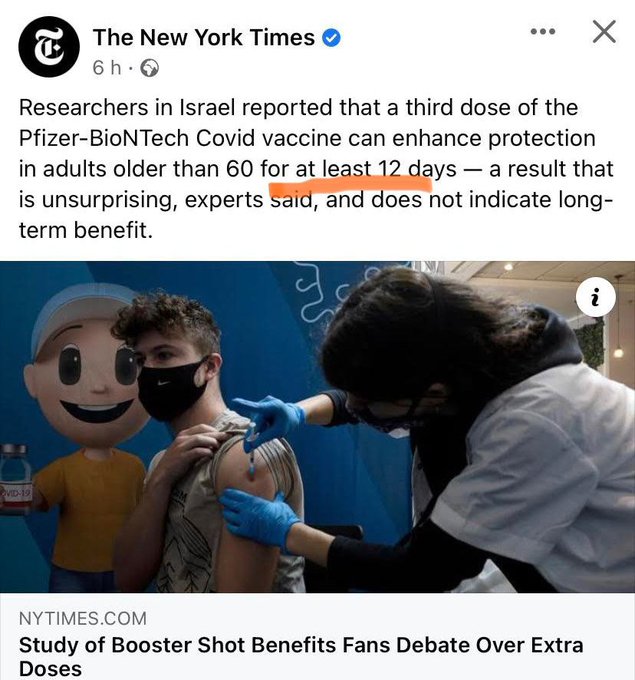 Covid vaccinations are the ONLY product in the world whose FAILURES are blamed on those who haven't taken the product.
It used to be if you did research, studied as much on a particular issue as you could, and thought it through that you were considered a very good and wise person… Then about 19 months ago Kid C*ron@ come along and changed all that.
"Experts" prescribing the UNHEALTHY and condemning THE HEALTHY…MUST BE FOR 

$$$$
VACCINES AND BOOSTERS, LIKE LAYS POTATO CHIPS- YA CAN'T HAVE JUST ONE-
"If the Rx worked, they wouldn't need a refill"
24 States Threaten Legal Action Against Biden's Vaccine Mandate
In a letter, 24 Republican state attorneys general vowed to take legal action against the Biden administration if the administration does not change course on its vaccine mandate.

People participate in a rally and march against COVID-19 mandates on September 13, 2021 in New York City.
Two dozen states on Thursday threatened legal action against President Joe Biden's recent vaccine requirements if his administration does not change course.
=====
In closing, 99.998% of the so-called "crises" are GOVERNMENT MANDATED. ALWAYS have been, just at this point they're blaming Kid Covid-
 -Rev. Larry Wallenmmeyer.