HUNT VALLEY, Md. (SBG) — New York's health care worker vaccination mandate took effect Monday.
As a result of the mandate, the state said it could be looking to the National Guard and foreign medical professionals to help fill the voids of workers who face termination for not getting the COVID-19 vaccine — roughly 72,000* hospital workers and 16,000 nursing home workers, *now 83,000. Home care, hospice and adult care facilities face a vaccination deadline of Oct. 7. Workers terminated for refusing a vaccine will not be eligible for unemployment insurance unless they can provide a valid doctor-approved request for medical accommodation.
======
Here's some personal stories on the matter-
Alison Mahony @realalimah
I got fired. Now I am free to say everything I really think and to make a real difference in people's lives. I am looking for a lawyer to represent me in a wrongful dismissal case. I recorded the call where they fired me. I think I have a case.
There is going to be a lot of this! The tyranny will be exposed! Can't wait for all the Doctor's and Nurses to come forward!
===
Holly Ponti @hollyponti1
I'm a nurse and there is no d*mn way I'm getting the jab!
===
My daughter is an RN First line responder. She has witnessed so many, who have died from blood clots to the heart. She will not get the jab either. They do test her 3 times a week. She is ok with that. She said she has just seen too many of those cases!
===
My daughter is an RN as well and works the COVID unit, she got COVID, but not from the hospital, she believes it was from her children's daycare. She refuses to get the jab even before she had COVID, doctor prescribed ivermectin and she was fine.
=====
I had covid, was prescribed ivermectin, shortened and reduced symptoms.
=====
This grocery/perishables truck driver aint getting the jab! Another trucker delivering 40 tons of food every single day to restock your local grocery store off the road if that day comes god forbid and many many more truckers in all industries wont. Trucker shortage is gonna 50x!
=====
BRIEF INTERMISSION.


There is NO "Written Mandate!" Just 'Sergeant Bumbles' yelling from his pulpit! By law, our US Government Can Not, "MANDATE!" But Employers, out of 'FEAR' are idiotically FIRING THEIR LOYAL, DUTIFUL, DEPENDABLE, Employees!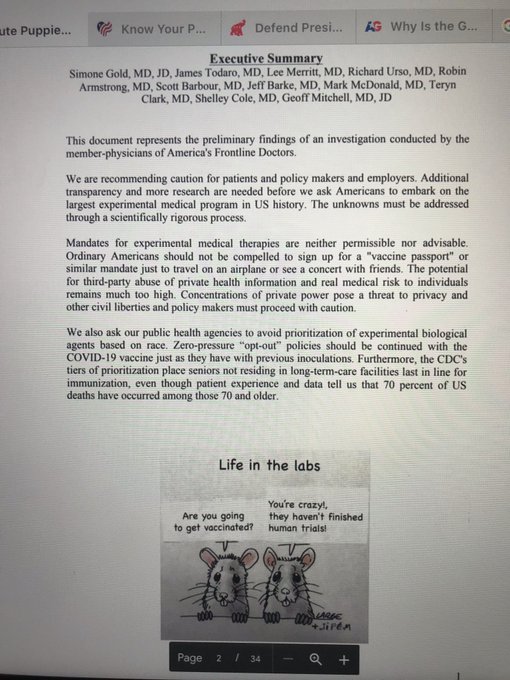 =====
More reports on the Mandates-
Delta's CEO says they're ditching the vaxx mandate for employees… the first big company to DIRECTLY flout Biden's dictate?!!! THIS IS WHAT I'M TALKING ABOUT.
=====
Delta also only airline to offer medical exemptions for masks. Got one for 3 year old on recent trip to Boston for his heart repair/surgery. They were incredibly accommodating to two parents already under a lot of stress.
=====
Video EXPOSING The Lies!
=====
Bernie's Tweets
@BernieSpofforth
ITALY – From today you can no longer work without a vaccine passport. The fundamental human right to work stripped away. Silence from their government, silence from all governments and silence from Amnesty. I stand with Italy.
=====
In Other News…
Jennifer Margulis
@JenniferMarguli
*"Publicly we're still saying there are no side effects." Only 798,634 adverse event reports to the CDC thru 10/08/21 from the Vid-Ax alone. I'm not worried! I love Bell's Palsy (9787), myocarditis (9470), permanent disability (24,805) & thrombocytopenia (3,735). Don't you?
* Since the data above was posted the Up-Dates NOW read:
The "Official Government/Pharma/MSM" story line is "No Side effects"…except that THE CDC's OWN reporting site lists THOUSANDS OF THEM!!
Add to THE ABOVE that for every ONE adverse affect reported there is AT LEAST 100 MORE that have NOT been reported! So multiply ALL the numbers above by 100…THAT is the TRUE cost of taking an EXPERIMENTAL, UNPROVEN, INEFFECTIVE SHOT!!!
Also take into account that:
1. The shots last ONLY about 2 months or even less,
2. That even the fully vaccinated can STILL GET AND TRANSMIT "Kid Covid",
3.  Then consider ALL the aboveforementioned REAL adverse affects of the shot itself.
Consider also that they are doing ALL this for:
1. A virus that LESS THAN 1% get,
2. 88% that do get it DON'T even KNOW have it,
3. Those that do get it have a 99.998% FULL RECOVERY RATE,
The Government/Pharma/MSM LIES DO things like THIS:
Jennifer Margulis
@JenniferMarguli
Seventeen years old. He wanted to play hockey. They wouldn't let him play without it. I hope they have hockey in heaven. RIP Sean Daniel Hartman.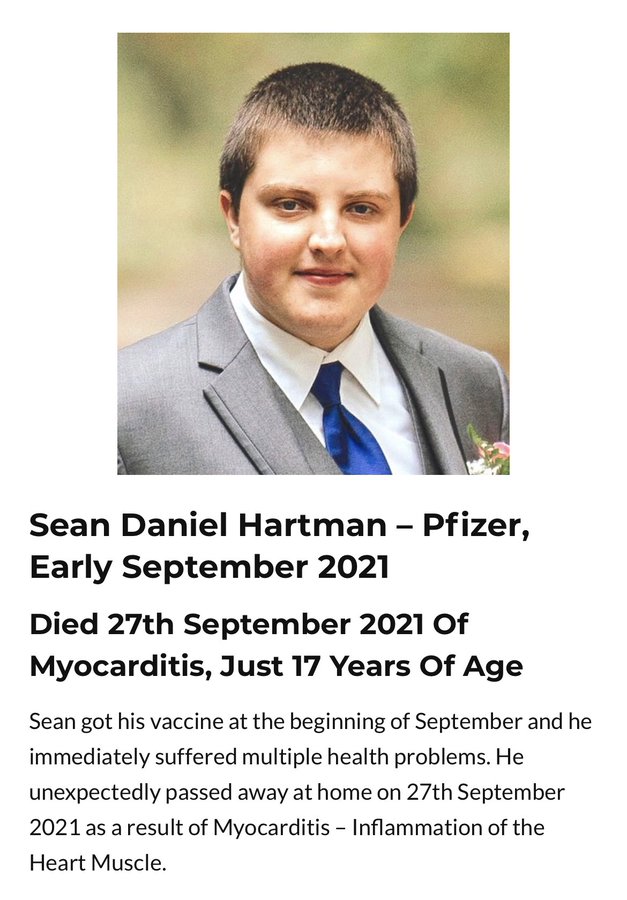 In Closing,
Let me relate this one more tragedy…
Description
Headache almost every day since the vaccine Heartburn almost every day since the vaccine Bowel issues including constipation Fluttering in chest periodically Periods of overheating and lightheadedness None of these symptoms are normal for me
Symptoms
Cardiac flutter, Gastrointestinal disorder, Constipation, Headache, Dizziness, Dyspepsia, Feeling hot
Vaccines-
| | | |
| --- | --- | --- |
| | | COVID19 (COVID19 (JANSSEN) |
Here's my own experience with "Kid Covid":
On May 13th, 2021 I went to the doctor for a completely unrelated issue, had pain in my right leg. They determine it's blood clots. While doing all the x-rays, and cat scans they also gave me the covid tests and said I tested positive. I had NO fever. NO cough. NO shortness of breath. NO light-headedness. NOTHING that would make me think I was in any way, shape, or form sick.
The blood clots can easily be attributed to the fact that I have varicose veins and some of the medication I take has the possible side effect blood clots…I say this because even though blood clots ARE a very real and direct effect/symptom of covid, I had absolutely NO other indication whatsoever that I was sick.
BUT the Big Government/Pharma/MSM story is "Everything's covid"!!! There has hardly been any mention of flu, bronchitis, bronchialitis, or pneumonia in almost 2 YEARS! They attribute EVERYTHING to covid…whether you have it or not.
That is my personal experience with "The Pandemic/Plague".
If after all the articles I and countless others have written have not convinced you that the Government/Pharma/MSM drive story is a LIE…nothing will.
Because you have made up your mind that facts, evidence, and REAL science/medicine doesn't matter to you…you are not a critical, independent thinker with common-sense…you are a sheep being led to the slaughter.
Which is sad, but YOUR choice.  
-Rev. Larry Wallenmeyer.