You, I, Criminy, the entire world has been sold a pack of LIES. The Global cabal of Government/Big Pharma/MSM since October of 2019 has LIED like a Persian rug about "Kid Covid" 24/7/365.
I say it's 100% of ALL Global cabal of Government/Big Pharma/MSM Approved "Experts".
It's not like there hasn't been THOUSANDS UPON THOUSANDS of other (REAL) Scientists, Doctors, Virologists, Epidemiologists, Researchers, Nurses, and a THOUSANDS of other Health-care and EMT providers that haven't stood up and spoke out against the Global cabal of Government/Big Pharma/MSM…because they HAVE.
In Italy, France, Britain, Sweden, Denmark, Norway, Finland, even in Hawaii, L.A./Hollywood, NYC there have been THOUSANDS AND THOUSANDS of protesters AGAINST the mandates…BUT the Global cabal of Government/Big Pharma/MSM have kept that blacked out so you don't hear about it.
IF ALL we saw/heard was from the Global cabal of Government/Big Pharma/MSM we'd think that EVERYONE was marching in hobnailed boot, goose-step with the Big Lie.
There are links embedded in the green words/phrases above and throughout this article…the REAL evidence from REAL reliable, verifiable NON-

Global cabal of Government/Big Pharma/MSM IS there.
One of The Biggest Lies spread is the LIE that we MUST stay apart, we MUST "social distance"*, we can NOT gather together…THIS is a HUGE LIE.
Think about it…
Since the scamdemic was announced/unleashed in January of 2020, and the mandates ensued since mid-March of 2020 we've HAD: 
two spring breaks
two Sturgis Motorcycle Rallies
NCAA Football games FULLY ATTENDED
NFL Football games FULLY ATTENDED
Walmart has been OPEN
Costco has been OPEN
Target has been OPEN
Lowes has been OPEN
Home Depot has been OPEN
and we've had BLM, Antifa, and Trumpsters riot and commit insurrection by the hundreds of thousands ALL ACROSS AMERICA…and guess what…
The "Superspreader" scare tactic WAS/IS A BIG, FAT, MARXIST

LIE

!!!
Facts, real-life data, verifiable evidence, REALITY says

ALL

that the Global cabal of Government/Big Pharma/MSM is

WRONG!!
Use your OWN eyes and ears. Use your OWN mind. THINK FOR YOURSELF…PLEASE.
NO MORE!
QUIT LISTENING TO THE LIES OF the Global cabal of Government/Big Pharma/MSM!
You ARE being

DAILY

LIED TO!
This is

NOT

about health, safety, or medicine/science! THIS IS ABOUT CONTROL!
THERE IS NO "YOUR TRUTH"! THERE IS ONLY TRUTH- AND YOUR

OPINION!
THINK!
IF this scamdemic were real 1) there would be reliable evidence from verifiable sources stating so, AND 2) YOU would see and observe it in reality yourself…if it HAS to be pushed like a Used Car salesman…you ARE being SCAMMED!
Wholly UNLIKE abortion THIS is truly a matter of having the Sovereign, God-given, Constitutionally-Codified Right over YOUR OWN BODY. If we do NOT have THIS Liberty- we have NO Liberty!
Then WHY get the Jab?!! Because it is

NOT

about health/safety-

NO

, it's about complying to Absolute Tyrannical

CONTROL

!
As with most of this article Social Media will slop warning labels saying "Out Of Context", "Partially Incorrect", or even "FALSE INFORMATION" all over this…BUT the remarkable thing is this:

TRUTH DOES NOT CARE

!
This is but ONE of the daily barrage of LIES told by the Global cabal of Government/Big Pharma/MSM…

are YOU STILL listening to THEM?
The Global cabal of Government/Big Pharma/MSM stands to make 100's of BILLIONS of $$$$ off YOU believing their LIES…IT. IS. ALL. ABOUT. CONTROL!
HOW can you stomach all these LIES?!!
Where will YOU stand? WHY?
THIS IS ALL AND ONLY ABOUT TYRANNICAL CONTROL!
BECAUSE there is too much $$$ in this for them to be HONEST.
Played like a Fiddle.
I hope YOU

are

ready to resist the tyrannical LIES. The ONLY "Superspreader" is The Global cabal of Government/Big Pharma/MSM.
You BETTER get ready…things are bad now…and only fixin' to get WORSE.
THE ABOVE IS

NOT

AND ISOLATED INCIDENT:
Record Number Of Workers

Quit

Jobs
The Topline: As the economy continues to be stagnate following COVID-19 lockdowns, new data shows that the number of Americans quitting their jobs hit a record level in August. 
A new report from the Department of Labor shows that 4.3 million people voluntarily left their jobs in August, which is just under 3% of the entire workforce. 
There's also a labor shortage right now with 10.4 million job openings.
According to experts, one reason could be that workers are realizing how much leverage they have when they see millions of job openings and hear stories about signing bonuses and increased wages at businesses.
Another theory is that vaccine mandates are driving people out of the workforce. Even though President Joe Biden's federal order hasn't been implemented yet, a lot of larger employers are getting ahead of the curve and requiring vaccines on their own. 
[My Note: Reason #2 and Reason #1 are directly connected to each other, people REFUSE to work under tyrannical rule, AND people are quitting/REFUSING to work under tyrannical rule. They are both essentially the same thing, and both directly tied TO the ungodly, immoral, Marxist mandates.]
The number one industry affected was food services, where over 800,000 people quit their jobs. Next was retail, where 721,000 people quit, and third was healthcare, with over half a million people quitting. 
In the short term, there will likely be increased delays in the supply chain as shipping, manufacturing, and agricultural jobs have been negatively impacted by the worker shortage. 
Prices on common products will also be higher, as businesses try to make up for lost production.
A lot of experts say the shortage will likely dissipate in the coming months, as schools open more fully, and parents no longer have to stay home with their children.  [My Note: The so-called "experts" have been consistently DEAD WRONG on everything so far, I am not much comforted by their "prediction" about how and when things will get better. This will ONLY get truly better when we return FORSAKE FULLY The Marxist Mandates and RETURN FULLY TO Liberty.]
Federal COVID-19 unemployment benefits ended in September, meaning people who'd been intentionally unemployed will no longer be getting government checks and will have to go find a job. [My Note: This MIGHT work some…maybe.]
======
Study of 620,000 U.S. military personnel finds J&J therapeutic fell from 88% efficacy in March to 3% in August. Is that bad? As I said earlier, you should consider that you are now part of a vax program, requiring routine/frequent/multiple boosters.
Experts have suggested that adults get their Johnson & Johnson booster shots as soon as possible 
The FDA advisory committee unanimously voted on Friday to recommend COVID booster shots of J&J's vaccine to all adults after two months
Research has shown the immunity provided by the vaccine diminishes over time
A recent study of 620,000 military veterans found that J&J's vaccine's protection fell from 88% in March to just 3% in August 
On Thursday, the FDA advisory committee recommended that the Moderna vaccine be approved for a booster shot for those 65 and older 
The Pfizer COVID vaccine was approved for a booster shot in September for those 65 and older and adults at risk 
Shared enough

misery

yet?
At the beginning of this article is a plethora of links sites and networks of REAL Scientists, Doctors, Nurses, and Researchers who are NOT on The Global cabal of Government/Big Pharma/MSM payroll…they exist by the HUNDREDS OF THOUSANDS…LISTEN TO

THEM

.
Correct. It IS Tyranny…had enough yet?
The Progressive SPEWING of outrageous lies is noticed by ALL…by all who are paying attention anyway.
YES. IF what The Global cabal of Government/Big Pharma/MSM 

was belching forth 24/7/365 were true all of us NON-Compliers should be DEAD.
You think the above is an idle rant? KEEP READING-
IF YOU are STILL NOT convinced that something is MAJOR WRONG with The Global cabal of Government/Big Pharma/MSM 

story-line then YOU are-
IF you REALLY do want TRUTH-
TRUTH THAT HAS BEEN KNOWN AND KNOWABLE FROM THE START-
BUT IF YOU CHOOSE TO BE A CORRUPTION DENIER, AND CHOOSE TO BELIEVE THE LIES OF The Global cabal of Government/Big Pharma/MSM…THEN EXPECT

THIS

TO HAPPEN-
You say, "But the CDC, WHO, and FDA say we NEED these measures to survive." REALLY??
Think the above is "too harsh"…an "exaggeration"?? KEEP READING HERE.
The deluded do not know they are deluded.
IF it's "so safe" AND "so necessary" then WHY wont "The Dear Leaders" of The Global cabal of Government/Big Pharma/MSM 

take it??
The jerks portraying themselves to be "Experts" HAVE BEEN LYING FROM THE VERY START!
STOP! Read The ABOVE Meme again. Let it sink IN. THINK about. DO YOUR OWN RESEARCH.
============
The REAL and Single Largest Superspreader of "Kid Covid" LIES is Fauci "The Fraud"!
IF you are tired of Biden's Marxist drone, and are tired of ALL things Trumpy, then surely you ARE sick of ALL things Tony "The Fraud" Fauci!
The below is essentially saying That Fauci's strategy is: Lie. Lie about lying. Tell more lies. Accuse everyone else of lying while you are lying…oh, and tell more lies.
UNDO AND UTTERLY REJECT WHAT 100'S OF THOUSANDS OF OTHER DOCTORS, NURSES, VIROLOGISTS, EPIDEMIOLOGISTS, AND RESEARCHERS SAY, BECAUSE, WELL, "ScIenCe".
IF you have made it this far and STILL believe Fauci…WHY?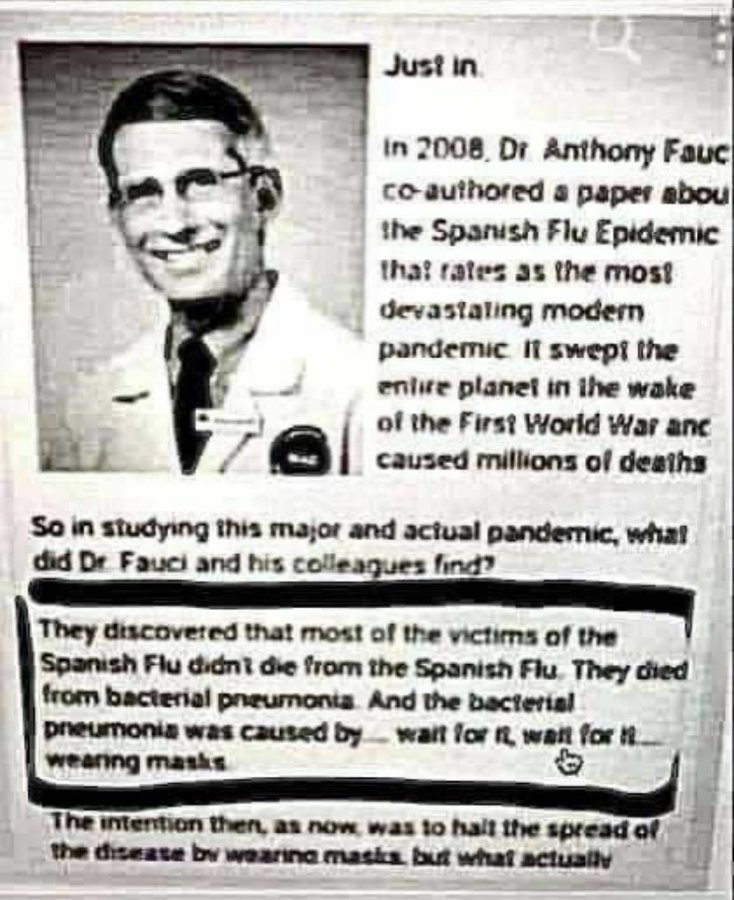 Seriously, WHY do you continue to believe this CHARLATAN?!!
IF your personal physician was as egregiously WRONG as Fauci would YOU continue to see him? IF you answer YES then YOU believe LIES.
CLOSING THOUGHTS:
I QUIT BEING ON THE DEFENSE LONG AGO. I HAVE DEVOTED MY LIFE TO PRESENTING TRUTH. PERIOD.
YOU EITHER LISTEN TO TRUTH- OR TO LIES.
YOU CHOOSE.
DO YOU REALLY WANT TRUTH?
THEN YOU BETTER DO SOME REAL CLOSE LISTENING- AND HARD THINKING.
 –Rev. Larry Wallenmeyer.