America and all she stands for and represents is broke.
There are but only two ways to approach this.
The right way,

the way of accessing WHAT is broke, HOW is it broke, HOW did it get broken, and, lastly HOW to fix it, aka

The Conservative Way.
And the wrong way. 

To ignore WHAT happened, ignore HOW it happened, ignore WHY it happened, ignore HOW to prevent it, and then sloppily, hurry through and give a SHORT TERM "fix" to a LONG TERM, deep rooted, severe problem, aka

The Liberal Way.
FOR BACKGROUND, DEFINING OF TERMS USED, EVIDENCE OF SUPPORT, SEE:
===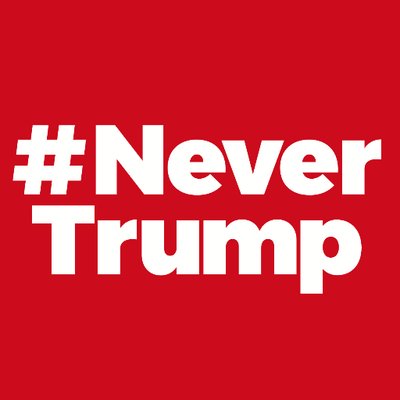 First "Broke Thing" to look at, The #NeverTrump movement.
Since Trump announced he was running for President in 2015, and especially since being nominated, and then elected, there has developed a #NeverTrump movement that has grown. On the surface it looks like ONE Group, ONE Movement…it is NOT.
It is three separate, and very different groups. The first two ARE quite similar, if not the same altogether, the third on stands alone. Let us look at them.
The Democrat/Liberal #NeverTrump movement. These are Democrats and other Liberals who hate DT because he 1. Ran as a GOP, though he's a life-long Democrat/Liberal, 2. He defeated HRC, their "golden calf", 3. He's a rude, vile, loud, vulgar, mean, hate-filled jerk,
The Faux "Conservative" #NeverTrump movement. These claim to be Conservatives all while pushing FOR, even demanding, and bullying everyone else to support and vote IN as many Liberals/Democrats as possible just to be rid of DT and his supporters. Let me be crystal clear: NO ONE can push, promote, and demand support and votes FOR Democrats/Liberals AND BE a REAL Conservative. You can NOT go in two opposite directions at once. You CAN NOT achieve Conservative ends via Liberal means. THEY ARE MUTUALLY EXCLUSIVE. Group #2 IS a dishonest version of Group #1. At least Group #1 ADMITS that pushing FOR Liberals IS Liberalism.
The Real Conservative #NeverTrump movement. We believe that ONLY Constitutional-Conservatism has the answers, and IS THE Answer. We see any and every move toward more Liberals/Democrats in offices, in positions of power, as being poison to Liberty, Constitutionalism, and America. We 100% want Trump gone, even in prison, BUT do not see more Liberalism as the answer. 
The Reality?
Will these groups ever be reconciled together?
Well, Groups #'s 1 and 2 already work closely together. There is a LOT of "bleeding over" from Group #1 to Group #2 and vice versa. The Faux "Conservatives" of group 2 see NO problem with voting for any and all Democrats and Liberals they can…just so they can get rid of DT. They really think they can achieve a Conservative end via Liberal means.
But Group #3…we want DT gone…BUT WE ALSO WANT ALL LIBERALS AND DEMOCRATS GONE. WE WANT CONSTITUTIONAL-CONSERVATIVES…and wont settle for a crappy Liberal knock-off.
So, no, the three will never reconcile. The first two groups in reality are the same, like RINOs and Democrats are the same.
But there are some who will never compromise for short term goals when IT means long term destruction of ALL America IS and stands for…that's Group #3, the group I proudly belong to.
So, what can be done?
Same as always.
Conservatives, BE CONSERVATIVE. Be proud you're Conservative. In reasoned passion and passionate reason present Constitutional-Conservatism. Promote "Life, LIBERTY, and The Pursuit of Happiness".
Those who identify with Conservatism will gravitate TO you.
Those who LIKE what they're hearing, regardless of where they were or came from, will gravitate TO you.
Just BE Conservative.
Learn Conservatism.
Love Conservatism.
Teach Conservatism.
Live Conservatism.
SIMPLY. BE CONSERVATIVE.
INCREMENTALISM.
The change will NOT happen "over night".
This will take time.
We need to daily BE, live, as Conservatives.
And those who LIKE what they see and hear will join us.
It will happen bit by bit, a little here, a little there, be patient.
America may not have time. We may have said NO to God, what is right, to Constitutional-Conservatism for too long…BUT we don't know that, and what other way to be, believe and to live other than the Conservative life.
If you answer Liberal, "Moderate", "Centrist", "whatever"…and you have NO desire to change…this is NOT for you.
=======
The Next Broke Thing To Look At Is America's Tax Code/Taxation.
America's Founding Fathers did at least three things:
The resented, protested, and railed against the increasing tax burden laid on the colonies, especially since they had NO representation in Parliament, nor before King George III.
They FOUGHT A WAR AGAINST THE MIGHTIEST NATION ON EARTH OVER TAXATION-

AND WON!

Lastly, America's Founders so detested runaway taxation/government regulation that they deliberately designed The Constitution/Bill of Rights to be as 1. CLEAR, 2. DEFINING, and 3. RESTRICTIVE ON GOV. as possible. See Article 1, Sections 8 & 9, and Amendments 9, 10, 11.
The Reality?
Today we have a punishing tax code.
FIRST, our INCOME is taxed BEFORE we even see/get it. Something the Founders loathed and prohibited,
Then with what is left over AFTER Income Tax we buy goods, let say corn,
There is a sales tax on the corn,
When it was transported it required fuel, there was a gas tax and sales tax,
The supplier bought it from a farmer, there was a tax in the sale/purchase,
The farmer to grow it had to first buy seed- another sales tax,
Then buy fertilizer- another sales tax,
Then buy insecticide- another sales tax,
Buy the tractor, plow, tiller, equipment to plant and harvest the corn- more sales taxes,
Has a farm, house, barn, land- property tax…
ALL of that gets passed on to the consumer.
What Can Be Done About It?
There is NO OTHER ANSWER BUT TO GUT AND CUT TAXES, GOV. SPENDING, AND GOV. REGULATIONS. NO other "solution" will remotely solve the problem.
Incrementalism.
I propose:
ABOLISH ALL WELFARE/ENTITLEMENT PROGRAMS; MOVE ALL ASSISTANCE TO LOCAL LEVEL.
ABOLISH THE FEDERAL RESERVE, IRS, INCOME TAX, DEATH/INHERITANCE TAX, WINDFALL PROFITS TAX, CORPORATE INCOME TAX, CAPITAL GAINS TAX, MARRIAGE PENALTY TAX,
AND INSTITUTE A FLAT 7-12% NATIONAL SALES TAX.
BUT THAT WONT HAPPEN, at least not in my life time.
SO…
We can have Reaganesque across the board tax cuts for everyone at ALL levels, BUT INCLUDE REAL SPENDING CUTS.
From that position move toward more spending CUTS FIRST, then more tax cuts.
Do this bit by bit, incrementally.
BUT… 
Standing pat on what we have now will not make one thing better.
And tax and spending HIKES will ONLY make things worse quicker.
The #1 lesson to learn is:
Government is NOT the solution. Government IS THE Problem. Get government 100% OUT of the FREE Market/PRIVATE Sector. Let the markets be THE Equalizer. And watch Liberty and Prosperity EXPLODE.

VIDEO .
=======
The Next Broke Thing: Our Border and Immigration Laws.
First, what does The Constitution say:
Article 4, Section 4.

The United States shall guarantee to every State in this Union a Republican Form of Government, and shall protect each of them against Invasion; and on Application of the Legislature, or of the Executive (when the Legislature cannot be convened), against domestic Violence.
So, Border Security IS important, important enough that America's Founding Fathers Codified it in The Constitution.
Today though we have thousands of illegals daily streaming across our borders, invading our Sovereign U.S. territory.
Do NOT let the media NOR politicians CONFUSE LEGAL Immigration and assimilation, with people who:
VIOLATE OUR CONSTITUTION, BREAK THE LAWS, AND INVADE U.S. SOVEREIGN TERRITORY. 
Who upon getting here acquire ILLEGAL Green Cards,
Acquire ILLEGAL Visas,
Acquire ILLEGAL Work Permits,
Acquire ILLEGAL Social Security Numbers/Cards, perhaps YOURS,
Acquire ILLEGAL Drivers License, IF they get one at all,
Register for and collect, ILLEGALLY, health-care, welfare, WIC, housing allowance….
The Reality?
Trump and the GOP have so bastardised this issue, the Democrats and Liberals (R.I.N.O.s) have so fought this issue that it sickens me that in all probability NOTHING- Constitutional- will be done.
What IS The Constitutional solution?
Based squarely upon Article 4, Section 4 AND the Secure Fence Act of 2006, THIS:
ALONG OUR ENTIRE BORDER Build a 30 ft. tall Double Reinforced Security Fence,
Have trenches 30 ft. wide and 30 ft. deep in front and behind the the fence,
Place LOTS of barbed wire and razor wire at the bottom and top of the fence in front and behind it,
Fill the trenches with LOTS MORE barbed and razor wire,
Install the best, highest tech motion detectors, sound detectors, infra read and ultra violet detectors, cameras along our entire border,
Increase Border Patrol 5 fold,
Have each state's National Guard along the border in rotation,
Standing, PERMANENT, ORDER to call out HALT to ALL invaders, apprehend ALL who will NOT halt (speak in Spanish, Farsi, and Arabic, many INVADING our borders are OTM, other than Mexican, they are Muslims. There currently over 3,000 Somalia Muslims inside our borders ILLEGALLY, operating as terrorists), shoot those who resist,
Fine ALL businesses $250,000 per illegal hired,
NO welfare/assistance of any kind to ILLEGALS AT ALL OF ANY KIND.
DO NOT separate "families", send them ALL back together,
Begin to find and deport ALL ILLEGALS.
=========
BUT…because Trump and his cronies have so bastardised and corrupted the very idea of Border Security and Immigration Law, AND The Democrats and Liberals want to roll out the red carpet for them NOTHING WILL NE DONE.
What CAN Be Done?
Constitutionally, and by the 2006 Law we CAN builds the fence along our entire border. Some argue the fence/wall is "racist", or "wont work".
BUT in every place we DO HAVE  a Border Security Fence ILLEGAL invasion has DROPPED 87%.
Sooo, BUILD THE FENCE.
And this Constitutional Security is NOT "racist". It wouldn't matter if the invaders were British, tea drinkers…IT'S A CRIME TO BREAK THE LAW…DUH!
Incrementalism.
Begin building the fence THAT HAS ALREADY BEEN APPROVED OF.
Begin where existing fence is and continue on.
When met with a natural obstacle (river, mountain…) then to err on the side of caution build the fence ON OUR SIDE of said obstacle.
BUT…
BUILD THE FENCE!
========